Equities were lower again last week as the S&P 500 (-2.5%) fell for the second straight week and finished the week at the lowest levels since April. NASDAQ is now 12% below the recent July peak. Treasuries yields fell on the week, though not before the 10-year yield on Monday rose above 5% for the first time since 2007. The only positive sector for the week was utilities (+1.2%); worst sectors were communication services (-6.3%), and energy (-6.2%).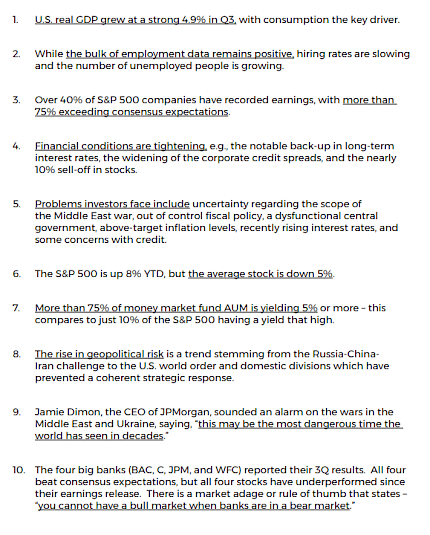 Source: Bob Doll, Crossmark Investments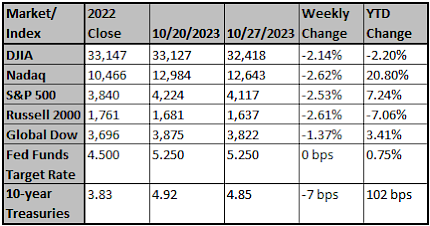 Chart reflects price changes, not total return. Because it does not include dividends or splits, it should not be used to benchmark performance of specific investments. Data provided by Refinitiv.
Sincerely,
Fortem Financial
(760) 206-8500
team@fortemfin.com
---
Latest News
In the Market-Treasury market braces for seismic SEC rule
Treasury market participants expect U.S. regulators to soon finalize a major rule aimed at reining in debt-fueled bets by hedge funds and bolstering financial stability. They worry it could also reshape the industry and create new problems.
Reuters
UAW reaches deal with GM, ending coordinated strike against Detroit automakers
General Motors and the United Auto Workers (UAW) union have reached a tentative agreement, two sources familiar with the matter told Reuters, effectively ending the first simultaneous strike against the Detroit Three automakers with record wage and benefit hikes.
Reuters
---