On Friday, the much anticipated earnings season began with JP Morgan reporting earnings 5% above expectations; positive commentary by management on the strong demand for credit by consumers and businesses helped propel the Financials sector higher.  The Nasdaq led all indices for the week (0.57%) followed by the S&P 500® (0.51%) and the Russell 2000® Index (0.14%); the Dow Jones Industrial Average fell 0.05%.  The S&P 500® reached an important milestone on Friday when the Index crossed 2900 for the first time since last October.  Walt Disney provided momentum (+11.5% on Friday) for the Index when the company unveiled a video streaming platform; the November launch will offer an extensive library of films including the Star Wars series.  In other corporate news, Chevron announced the acquisition of Anadarko Petroleum at a 39% premium over recent prices; the deal signals longer-term confidence in oil prices.  Further consolidation in oil and gas exploration is expected as major oil companies look to boost fracking production.  The upcoming price for Uber's IPO will likely range between $48 to $55 per share; the range reflects the recent 17% post-IPO price decline for competitor Lyft.
This week, the European Union voted to extend Brexit "only as long as necessary" and "no longer than October 31st."  On May 23rd, the UK must hold elections to the European Parliament; if the UK fails to do so, it will leave the EU on June 1st without a Brexit deal.  This extension provides Prime Minister May with more time to gain support for her Brexit Agreement or gain support from the Labor party for a revised plan.  Elsewhere, details remain sketchy on U.S. and China trade negotiations; the parties seem to be moving closer on enforcement provisions, a key to a final trade agreement.
The positive start to earnings season may bode well for corporate commentaries on expectations for the remainder of 2019.  The markets' positive momentum seems poised to continue as concerns about monetary policy, trade and the oil price recovery recede.
Source:  Pacific Global Investment Management Company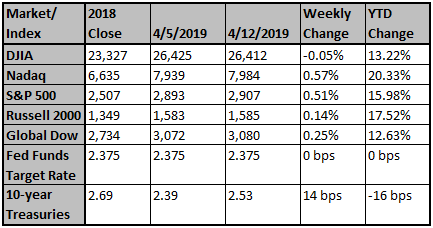 Chart reflects price changes, not total return. Because it does not include dividends or splits, it should not be used to benchmark performance of specific investments. 
---
Latest News
Last Week's Headlines: 4/15/2019
1. The number of job openings fell to 7.1 million on the last business day of February, the U.S. Bureau of Labor Statistics reported today. Over the month, hires and separations were little changed at 5.7 million and 5.6 million, respectively. Within separations, the quits rate was unchanged at 2...
Nine Companies Are Shaping The Future Of Artificial Intel...
The future of AI is now concentrated in a relatively small handful of global companies. However, the power of AI needs to be shared.
The Latest: Trade disputes holding back European economy
The Latest on the European Central Bank's monetary policy meeting (all times local): 2:45p.m.
Stocks jmp on bank earnings, Chevron deal
Stocks jump with better-than expected results from J.P. Morgan and Wells Fargo
---
Brian Amidei is Coachella Valley's only Barron's Magazine Top 1,000 Advisor in 2013 and 2014!
Brian Amidei, along with Partners Joseph Romano and Brett D'Orlando have also been named *2014, 2015, 2016, 2017 Five Star Wealth Managers!
Disclosures:
Awards and recognitions by unaffiliated rating services, companies, and/or publications should not be construed by a client or prospective client as a guarantee that he/she will experience a certain level of results if Fortem is engaged, or continues to be engaged, to provide investment advisory services; nor should they be construed as a current or past endorsement of Fortem or its representatives by any of its clients. Rankings published by magazines and others are generally based on information prepared and/or submitted by the recognized advisor. Awards may not be indicative of one client?s experience or of the Firm?s future performance.  Neither Fortem nor the recognized advisor has paid a fee for inclusion on a list, nor purchased any additional material from the award provider. The criteria for each award is listed below:
Barron's Disclosure:
The Barron's award is is based on the recognized adviser's assets under management, contribution to the firm's revenues and profits, and quality of practice.  Investment performance is not an explicit criteria.  Additional information about this award is available at http://online.barrons.com/report/top-financial-advisors. 
Five Star Professional Disclosure:
The Five Star Wealth Manager award is based on 10 eligibility and evaluation criteria: 1) Credentialed as an investment advisory representative (IAR) or a registered investment advisor; 2) Actively employed as a credentialed professional in the financial services industry for a minimum of five years; 3) Favorable regulatory and complaint history review; 4) Fulfilled their firm review based on internal firm standards; 5) Accepting new clients; 6) One-year client retention rate; 7) Five-year client retention rate; 8) Non-institutionalized discretionary and/or non-discretionary client assets administered; 9) Number of client households served; and 10) Educational and professional designations. The inclusion of a wealth manager on the Five Star Wealth Manager list should not be construed as an endorsement of the wealth manager by Five Star Professional or the magazine. The award methodology does not evaluate the quality of services provided.  Additional information about this award is available at: fivestarprofessional.com/2016FiveStarWealthManagerMethodology.pdf
Fortem Financial 2016. All rights reserved. 
Data Sources:  News items are based on reports from multiple commonly available international news sources (i.e. wire services) and are independently verified when necessary with secondary sources such as government agencies, corporate press releases, or trade organizations.  Market Data: Based on reported data in WSJ Market Data Center (indexes); U.S. Treasury (Treasury Yields); U.S. Energy Information Administration/Bloomberg.com Market Data (oil spot price, WTI Cushing, OK); www.goldprice.org (spot gold/silver); Oanda/FX Street (currency exchange rates).  All information is based on sources deemed reliable, but no warranty or guarantee is made as to its accuracy or completeness. 
Neither the information nor any opinion expressed herein constitutes a solicitation for the purchase or sale of any securities, and should not be relied on as financial advice.  The opinions expressed are solely those of the author, and do not represent those of Fortem Financial, LLC or any of its affiliates.  Past performance is no guarantee of future results.  All investing involves risk, including the potential loss of principal, and there can be no guarantee that any investing strategy will be successful.  Forward looking statements are based on current expectations and assumptions, the economy, and future conditions.  As such, forward-looking statements are subject to inherent uncertainty, risks, and changes in circumstance that are difficult to predict.  Actual results may differ materially from the anticipated outcomes.  Carefully consider investment objectives, risk factors and charges and expenses before investing.  Fortem Financial is a registered investment adviser with the SEC.  Advisory services are offered through Fortem Financial.
The Dow Jones Industrial Average (DJIA) is a price-weighted index composed of 30 widely traded blue-chip U.S. common stocks.  The S&P 500 is a market-cap weighted index composed of the common stocks of 500 leading companies in leading industries of the U.S. economy.  The NASDAQ Composite Index is a market-value weighted index of all common stocks listed on the NASDAQ stock exchange.  The Russell 2000 is a market-cap weighed index composed of 2,000 U.S. small-cap common stocks.  The Global Dow is an equally weighted index of 150 widely traded blue-chip common stocks worldwide.  Market indices listed are unmanaged and are not available for direct investment.