U.S. stocks were mixed last week, with the S&P 500 Index largely unchanged. Behind the headline numbers, however, there was some movement within and between sectors. Health care stocks sold off sharply last week, with managed care stocks hit particularly hard by regulatory concerns. The CEO of United Healthcare came out strongly against the "Medicare for all" plans being discussed by Democratic presidential candidates, which called the issue into focus. In contrast, both technology and financials outperformed for the week.
Just in case you missed it, the much awaited Mueller report was released last week and it has legally strengthened the president but has politically given the Democrats a roadmap to use against the president in his re-election. With every Democrat calling for higher taxes, and most notably changes to the corporate tax rate, companies will need to decide if they want to pull forward their investment to take advantage of the current tax code ahead of the 2020 election. In particular, the 100 percent expensing requires companies to have their investments placed in service to qualify for the tax benefit. With the election 18 months away, companies might look to pull forward their investments to ensure they can benefit from these tax changes. This is not new. In 2011, President Obama had 100 percent expensing for one year and that year was the second largest year of S&P 500 capex on record ahead of the 2012 election. We would not be surprised if we see this in the areas of capex and mergers as we head into the second half of 2019.
Additional observations:
Betting odds for the presidential election have barely moved since the release of the Mueller report and it looks to be a tight race
After-tax, after-inflation income growth is the key for a president to be re-elected. Oil prices are a key variable in this income category which is relevant based on today's Iran waiver decision.
If the Atlanta Fed GDP tracker is correct for 1Q GDP, this week's GDP report could show similarities to GDP following the 2003 tax cut – an acceleration for two quarters, a soft quarter to follow, and then a reacceleration of growth.
Budget deficit is at a turning point. April tax revenues are up 12 percent midway through the month. The past three months of tax revenue are up 10 percent over the previous three months. The acceleration of tax revenues is not happening because tax refunds are meaningfully lower but more because of the pick-up in the economy.
Report on the economic impact of a revised NAFTA agreement is better than expected but the pathway to ratification remains slim.
Biden is to enter the presidential race this week. We expect him to focus on income inequality, infrastructure, and a defense of the Affordable Care Act. If Biden gains traction, he could alleviate some of the building concerns in healthcare.
Source: Strategas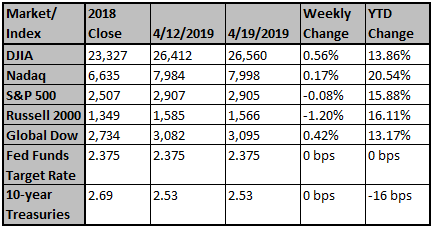 Source:  Thomson Eikon
---
Latest News
The Week Ahead: An Indecisive Market
The sharp decline in the health care sector last week caught many investors by surprise. The the failure of the stock market to hold Tuesday's early gains is one of the factors technical ...
How the U.S.-China Trade War Has Reached a Turning Point
How the U.S.-China trade war has reached a turning point.
Why BlackRock CEO Fink says Stocks are on Brink of a 'Mel...
Several prominent investors and advisors predict that more big stock gains are ahead, including BlackRock Inc. CEO Larry Fink, who says the market is
---
Brian Amidei is Coachella Valley's only Barron's Magazine Top 1,000 Advisor in 2013 and 2014!
Brian Amidei, along with Partners Joseph Romano and Brett D'Orlando have also been named *2014, 2015, 2016, 2017 Five Star Wealth Managers!
Disclosures:
Awards and recognitions by unaffiliated rating services, companies, and/or publications should not be construed by a client or prospective client as a guarantee that he/she will experience a certain level of results if Fortem is engaged, or continues to be engaged, to provide investment advisory services; nor should they be construed as a current or past endorsement of Fortem or its representatives by any of its clients. Rankings published by magazines and others are generally based on information prepared and/or submitted by the recognized advisor. Awards may not be indicative of one client?s experience or of the Firm?s future performance.  Neither Fortem nor the recognized advisor has paid a fee for inclusion on a list, nor purchased any additional material from the award provider. The criteria for each award is listed below:
Barron's Disclosure:
The Barron's award is is based on the recognized adviser's assets under management, contribution to the firm's revenues and profits, and quality of practice.  Investment performance is not an explicit criteria.  Additional information about this award is available at http://online.barrons.com/report/top-financial-advisors. 
Five Star Professional Disclosure:
The Five Star Wealth Manager award is based on 10 eligibility and evaluation criteria: 1) Credentialed as an investment advisory representative (IAR) or a registered investment advisor; 2) Actively employed as a credentialed professional in the financial services industry for a minimum of five years; 3) Favorable regulatory and complaint history review; 4) Fulfilled their firm review based on internal firm standards; 5) Accepting new clients; 6) One-year client retention rate; 7) Five-year client retention rate; 8) Non-institutionalized discretionary and/or non-discretionary client assets administered; 9) Number of client households served; and 10) Educational and professional designations. The inclusion of a wealth manager on the Five Star Wealth Manager list should not be construed as an endorsement of the wealth manager by Five Star Professional or the magazine. The award methodology does not evaluate the quality of services provided.  Additional information about this award is available at: fivestarprofessional.com/2016FiveStarWealthManagerMethodology.pdf
Fortem Financial 2016. All rights reserved. 
Data Sources:  News items are based on reports from multiple commonly available international news sources (i.e. wire services) and are independently verified when necessary with secondary sources such as government agencies, corporate press releases, or trade organizations.  Market Data: Based on reported data in WSJ Market Data Center (indexes); U.S. Treasury (Treasury Yields); U.S. Energy Information Administration/Bloomberg.com Market Data (oil spot price, WTI Cushing, OK); www.goldprice.org (spot gold/silver); Oanda/FX Street (currency exchange rates).  All information is based on sources deemed reliable, but no warranty or guarantee is made as to its accuracy or completeness. 
Neither the information nor any opinion expressed herein constitutes a solicitation for the purchase or sale of any securities, and should not be relied on as financial advice.  The opinions expressed are solely those of the author, and do not represent those of Fortem Financial, LLC or any of its affiliates.  Past performance is no guarantee of future results.  All investing involves risk, including the potential loss of principal, and there can be no guarantee that any investing strategy will be successful.  Forward looking statements are based on current expectations and assumptions, the economy, and future conditions.  As such, forward-looking statements are subject to inherent uncertainty, risks, and changes in circumstance that are difficult to predict.  Actual results may differ materially from the anticipated outcomes.  Carefully consider investment objectives, risk factors and charges and expenses before investing.  Fortem Financial is a registered investment adviser with the SEC.  Advisory services are offered through Fortem Financial.
The Dow Jones Industrial Average (DJIA) is a price-weighted index composed of 30 widely traded blue-chip U.S. common stocks.  The S&P 500 is a market-cap weighted index composed of the common stocks of 500 leading companies in leading industries of the U.S. economy.  The NASDAQ Composite Index is a market-value weighted index of all common stocks listed on the NASDAQ stock exchange.  The Russell 2000 is a market-cap weighed index composed of 2,000 U.S. small-cap common stocks.  The Global Dow is an equally weighted index of 150 widely traded blue-chip common stocks worldwide.  Market indices listed are unmanaged and are not available for direct investment.