Companies including Adobe, Goldman Sachs, Johnson & Johnson and Procter & Gamble reported strong earnings last week.  Notably, Procter & Gamble reported that high demand, rather than price increases, drove its strongest quarterly sales growth in five years.  Of the S&P 500® companies which have so far reported earnings, approximately 90% have exceeded analyst estimates.  Company commentaries reveal the limited impact of tariffs to date while concerns remain if the impasse continues.  U.S. and China apparently plan to meet in November; European and other Asian countries are providing support for the U.S. position regarding unfair bidding practices for infrastructure projects. Unfortunately more than corporate earnings affect the markets and currently there are a few things the market is watching.
Geopolitical events continued to trump strong earnings as new developments related to Saudi Arabia and Federal Reserve commentary weighed on the market.   For the week, the Dow Jones Industrial Average and S&P 500® Index eked out modest gains (0.41% and 0.02%, respectively).  Technology and small cap stocks fell fractionally as the Nasdaq dropped 0.64% and the Russell 2000® Index dropped 0.30%.
The disappearance and presumed murder of journalist Jamal Khashoggi has become a significant political and economic issue; Saudi Arabia has acknowledged that he died 'during a fight' in the Saudi consulate in Istanbul.  The U.S. and its allies have not yet determined their responses; they will likely balance criticism of Saudi Arabia while maintaining relationships with the Kingdom as an offset to Iran's role in the region.  Actions by the business community are perhaps sending a more important message; many high profile companies have withdrawn from attending and/or speaking engagements at next week's "Davos in the Desert" financial summit in Riyadh; the summit is intended to showcase Saudi Arabia to attract new business investments to diversify their economy.  Furthermore, Saudi Arabia has invested significantly in Technology startups; retaliatory actions could dampen investments in venture capital deals.  And, perhaps coincidentally several companies, including Uber, Lyft and data mining Palantir Technologies, this week announced plans for IPOs in 2019; two years ago, Uber received $3.5 billion in funding from the Public Investment Fund, Saudi Arabia's sovereign wealth fund.
Wednesday's release of minutes of the most recent Fed meeting revealed mixed opinions on future interest rate increases needed to maintain a neutral position.  The markets continue to struggle in evaluating the impact of higher interest rates; the Fed, though, seems steadfast in setting a course of gradual, data-driven rate increases.  The big picture here suggests that the recent spike in interest rates may reflect investor concerns about the strong equity market rally; that is, the overvaluation of recent performance leaders may have unnerved investors.  For example, even though Netflix recently rose after reporting higher-than-expected new subscriber growth, ended the week in bear market territory, more than 23% below its all-time high in July. The market is more concerned with the Federal Reserve reducing its balance sheet (selling or letting Treasury bonds mature) causing bonds prices to go down and yields to rise. This Federal Reserve's balance sheet ballooned in the financial crisis from $700mm to more than $4.5 Trillion from Quantitative easing. This is uncharted territory for our federal reserve and the federal reserves around the world who followed the U.S game plan during the financial crisis.  
When President Trump says the Fed is raising rates too quickly, he is not just talking about the rate increases at the Feds meetings but rather what the Fed policy is in totality and the affect it is having on prevailing interest rates.  The Federal Reserve has never been in this situation before and must proceed with caution.  We predict they will either hold on rate increases or slow their bond selling program.  Both are important for long term economic stability, but this too will take more time than anyone ever thought.  The world is watching to see how we deal with this before they pursue the same policy.  Time will tell, but we believe the Federal Reserve will address this situation in the next few months.
As with past geopolitical crises, the current crisis too will likely resolve over time; likewise, the sell off this month will trigger market activity. The Federal reserve does not want to slow the economy so much that is stalls. Why?  Earnings conference calls reinforce expectations for continued economic growth in 2019; and, companies, after reporting earnings, will be free to re-enter the market for stock buybacks.  Current prices may provide an important support for the market as earnings season progresses and geopolitical events unfold.
Source: Strategas and Pacific Global Investment Management Company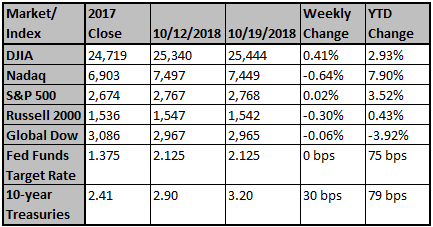 Chart reflects price changes, not total return. Because it does not include dividends or splits, it should not be used to benchmark performance of specific investments.
---
Related News
China's economic growth slows to its lowest pace since ea...
1. China's economy is growing at the slowest pace since the depths of the financial crisis in early 2009, according to newly released official data that heightens pressure on the leaders...
Brexit is stalling over one key issue and the solution co...
Prime Minister Theresa May is reportedly willing to extend the transition process.
---
Brian Amidei is Coachella Valley's only Barron's Magazine Top 1,000 Advisor in 2013 and 2014!
Brian Amidei, along with Partners Joseph Romano and Brett D'Orlando have also been named *2014, 2015, 2016, 2017 Five Star Wealth Managers!
Disclosures:
Awards and recognitions by unaffiliated rating services, companies, and/or publications should not be construed by a client or prospective client as a guarantee that he/she will experience a certain level of results if Fortem is engaged, or continues to be engaged, to provide investment advisory services; nor should they be construed as a current or past endorsement of Fortem or its representatives by any of its clients. Rankings published by magazines and others are generally based on information prepared and/or submitted by the recognized advisor. Awards may not be indicative of one client?s experience or of the Firm?s future performance.  Neither Fortem nor the recognized advisor has paid a fee for inclusion on a list, nor purchased any additional material from the award provider. The criteria for each award is listed below:
Barron's Disclosure:
The Barron's award is is based on the recognized adviser's assets under management, contribution to the firm's revenues and profits, and quality of practice.  Investment performance is not an explicit criteria.  Additional information about this award is available at http://online.barrons.com/report/top-financial-advisors. 
Five Star Professional Disclosure:
The Five Star Wealth Manager award is based on 10 eligibility and evaluation criteria: 1) Credentialed as an investment advisory representative (IAR) or a registered investment advisor; 2) Actively employed as a credentialed professional in the financial services industry for a minimum of five years; 3) Favorable regulatory and complaint history review; 4) Fulfilled their firm review based on internal firm standards; 5) Accepting new clients; 6) One-year client retention rate; 7) Five-year client retention rate; 8) Non-institutionalized discretionary and/or non-discretionary client assets administered; 9) Number of client households served; and 10) Educational and professional designations. The inclusion of a wealth manager on the Five Star Wealth Manager list should not be construed as an endorsement of the wealth manager by Five Star Professional or the magazine. The award methodology does not evaluate the quality of services provided.  Additional information about this award is available at: fivestarprofessional.com/2016FiveStarWealthManagerMethodology.pdf
Fortem Financial 2016. All rights reserved. 
Data Sources:  News items are based on reports from multiple commonly available international news sources (i.e. wire services) and are independently verified when necessary with secondary sources such as government agencies, corporate press releases, or trade organizations.  Market Data: Based on reported data in WSJ Market Data Center (indexes); U.S. Treasury (Treasury Yields); U.S. Energy Information Administration/Bloomberg.com Market Data (oil spot price, WTI Cushing, OK); www.goldprice.org (spot gold/silver); Oanda/FX Street (currency exchange rates).  All information is based on sources deemed reliable, but no warranty or guarantee is made as to its accuracy or completeness. 
Neither the information nor any opinion expressed herein constitutes a solicitation for the purchase or sale of any securities, and should not be relied on as financial advice.  The opinions expressed are solely those of the author, and do not represent those of Fortem Financial, LLC or any of its affiliates.  Past performance is no guarantee of future results.  All investing involves risk, including the potential loss of principal, and there can be no guarantee that any investing strategy will be successful.  Forward looking statements are based on current expectations and assumptions, the economy, and future conditions.  As such, forward-looking statements are subject to inherent uncertainty, risks, and changes in circumstance that are difficult to predict.  Actual results may differ materially from the anticipated outcomes.  Carefully consider investment objectives, risk factors and charges and expenses before investing.  Fortem Financial is a registered investment adviser with the SEC.  Advisory services are offered through Fortem Financial.
The Dow Jones Industrial Average (DJIA) is a price-weighted index composed of 30 widely traded blue-chip U.S. common stocks.  The S&P 500 is a market-cap weighted index composed of the common stocks of 500 leading companies in leading industries of the U.S. economy.  The NASDAQ Composite Index is a market-value weighted index of all common stocks listed on the NASDAQ stock exchange.  The Russell 2000 is a market-cap weighed index composed of 2,000 U.S. small-cap common stocks.  The Global Dow is an equally weighted index of 150 widely traded blue-chip common stocks worldwide.  Market indices listed are unmanaged and are not available for direct investment.