September began with across-the-board declines in response to uncertainties related to trade tariffs with China and the NAFTA negotiations with Canada.  Last week the Dow Jones Industrial Average led the markets with a fractional 0.19% loss; the S&P 500® Index declined 1.03%, the Nasdaq fell 2.55% and the Russell 2000® Index lost 1.58%.
On Wednesday, trade negotiations between the U.S. and Canada resumed but the parties had not reached an agreement as the week ended; the pressure builds for an agreement by the end of September.   President Trump has threatened to move ahead with the bilateral agreement with Mexico; Congress, though, which must approve any agreement, clearly prefers a trilateral deal that includes both Mexico and Canada.  Over the weekend there were developments that the US and Canada may be days away from announcing a trade agreement so stay tuned as this story unfolds.
Shortly before the end of Thursday's deadline for public comments on an additional $200 billion on Chinese tariffs, Apple urged the Administration not to apply an additional $200 billion in tariffs on Chinese imports.  The letter stated the company's concern that the tariffs would result in lower U.S. growth, higher prices for U.S. consumers.  President Trump suggested Apple move manufacturing jobs back to the US and they would avoid the tariff drag.
Many believe that China would respond by imposing increasingly more difficult conditions for U.S. companies doing business in China.  One example of the complexity of the tariff standoff involves the African swine fever; an outbreak of the deadly pig virus has appeared in six Chinese provinces.   The illness, which is highly fatal to pigs, is controlled through quarantine and eradication.  In response to the resulting drop in domestic production, China is turning to countries other than the U.S. to make up the shortfall in domestic production.  The likely scenario involved increased pork exports to China from Europe, Brazil and other countries; these, in turn, will look to imports from the U.S. to cover their domestic demand for pork.  The result: lower U.S. sales to China; increased sales to other countries.  This scenario is consistent with commentaries from shipping companies that tariffs will shift trade to other countries with limited overall impact on the global markets.
Favorable economic news continues; second quarter productivity increased 2.9%, the best performance since 2010.  In addition, manufacturing production rose to 61.3% and consumer confidence remains high with good employment opportunities.  In August, employers added 210,000 jobs, and the unemployment rate fell to 3.9%.
Overall, the markets performed well during the summer months; investors approach the fall season, and mid-term elections, with some hesitation.  The Technology sector underperformance weighs on the markets as the rotation from high-valuation growth stocks to more undervalued companies proceeds; also, the FAANG stocks reflect some concern that the government may seek to lessen their perceived market dominance.
Trade-related events will likely contribute to greater market volatility; and, while the near-term impact of these events remains difficult to anticipate, most analysts anticipate that negotiated resolutions will evolve over time.
Source: Pacific Global Investment Management Company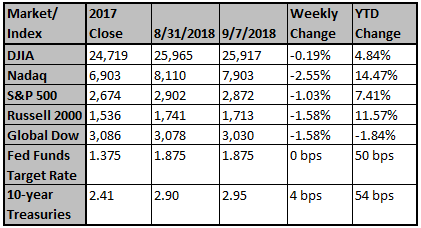 Chart reflects price changes, not total return. Because it does not include dividends or splits, it should not be used to benchmark performance of specific investments.
---
Latest News
Real Wages Are Rising
Wall Street Journal Editorial Board 9/7/2018 Most headlines from Friday's August jobs report concerned the 2.9% increase in wages over the last 12 months, the healthiest raise in some time. That figure was probably overstated due to a weak August 2017 falling off the 12-month comparison, but othe...
Jump in yields hits homebuilder, real estate stocks
The Many Ways to Be Relieved of Your Timeshare Obligations
How AI Is Helping Brick-And-Mortar Retail Businesses Stay...
Organizations willing to modernize the approach of delivering on customer expectations, the in-store experience, and front-of-house operations have the potential to see a valuable return ...
---
Brian Amidei is Coachella Valley's only Barron's Magazine Top 1,000 Advisor in 2013 and 2014!
Brian Amidei, along with Partners Joseph Romano and Brett D'Orlando have also been named *2014, 2015, 2016, 2017 Five Star Wealth Managers!
Disclosures:
Awards and recognitions by unaffiliated rating services, companies, and/or publications should not be construed by a client or prospective client as a guarantee that he/she will experience a certain level of results if Fortem is engaged, or continues to be engaged, to provide investment advisory services; nor should they be construed as a current or past endorsement of Fortem or its representatives by any of its clients. Rankings published by magazines and others are generally based on information prepared and/or submitted by the recognized advisor. Awards may not be indicative of one client?s experience or of the Firm?s future performance.  Neither Fortem nor the recognized advisor has paid a fee for inclusion on a list, nor purchased any additional material from the award provider. The criteria for each award is listed below:
Barron's Disclosure:
The Barron's award is is based on the recognized adviser's assets under management, contribution to the firm's revenues and profits, and quality of practice.  Investment performance is not an explicit criteria.  Additional information about this award is available at http://online.barrons.com/report/top-financial-advisors. 
Five Star Professional Disclosure:
The Five Star Wealth Manager award is based on 10 eligibility and evaluation criteria: 1) Credentialed as an investment advisory representative (IAR) or a registered investment advisor; 2) Actively employed as a credentialed professional in the financial services industry for a minimum of five years; 3) Favorable regulatory and complaint history review; 4) Fulfilled their firm review based on internal firm standards; 5) Accepting new clients; 6) One-year client retention rate; 7) Five-year client retention rate; 8) Non-institutionalized discretionary and/or non-discretionary client assets administered; 9) Number of client households served; and 10) Educational and professional designations. The inclusion of a wealth manager on the Five Star Wealth Manager list should not be construed as an endorsement of the wealth manager by Five Star Professional or the magazine. The award methodology does not evaluate the quality of services provided.  Additional information about this award is available at: fivestarprofessional.com/2016FiveStarWealthManagerMethodology.pdf
Fortem Financial 2016. All rights reserved. 
Data Sources:  News items are based on reports from multiple commonly available international news sources (i.e. wire services) and are independently verified when necessary with secondary sources such as government agencies, corporate press releases, or trade organizations.  Market Data: Based on reported data in WSJ Market Data Center (indexes); U.S. Treasury (Treasury Yields); U.S. Energy Information Administration/Bloomberg.com Market Data (oil spot price, WTI Cushing, OK); www.goldprice.org (spot gold/silver); Oanda/FX Street (currency exchange rates).  All information is based on sources deemed reliable, but no warranty or guarantee is made as to its accuracy or completeness. 
Neither the information nor any opinion expressed herein constitutes a solicitation for the purchase or sale of any securities, and should not be relied on as financial advice.  The opinions expressed are solely those of the author, and do not represent those of Fortem Financial, LLC or any of its affiliates.  Past performance is no guarantee of future results.  All investing involves risk, including the potential loss of principal, and there can be no guarantee that any investing strategy will be successful.  Forward looking statements are based on current expectations and assumptions, the economy, and future conditions.  As such, forward-looking statements are subject to inherent uncertainty, risks, and changes in circumstance that are difficult to predict.  Actual results may differ materially from the anticipated outcomes.  Carefully consider investment objectives, risk factors and charges and expenses before investing.  Fortem Financial is a registered investment adviser with the SEC.  Advisory services are offered through Fortem Financial.
The Dow Jones Industrial Average (DJIA) is a price-weighted index composed of 30 widely traded blue-chip U.S. common stocks.  The S&P 500 is a market-cap weighted index composed of the common stocks of 500 leading companies in leading industries of the U.S. economy.  The NASDAQ Composite Index is a market-value weighted index of all common stocks listed on the NASDAQ stock exchange.  The Russell 2000 is a market-cap weighed index composed of 2,000 U.S. small-cap common stocks.  The Global Dow is an equally weighted index of 150 widely traded blue-chip common stocks worldwide.  Market indices listed are unmanaged and are not available for direct investment.