Stocks fell last week (S&P 500 -1.3%) as the S&P 500 and NASDAQ fell below their 50-day moving averages. The market's mood was primarily defensive with investors focused on the renewed back up in interest rates, dollar strength, and the spike in oil prices. Positive sectors included energy (+1.4%) and utilities (+0.9%); underperformers included industrials (-2.9%) and materials (-2.5%).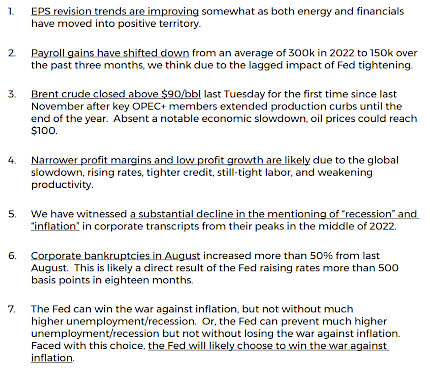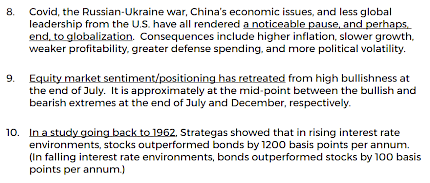 Source: Bob Doll Crossmark Investments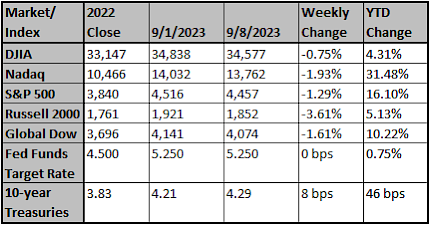 Chart reflects price changes, not total return. Because it does not include dividends or splits, it should not be used to benchmark performance of specific investments. Data provided by Refinitiv.
---
Remembering 9/11
As we mark the 22nd anniversary of the September 11, 2001, terrorist attacks, we take a moment to remember the profound impact that day had on our nation and the world. Although over two decades have passed since that fateful day, the memories and lessons of 9/11 remain etched in our collective consciousness.
We pay tribute to the innocent lives that were lost in the attacks. We also pay tribute to the heroes of 9/11—the firefighters, police officers, first responders, and ordinary citizens who rushed into danger to save lives. Their selflessness and bravery serve as a timeless example of the indomitable human spirit.
On this solemn occasion, we reaffirm our commitment to the ideals that make our nation strong and resilient. May the memory of 9/11 inspire us to be better, to work towards a safer and more harmonious world, and to ensure that the sacrifices of that day are never forgotten.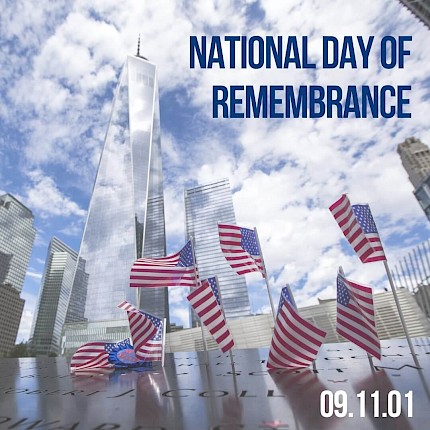 Sincerely,
Fortem Financial
(760) 206-8500
team@fortemfin.com
---
Latest News
Global business activity showed signs of slowdown in August, surveys find
Global business activity largely slowed further last month as services firms struggled in the face of weak demand as rising prices and borrowing costs made indebted consumer rein in spending, a raft of surveys showed on Tuesday.
Reuters
Morning Bid: Tightest financial conditions this year bite
A look at the day ahead in Asian markets from Jamie McGeever, financial markets columnist.
Reuters
Analysis: Potential US government shutdown could dent investor confidence
A potential U.S. government shutdown at the end of September could add to worries about the economy going into year-end and beyond, investors said.
Reuters
---