2023 Earnings Decline Paused For Now
After falling roughly $9 during the 2Q reporting season, the 2023 earnings estimate has stabilized at approximately $243.50, with 2023 earnings growth expected to be about 8%. However, we continue to believe that earnings estimates for 2023 are too high, and expectations will once again be revised down during the 3Q reporting season.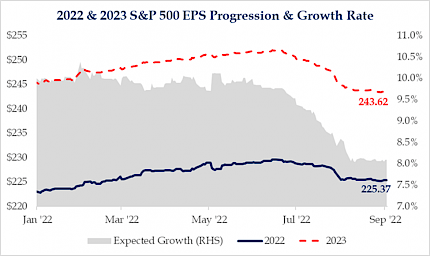 Financials & Discretionary Expected To Increase Their Contribution In 2023
Considering the sector contributions for 2023 estimates, it strikes us as unusual that both the financial and discretionary sectors are expected to increase their contributions given the macro backdrop. With the odds of a recession above 50% and the Fed expected to continue to raise rates to slow economic activity and anchor inflation expectations, unemployment will likely rise, which historically does not bode well for financials and discretionary earnings.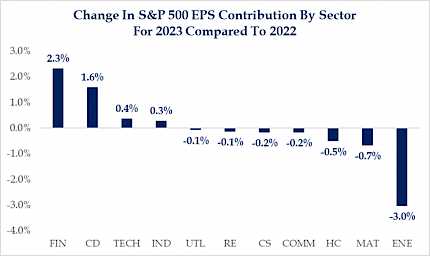 Operating Margins Holding Up Better Than Expected
The estimated operating margin for the S&P 500 over the next twelve months remains at 16.9%, which is clearly rolling over but still holding on. Admittedly, margins have hung in much better than we anticipated they would, at least for now, but as we've mentioned, a downtrend in margins has not boded well for equity returns. With both equities and bonds facing challenges for investors, there are few places to allocate capital.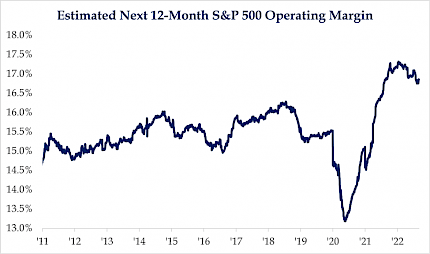 Energy's Profits Keeping S&P Margins Elevated
Breaking down operating margins by sectors show that Energy and Technology are two sectors punching well above their 10-year historical average. Technology makes sense to us given the asset light operating models, but energy is more a function of elevated commodity prices. If companies remain disciplined with capex, their margins will likely remain higher than the historical averages for longer.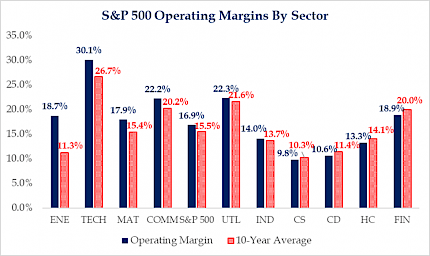 Source: Strategas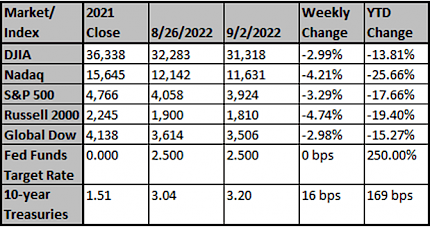 Chart reflects price changes, not total return. Because it does not include dividends or splits, it should not be used to benchmark performance of specific investments. Data provided by Refinitiv.
Sincerely,
Fortem Financial
(760) 206-8500
team@fortemfin.com
---
Regulatory Notification
Confirmation of Statements
As a part of our service, we want to confirm you are receiving your regular monthly statements. If you have not received any of your statements, please contact us so that we can resolve any issues.
---
Latest News
Stock Futures Rise After Labor Day Weekend
U.S. stock futures rose, suggesting major indexes could open higher after three weeks of losses driven by expectations for tighter Federal Reserve policy and an energy crisis in Europe.
The Wall Street Journal
Junk-Loan Defaults Worry Wall Street Investors
Missed loan payments point to a hard landing for companies squeezed by rising interest rates.
The Wall Street Journal
---