Equities fell last week with the S&P 500 down 0.2%, masking a huge rally on Wednesday and a big decline on Thursday. This was the fifth straight week of equity market decline. Equities fell due to headwinds from a continued back-up in yields (10-year yields were up 24 basis points). Best sectors were energy (+10.2%) and utilities (+1.3%); worst sectors were REITs (-3.8%) and consumer discretionary (-3.4%).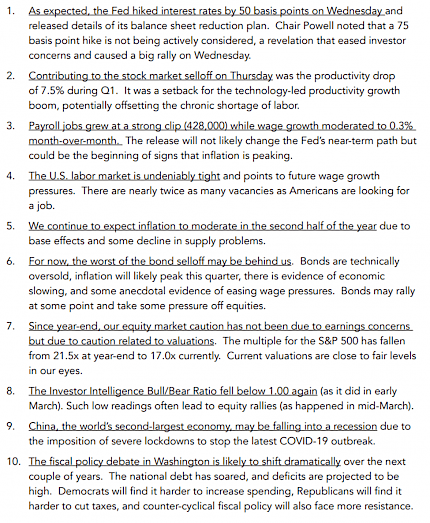 1Q Earnings Season In Line With Historical Average; Outlooks More Worrisome
With more than 85% of companies having reported earnings, the pace of improvement in the aggregate estimates is in line with historical norms. Earnings growth is now expected to be 10.4% with revenue growth coming in at 13.6%. However, the deteriorating fundamental outlooks for many companies are more worrisome.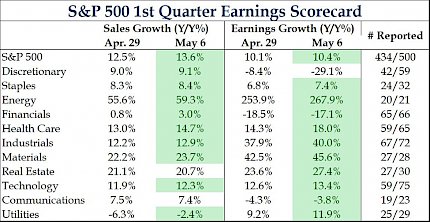 Source: Bob Doll CIO Crossmark Global Advisors, Strategas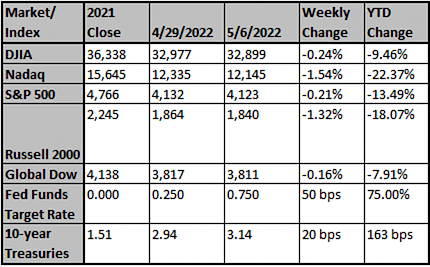 Chart reflects price changes, not total return. Because it does not include dividends or splits, it should not be used to benchmark performance of specific investments. Data provided by Refinitiv.
Sincerely,
Fortem Financial
(760) 206-8500
team@fortemfin.com
---
Latest News
Can the Fed bring the US economy in for a soft landing?
The Federal Reserve wants to fight inflation without tanking the economy.
Quartz
As rates rise, inflation heats up and stocks plunge, you ...
When Fed rate hikes to combat inflation cause stocks to plunge, investors worried about their investments are finding ways to work their cash.
USA TODAY
China trade weakens after cities shut down to fight virus
China's export growth tumbled in April after Shanghai and other major industrial cities were shut down to fight virus outbreaks
ABC News
---