These are indeed interesting times. Our country has been opening back up with great success over the last few weeks, and the economic numbers are starting to reflect a ray of hope for all Americans to get back to NORMAL life.
Last week was a decent week for economic data. This statement might seem surprising, given that first quarter U.S. real GDP was revised lower to -5.0% quarter over quarter annualized and tracking estimates for 2Q have fallen to roughly -50% (the Atlanta Fed GDPnow 2Q estimate is -51.2% q/q A.R.). To be sure, there were other negative news items: U.S. durables orders plunging -17.2% m/m in April, corporate profits down -13.9% q/q in 1Q, and weekly initial jobless claims remaining high.
However, last week's package of data indicated that the worst could be over (or at least old news) at this point. Here's the evidence:
Sweden GDP: The 1Q real GDP reading in Sweden rose +0.1% q/q. Any increase is notable, in context of the global virus spread. The response by health officials in Sweden has been notably different vs. other countries (choosing to avoid a full lockdown). While 2Q is likely to be weak q/q given the decline in global economic activity, the current reading offers some modest hope as other countries attempt economic re-openings.
U.S. Personal Income actually went up: the U.S. govt. did a better job than expected with income replacement in the early stages of the virus lockdown, with personal income surging +10.5% m/m in April due to annualized one-time transfers.
U.S. Saving Rate actually increase: the personal saving rate rose to 33.0% in April as income rose but consumption collapsed (businesses were closed). This suggests that GDP tracking estimates using April data should be bottoming out as consumers can fund pent-up demand in coming months.
U.S. Continuing Unemployment Claims went down: continuing claims have been volatile w/w, and some of this could be due to bi-weekly technical reporting issues. Emergency benefits are also out of scope. But for what it's worth, continuing claims declined -3.9 million w/w in the May 16th reading to 21 million. That is still a very high level. But if continuing claims start to trend lower on a 4 week avg. basis, it should be viewed as encouraging news about an economic re-opening / re-hiring at the margin.
U.S. New Home Sales Rise: in a month where many economic series saw record weakness, new home sales rose slightly m/m in April. While March did show a -13.7% m/m decline, this is a shockingly good April performance. True, it's easier to show a new home vs. an existing (occupied) home during a lockdown, but nonetheless these contract signings hint at underlying demand for residential housing.
U.S. Consumer Confidence Rises: There was a substantial weakening in April, but May confidence data has started to bottom. The Conf Board number rose slightly, and the U of Mich. series moved up as well m/m. High-frequency series like the Bloomberg measure also look to be in a bottoming process. This trajectory likely reflects near-term income replacement, consumers' belief that layoffs are temporary, and a recovery in asset values in part due to central bank support.
Timely global data such as restaurant reservations (eg, Opentable's numbers) have also shown some "green shoots" off very depressed levels. The U.S. yield curve has steepened. Germany's IFO business climate has increased off its low. China business conditions have started to improve (eg, the CKGSB data).
To some extent, it depends whether one is interested in growth rates or levels of activity at this point. Growth rates are set to pick up (and pick up aggressively in some cases; we estimate +20% for U.S. GDP in 3Q). But the prerecession level of economic activity isn't regained until early 2022 in our forecast, even with a strong near-term bounce (that's how big the hit to activity was).
Re-opening will result in a rebound. But some of the fixes (eg, government transfers in April) are temporary, others address liquidity more than solvency (eg, Fed programs are for "lending not spending" as Chair Powell noted).
Bottom line: The COVID-19 shock has been global, and likely to extend well beyond the initial health lockdown & re-open (U.S./China relations have been affected, as have China/Hong Kong issues, euro-area politics, U.S. state budgets, and the November U.S. election). True, the economic shock of the lockdown is ebbing, and (any) resumption of activity will look like a "V" for a short period. But it will be difficult to get back to 2019 levels of GDP in a (still) socially-distanced world.
Source: Strategas
But we must also remember, this is an election year, and unfortunately politics has become a contact sport During election years, it is normal for Americans' emotions to run high (as it is for stock market volatility). It will only compound the opposing views that Americans have on the handling of Covid-19. There are some who believe the government handled the situation as well as anyone could (and perhaps even better than others would have), and there are others that believe its handling of Covid-19 was completely inept. However, after removing the emotions and politics, the data tells a different story. The Economist Magazine published an article on May 28, 2020 titled "How the world's most powerful country is handling Covid-19." Their findings were quite interesting.
They wrote: "The official death rate in America is about the same as in the European Union—which also has excess deaths, but has less erratic leaders and universal health care. Overall, America has fared a bit worse than Switzerland and a bit better than the Netherlands, neither of which is a failed state. New York has been hit about as hard as Lombardy in northern Italy; California acted early and is currently similar to Germany; so far, rural states have, like central Europe, been spared the worst. This reflects two things, both of which will matter now that America is reopening before it has the virus fully under control.
The first is that covid-19, when it first hit, displayed an indifference to presidents and their plans. Around the world it has killed in large, dense and connected cities like New York, London and Paris, and where people are crammed together, including care homes, slaughterhouses and prisons...
That leads to the second feature of the country's response to covid-19. The virus was always going to be hard on a population with high levels of poverty, obesity and diseases such as diabetes, especially among minorities (see Lexington)...
If the public-health response in the United States so far matches Europe's, its economic response to the virus may turn out better. True, the unemployment rate in America is 15%, double that in the eu. Yet in Europe most governments are protecting jobs that may no longer exist once lockdowns end rather than focusing help on the unemployed as America's has. The eu is probably delaying a painful adjustment. Congress, not known for passing consequential legislation with big bipartisan majorities, agreed on a vastly bigger fiscal stimulus than in the financial crisis a decade ago."
To many, these comments may sound like they are written by a supporter of Trump and his administration, however, contrary to what you may believe from the above comments, the author does not appear to be a fan of Trump or his administration.
The author also wrote in the article: "That America and Europe have fared similarly in the pandemic does not absolve Mr Trump. This is the first international crisis since 1945 in which America has not only spurned global leadership but, by cutting funds to the World Health Organisation, actively undermined a coordinated international response. That matters, as does Mr Trump's inability to cleave to a consistent message or to speak to the country in words that do not enrage half of the population."
They also wrote: "Having seen what was happening in China, Mr Trump could have acted sooner—as Taiwan, Singapore and Vietnam did. He has failed to do things ordinarily expected of an American president in a crisis, such as giving clear government advice or coordinating a federal response. Instead, he has touted quack remedies and spent the days when America passed its sombre milestone spreading suspicion of the voting system and accusing a television host of committing a murder that never happened. All this is reprehensible and it may have been costly. Yet, tempting as it is to conclude that the president's failures bear most of the blame for covid-19's spread through America, the reality is more complicated (see Briefing)."
We share these comments not to further the divide, but rather to remind that this is an election year, and during elections years, emotions run high. Much of what is written in this article is OPINION, but the death toll numbers are facts. The actions taken thus far are facts. Part of what makes America great is that we are each entitled to our opinion, and we have the freedom to speak our opinion without the threat of reprisal from our government. These opinions will indeed affect how we vote and which politicians we support. However, we, as did this author, need to be careful not to mix facts with opinions.
We must recognize that over the last two months, we have been attacked by a virus that motivated our country take actions we've never before taken. Government, private businesses, and schools all over the country were closed or adapted to offer "online-only" service. Almost overnight, America's citizens transitioned from the strongest economy we've seen in decades to an economic contraction on the order of magnitude equal to the Great Depression. To many (both in the US and abroad) there are questions as to the true origin of the virus; and the uncertainty is not easing our frustration.
When the lockdowns were initially enacted, we were told they would be "short," to provide time for our medical services to prepare to meet the demands of Covid-19. As time progressed, so did the length of the lockdowns. The initial goal was to "flatten" the contagion curve so we would not overwhelm our health care system. As time went on, the goal line was pushed farther out. Various sources have gone so far as to proclaim normal "cannot" return until AFTER we have a widely distributed Covid-19 vaccine, which may be months (or more) away from being a reality.
The uncertainty and constantly shifting message has left many wondering what is true and accurate, and what is not. Many of the "experts" themselves had said they are still not sure what is true and accurate - Covid-19 is a novel virus and they are learning about it as fast as they can. Uncertainty has almost certainly contributed to civil unrest, and although science suggests we may be able to open most of our economy sooner, the changing narrative has left many of us doubtful. Data from various countries and states that have been reopening seem to suggest we can continue to open more services and businesses in more cities and towns. Hospitalizations, patients admitted to ICU, and deaths are decreasing. The initial forecasts of lives that would be lost to Covid-19 are being revised down dramatically. It appears we succeeded in our mission as a country to bend the contagion curve, and thus far we have prevented our medical system from being overwhelmed. But because the narrative has has changed so much, many are still not sure we can trust the data.
We all know Covid-19 has significantly impacted our country and the rest of the world. Many will argue it has had a greater impact on the US economy and our daily lives than anything has in the last 40 years. It's hard to imagine Covid-19 not becoming politicized, and politicians on both sides of the isle will try to use it to their advantage.
Following the current American discourse, we can see that division among Americans is running high. There are those who believe some cities and states are taking too long to reopen, thus causing further damage to an already struggling economy. There are others who believe some cities and states are moving too fast, putting our citizens, our healthcare system, and our economy at greater risk. In addition to the timing of the reopening of the economy, Americans are at odds over wearing masks. Some are adamant everyone should wear a mask because of the health benefits, while others argue it should be a personal choice and offers no health benefit. Tensions are high, and in many ways, still building.
In a world where physical fights are breaking out between (normally peaceful) Americans over wearing masks, it is not a surprise that a tragedy on the magnitude of what happened to George Floyd lit a fuse unleashing some American's pent up frustration and anger. Anyone who has viewed the footage of George Floyd's arrest will likely arrive at the conclusion that Derek Chauvin's use of force was inappropriate. Anyone who has viewed the footage is probably asking why the other three officers did not intervene. But in America, we do not believe in taking the law into our own hands. We believe there is a process and a system to seek redress for those who are harmed by others.
Derek Chauvin has been arrested and charged, and he is awaiting trial. We believe Americans (even the guilty ones) deserve a fair trial heard by a jury of their peers. The three officers present with Derek Chauvin have all been fired and an investigation is ongoing. Police Chief Arradondo has said, "being silent or not intervening, to me, you're complicit. You're complicit. If there were one solitary voice that would have intervened and acted, that's what I would have hoped for." The expectation seems to be that all four officers may be charged. Law enforcement has acknowledged that this issue needs to be taken seriously and addressed quickly. We understand that given the severity of what happened, this may not feel like "enough" to some, but mob rule and chaos will not undo the wrongs that have been done, nor will it benefit the family and friends of those affected by this tragedy.
We hope to see peace return soon. We are glad to see ordinary people around the country stand and face the "mob" to proclaim that this is NOT the way to seek change. We hear many pleading to the those who are reacting violently to stop. It will be very interesting to see what happens in the next few weeks as ordinary American citizens stand up for a peaceful resolution.
It will also be very interesting to see what happens with Covid-19. With the large gatherings taking place with the mobs, many are concerned that we will see another spike in Covid-19; it takes 5-14 days to incubate. This should mean we will see another spike in new cases over the next few weeks, but what if we don't?
If we see no appreciable increase in new infections, this current chaos may pave the way to the economy unlocking more quickly. The return of jobs, schools, and social gatherings may well begin to help communities heal.
Please call or email us with any questions or concerns you may have.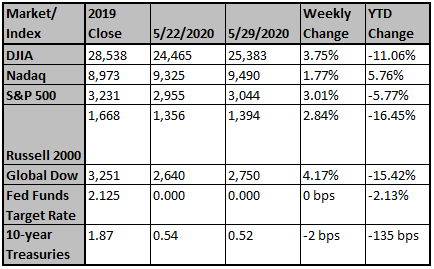 Chart reflects price changes, not total return. Because it does not include dividends or splits, it should not be used to benchmark performance of specific investments
Sincerely,
Fortem Financial
(760) 206-8500
team@fortemfin.com
---
Latest News
Good News! The Re-Opening
We are currently in the short and steep part of the upward move and the comparative data looks positive... because we started from the depths of despair.
When it comes to earnings, Wall Street has already moved ...
"Investors are basically saying, 'When it comes to earnings, tell me something I don't know. I already know that 2020 is going to be horrible,'" notes one analyst.
U.S. Producers Prove Better Swing Supplier Than Previousl...
The quick reaction of American producers to cut output in response to market conditions have shown the U.S. to be a better swing supplier than previously believed possible.
---