Equities had their worst week since September (S&P 500 -4.6%). All sectors were down with banks the biggest decliners due to the SIVB financial failure. Treasuries rallied across the curve, with two-year yields recording their largest two-day move since 9/11. Best sector performers for the week were consumer staples (-1.9%), utilities (-2.9%), and technology (-3.1%). Worst performers were financials (-8.5%), materials (-7.6%), and REITS (-7.0%).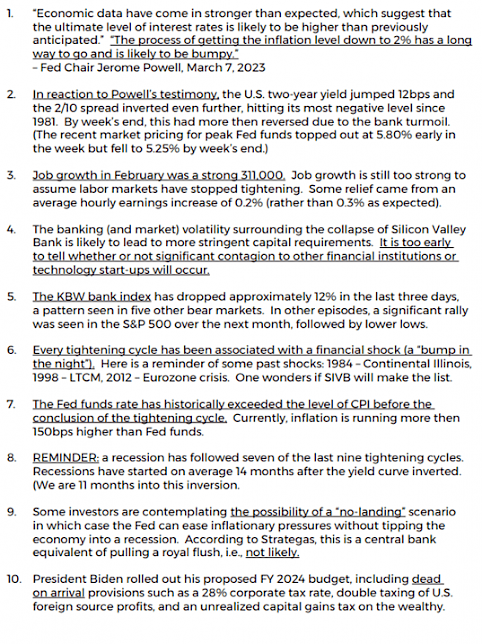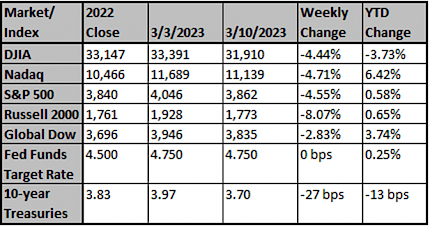 Chart reflects price changes, not total return. Because it does not include dividends or splits, it should not be used to benchmark performance of specific investments. Data provided by Refinitiv.
Sincerely,
Fortem Financial
(760) 206-8500
team@fortemfin.com
---
Latest News
Another US hiring surge: 311,000 jobs despite Fed rate hikes
America's employers added a substantial 311,000 jobs in February, fewer than January's huge gain but easily enough to keep pressure on the Federal Reserve to raise interest rates aggressi...
ABC News
Investors Rush to Safety of Bonds After Regulators Unveil...
The dollar fell and stock futures wavered after regulators moved to limit the impact of the collapse of Silicon Valley Bank.
The Wall Street Journal
: First Republic Bank's stock slides amid continuing jitt...
Lender to wealthy Silicon Valley customers First Republic sees its stock take a dive as regional banks remain in focus after the demise of SVB and Silvergate.
MarketWatch
---