The S&P 500 Index returned -2.49% last week. The index recorded gains for five consecutive months through August and is up 4.80% year-to-date. However, the first two weeks of September have trended down with the index currently down 4.50% for the month. Crude oil closed at $37.33 per barrel on Friday, declining 6.14% for the week. This is the second straight week of losses, marking the largest two-week decline since April.
Energy stocks have been under pressure posting the worst sector performance in the S&P 500 Index for the last two weeks and is the only sector in the index to be in negative territory during the third quarter of 2020. Energy company Apache Corp posted the worst performance in the index last week, returning -18.60%. Other poor performing energy companies included Halliburton Company, Occidental Petroleum Corp, Concho Resources Inc., Diamondback Energy Inc., Devon Energy Corp, and TechnipFMC PLC which all posted double-digit declines last week.
Information technology also suffered last week due to Apple Inc., the largest weight in the S&P 500 Index, declining 7.41%, and Microsoft Corp declining 4.77%. Semiconductor equipment stocks Lam Research Corp, KLA Corp, and Applied Materials Inc., were the worst-performing stocks in the sector, returning -11.75%, -11.08%, and -9.78% respectively. Tapestry Inc., a premium fashion designer with brands such as Coach, Kate Spade, and Stuart Weitzman, took the top spot in the index returning 10.92%. The stock has struggled this year and is down 39% year-to-date. In mid-August, the company reported a smaller than expected loss for the previous quarter, and earlier this month the company announced a reduction in workforce due to Covid-19. Speculators helped the stock jump last week as call option volumes were multiples higher than average.
Tesla Inc., the electric vehicle innovator that is up 345% in 2020, had its worst day ever on Tuesday declining 21.06%. Many investors had speculated that the stock would be added to the S&P 500 Index, but the index committee chose to add Etsy Inc., Teradyne Inc., and Catalent Inc., to replace H&R Block Inc., Coty Inc., and Kohl's Corp. Lennar Corp, Cracker Barrel Old Country Store Inc., Adobe Inc., and FedEx Corp are expected to announce earnings this week.
Timely data on U.S. consumer spending indicate August ended on a slightly softer note, but overall we've been trending sideways the past two months. The data is a bit dated, but as of July job openings in the U.S. continued to trend upward to 6.6 million. With the number of unemployed in the BLS household survey at 13.6 million, there's more to go. Economic growth will almost certainly slow after a re-opening surge q/q in 3Q, but it can likely continue to grind ahead if fiscal stimulus provides further income replacement. The net effect of the prior stimulus, savings, and the current patchwork of transfers has maintained momentum.
Small businesses are trying to rebound. The NFIB small business index rose to 100.2 in August, continuing the uptrend of the past 4 months. The employment component measuring plans to increase jobs showed notable strength. Based on recent U.S. labor market data, the expiration of expanded jobless benefits in July appears to have created a push to work in the U.S. With many small businesses likely staring at the end of PPP funds (which were meant to be temporary), many small businesses may also be thinking it's now or never.
Then there is the inflation news. While global stimulus measures have been large (Fed + ECB, fiscal policy, etc), we are mainly patching the lockdown. Inflation should not be the near-term worry, with global unemployment still elevated.
Inflation is generally a function of 1) expectations; 2) demand variables like unemployment or the output gap; and 3) supply shocks like changes in relative import prices. The net of these factors looks to be providing a near-term deflationary impulse now. This is true despite some m/m volatility in CPI components (eg, used cars in August).
Relative price changes are not sustained inflation. High prices are not perpetually rising prices. Inflation occurs when the whole basket of goods & services prices is rising. A currency collapse is one way to bring about a change in the whole basket. But with the U.S. dollar still entrenched (for now) as the global reserve currency for trade, we do not appear to be close to this event.
To sustain domestic inflation, we should look for a wage-price spiral that becomes embedded in inflation expectations. Often this shows up in increasing residential rents (shelter is roughly 1/3 of the CPI weight). But with unemployment so high, wage & rent boosts are likely down the road still. U.S. unemployment was reported at 8.4% in August, and the Bureau of Labor Statistics (BLS) noted that without some data-collection issues it would have been higher (9.1%). Only the Great Depression compares to the numbers of the past several months. The prior post-war peak in U.S. joblessness was 10.8% in Nov/Dec 1982, and that was followed by a (major) peak in inflation.
Source: Strategas, First Trust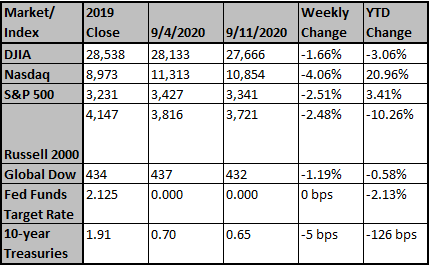 Chart reflects price changes, not total return. Because it does not include dividends or splits, it should not be used to benchmark the performance of specific investments
Sincerely,
Fortem Financial
(760) 206-8500
team@fortemfin.com
---
Latest News
Coronavirus vaccine optimism to boost stocks into year-en...
Goldman Sachs economists said last week that a faster-than-expected snapback in consumer spending will allow the U.S. economy to grow at a 35% pace in the third quarter, up from its previ...
Why Fed Officials Are Pushing for More Stimulus
Central bankers want more stimulus from Congress because new research says spending, not lower rates, would do more to prevent deeper economic scars among the unemployed, businesses and s...
Economy Week Ahead: Consumers, Industrial Output and Cent...
The Federal Reserve's two-day policy meeting highlights a week of central-bank statements and fresh data to help investors and economists gauge the pace of recovery from the pandemic.
---