In the middle of last week Federal Reserve Chairman Jerome Powell said the central bank was not considering employing negative interest rates to combat slowing economic conditions. And the data last week did indicate that COVID is wrecking havok with US economic activity. Last Tuesday witnessed a decline in the Consumer Price Index of 0.8% for April. Energy prices declined 10.1% in April, while food prices rose 1.5%. The "core" CPI, which excludes food and energy, declined 0.4% in April, versus a consensus expected -0.2%. Core prices are up 1.4% versus a year ago.
The April decline was the largest since March of 2008. The best news in the report was the rise of hourly earnings which were up 5.6% in April. However, this was largely the result of the lowest wage jobs experiencing layoffs. The Producer Price Index also registered a decline in April. The plunge in energy prices drove the index down 1.3%. The bad news continued through Friday of last week as April retail sales declined 16.4% and industrial production was down 11.2%. Retail sales were down nearly 22% from the year before. Sales at restaurants & bars fell 29.5%, general merchandise stores were down 20.8%, sales at food & beverage stores fell 13.1%, Gas station sales dropped 28.8%, non-store retailers (internet and mail-order) were up 8.4% in April and up 21.6% from a year ago. These sales now account for 19.4% of overall retail sales, an all-time record. "Core" sales, which exclude the most volatile categories of autos, building materials, and gas station sales, declined 17.2% in April and are down 17.6% from a year ago. Overall sales are down 21.6% from a year ago. Major economic reports (related consensus forecasts, prior data) for the upcoming week include: Tuesday: April Housing Starts (950K, 1216K); Wednesday: May 15 MBA Mortgage Applications (N/A, 0.3%); Thursday: May 16 Initial Jobless Claims (2,425K, 2,981K), May preliminary Markit US Manufacturing PMI (38.0, 36.1), April Leading Index (-5.7%, -6.7%) and April Existing Home Sales (4.30M, 5.27M).
Equities moved lower for the week on negative economic reports and Federal Reserve Chairman Jerome Powell stating additional stimulus could be needed as the outlook is "highly uncertain and subject to significant downside risks". The cautionary tone from the Fed Chairman and weak retail sales, which fell 16.4%, led to a 2.20% drop for the S&P 500 Index and a 5.42% drop for the Russell 2000 Index. Real estate was the worst performing sector as many tenants have skipped payments, especially in strip centers and traditional malls. In addition, cyclical sectors fell by more than the market as continued lockdowns have a larger impact on profits. Southwest Airlines Co., Delta Air Lines Inc. and American Airlines Group Inc. all fell by over 10% for the week after IATI projected air traffic will not return to 2019 levels until 2023. By contrast, United Natural Foods, Inc. surged after pre-announced results were significantly above the street as consumers eat more meals at home. Net income grew by 54% versus last year's quarter. Cisco Systems Inc., one of the final technology firms to report, beat expectations as work-from-home equipment and security sales buoyed the tech giant. With more than 90% of firms reporting earnings, the S&P 500 is projected to see a 16.6% drop in EPS in the first quarter, led by a 64.2% drop from the consumer discretionary sector. S&P 500 EPS is projected to trough in 2Q with a 43% decline. Looking ahead to next week, Walmart Inc. and Home Depot Inc. are set to report results. Consumer discretionary stocks are the last sector to report results as many names have off-quarter period end dates. Traders will continue to monitor the path of the virus and reopening plans across the country as lockdowns ease.
In response to the havoc caused by the lockdowns for Covid-19, we are now in the middle of the largest federal budget deficit since World War II. This year's budget deficit will, quite simply, blow the deficit numbers in 2009 as we were coming out of the sub-prime mortgage financial panic out of the water.
The Congressional Budget Office recently totaled up all the legislative measures taken so far - as well as the effects of a weaker economy (payments for unemployment benefits would be going up even with the recent law) - and they estimated this year's budget deficit at $3.7 trillion, which they forecast would represent about 18% of GDP. It's likely Congress and President Trump will end up compromising on some sort of additional measures that drive the deficit even higher. As a result, we're guessing the budget gap for the current fiscal year ends up closer to $4 trillion, or about 20% of GDP, the highest since 1943-45.
Given the economic crater generated by the Coronavirus and related shutdowns, as well as the heavy-handed legislative response, budget deficits will be enormous in the years ahead, too.
In spite of these sky-high numbers, it's important to recognize that the US government is not about to go bankrupt. The debt, while large (and growing), remains manageable. Before the present crisis, the average interest rate on all outstanding Treasury debt, including the securities issued multiple decades ago, was 2.4%. Now, our calculations suggest newly issued debt is going for about 0.25%, on average, which applies to both the recent increase in debt as well as portions of pre-existing debt coming due and getting rolled over at lower interest rates.
When debt that costs 2.4% gets rolled over at around 0.25%, that's a great deal for future US taxpayers. The problem is, the Treasury Department has been decidedly stubborn about not issuing longer-dated securities – think 50 and 100-year bonds – that would allow taxpayers to lock-in these low interest rates for longer, making it easier to spread out the cost of the extra debt incurred throughout the crisis.
As a result, if (or more like when) interest rates go back up, the interest burden generated by the national debt could go up substantially.
The best move the Treasury Department could make would be to use the recent surge in debt to overhaul the kinds of securities it issues. One idea that deserves exploring is replacing all securities with a maturity of over, say, 2 years, with "perpetual" or "interest-only debt." No principal would ever have to be paid on these instruments; they'd just pay the same nominal amount of interest twice per year. If we want to mix it up a bit, some debt could pay interest with gradual adjustments for inflation, just like TIPS.
This is not a new idea. The British issued perpetual bonds starting in the 1750s, and the last ones were retired in 2015. And although they're called "perpetual" bonds, and they're not callable, the Treasury Department could always buy them back at market prices to retire them.
Liquidity should not be an issue. Every time the government needs to issue longer-dated securities, it could simply re-open that very same security. Then the private sector could slice and dice them, on demand. If someone needs a 10-year zero-coupon Treasury note, just take the interest payment due in ten years and package that into a stand-alone security. Want something like a traditional 30-year? An investment firm can package a stream of interest payments over the next 30 years and tie it to a big package of payments due in exactly thirty years.
Source: First Trust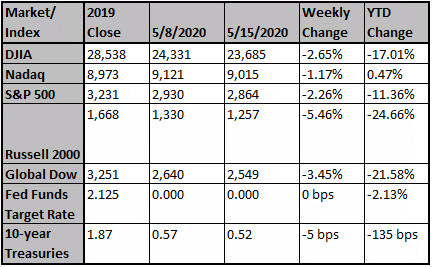 Chart reflects price changes, not total return. Because it does not include dividends or splits, it should not be used to benchmark performance of specific investments
Sincerely,
Fortem Financial
(760) 206-8500
team@fortemfin.com
---
Latest News
The Fed: Fed Chairman Powell tells '60 Minutes' a recover...
Fed Chairman Jerome Powell said Sunday he's optimistic about the long-run
Futures Movers: U.S. oil extends climb to 2-month high ab...
U.S. crude-oil prices in electronic trade on Sunday look to add to a climb toward a two-month high for the commodity, supported in large part by efforts to rebalance a supply-demand dynam...
China has been trying to avoid fallout from coronavirus. ...
Russian President Vladimir Putin once called Xi Jinping, the Chinese leader, a "lone warrior."
---