The reverberations from last week's breakdown in trade talks between the U.S. and China and the sanctions placed on Huawei continued to roil the markets.  In particular, investors focused on the impact on Technology companies as the Nasdaq, the worst performing index, fell 2.29%, followed by the Russell 2000® Index (-1.41%), S&P 500® Index (-1.17%) and the Dow Jones Industrial Average (-0.69%).   Apple, which relies heavily on China for manufacturing and sales, fell 5.31% this week as analysts worry about the combined effect of higher tariffs and lower sales in the absence of a trade resolution.  Several U.S. and European companies sought to avoid entanglement with Huawei in announcing they would cease sales and purchases of products with the company.
For months, negative and positive trade commentary from the U.S. and China, often unsupported by specifics, have driven market sentiment.  This week was no different as President Trump discussed the possibility of future sanctions on other Chinese companies and China provided a customary quid pro quo response.  Then on Friday, the markets welcomed President Trump's suggestion that a trade agreement could happen sooner-rather-than-later.
Elections in the European Union will likely increase nationalistic sentiments among members and raise governance issues.  UK Prime Minister May announced her resignation effective June 7.  A Brexit hardliner may succeed her which raises the possibility of a hard Brexit with no trade agreement.  The uncertainties continue as investors monitor results.
Light trading volumes suggest that many investors are awaiting more information to determine their strategy near-term.  As investors sought safety in cash, yields on U.S. Treasuries fell; on Tuesday, the 10-year Note fell to its lowest yield since October 2017.  The Federal Reserve released minutes on Wednesday which reaffirmed its current policy with no need to reduce interest rates to offset the potential damage of a trade war.  The markets' current low expectations for a quick resolution suggest that positive developments on trade could create a sharp rebound in equities.  Trade, now the primary determinant on market outlook will heavily influence investor sentiment for the near-term.
Source: Pacific Global Investment Management Company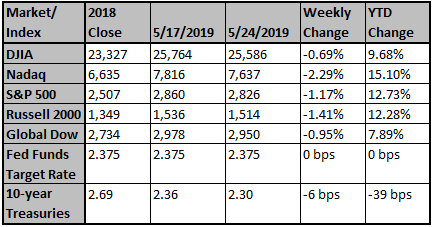 Chart reflects price changes, not total return. Because it does not include dividends or splits, it should not be used to benchmark performance of specific investments.
---
Latest News
Last Week's Headlines: 5/28/2019
1. WASHINGTON (May 21, 2019) Existing-home sales saw minor decline in April, continuing March's drop in sales, according to the National Association of Realtors. Two of the four major U.S. regions saw slight dip in sales, while the West saw growth and the Midwest essentially bore no changes I...
U.S. consumer confidence accelerates in May
FILE PHOTO: Shoppers walk through the King of Prussia Mall, United States' largest retail shopping space, in King of Prussia, Pennsylvania, U.S., December 8, 2018. REUTERS/Mark Makela WAS...
Trump says he hopes to announce a trade deal with Japan soon
Trump calls the US trade imbalance with Japan "unbelievably large."
---