At the beginning of each year, we like to share the top 10 predictions of an analyst we have followed for many years, Bob Doll, who is the Chief Equity Strategist at Nuveen. He has historically been right on more than 70% of these predictions, and for us, they serve as a broad overview of the current economic climate.
Bob Doll's Top 10 Predictions for 2020:
The world avoids recession in 2020 as U.S. GDP grows over 2% and global GDP grows over 3%.
Inflation and the 10-year U.S. Treasury yield end the year above 2% as the Fed stays on hold through the election.
Earnings fall short of expectations, partially due to rising wage rates.
Stocks, bonds and cash all return less than 5% for only the fourth time in 25 years.
Non-U.S. stocks outpace U.S. stocks as the dollar retreats.
Value and cyclicals outperform growth and defensive stocks.
Financials, technology and health care outperform utilities, real estate and consumer discretionary.
Active equity managers outperform their indexes for the first time in a decade.
The cold wars within the U.S. and between the U.S. and China continue.
The U.S. concludes a tumultuous political year with a status quo
Source: Robert C. Doll, Chief Equity Strategist & Senior Portfolio Manager, Nuveen Asset Management
One year ago, the markets reeled in response to a selloff in Technology, and fears of recession related to trade tariffs, higher interest rates and declining oil prices. Then, the combination of a recovery in the Technology sector, reduced interest rates, a rebound in oil prices and easing trade tensions paved the way for impressive equity price appreciation. The Nasdaq (37.23%) led all indices followed by S&P 500® Index (28.88%), Russell 2000® Index (23.72%) and Dow Jones Industrial Average (22.34%).
The impressive gains in 2019 mask the performance needed to retrace the highs of September 2018 prior to the massive selloff in the fourth quarter. Close to 90% of the stocks in the S&P 500® rose during 2019. The Technology sector rose approximately 47% which represented 31% of the Index's returns; Microsoft (86%) and Apple (55%) contributed almost 50% of the sector's returns. Technology, despite its lofty valuations, remained a favored sector. Towards the end of the year, though, the announcement of a Phase One trade agreement between the U.S. and China, provided a re-set for investors, many of whom began to shift attention to undervalued stocks. Federal Reserve monetary policy contributed to market performance as interest rate reductions provided greater access to capital and supported greater risk taking.
Economists project moderate economic growth in 2020. The anticipated 2.0% U.S. GDP should support continued momentum for equities; analyst expect a 5% to 7% gain in the S&P 500®. The Fed is unlikely to change interest rates as growth and inflation remain muted. The details of the Phase One Agreement, scheduled for signature on January 15th, will reveal agricultural purchases and lower tariffs. The more contentious issues, though, including potential reforms to the Chinese economy, were deferred to Phase Two.
Few anticipated the strong returns in 2019; now, heading into 2020, many investors continue to hold high cash balances. Already in the New Year, though, the markets responded to a dramatic escalation of tensions in the Middle East. President Trump, following a siege of the U.S. Embassy in Baghdad, itself in retaliation for recent rocket attacks, ordered a drone strike which killed Iranian general Soleimani, leader of Iran's Quds Force. Oil prices surged over 3% on concerns of a retaliatory attack on oil tankers, production and/or storage facilities. These events are reminders of geopolitical risks which can abruptly alter market sentiment. The recent headlines reinforce the on-going need to recognize and adapt to changing market and geopolitical conditions.
Source: Robert C. Doll, Chief Equity Strategist & Senior Portfolio Manager, Nuveen Asset Management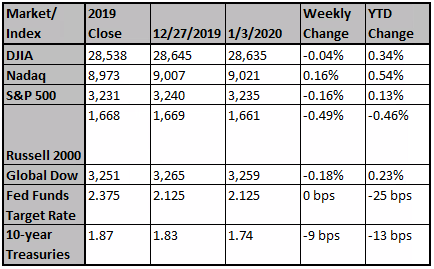 Chart reflects price changes, not total return. Because it does not include dividends or splits, it should not be used to benchmark performance of specific investments.
Sincerely,
Fortem Financial
760-206-8500
team@fortemfin.com
---
Latest News
What 2020 could bring for the stock market
New York (CNN Business) - 2019 was a heck of a year for US stocks, but can the market keep soaring in 2020? Stocks face several obstacles to growth in the new year: The Federal Reserve ha...
Chinese delegation plans to travel to Washington to sign ...
The Chinese delegation will make the trip on Jan. 13, The South China Morning Post reported Sunday, citing a source briefed on the matter.
Senate could approve USMCA as early as Friday: Navarro
"It's got a large bipartisan support in the Senate," Trump trade adviser says.
---