We hope you had a great Thanksgiving weekend and were able to spend time with family and friends. As we make the final push to finish what has been an unusual 2020, we are presented with many of the same challenges that started this year, a year in which many of us wish we could turn back the hands of time and take a mulligan.
The global picture continues to diverge. Europe is in an economic double-dip, with new COVID-19 lockdowns having slowed economic activity. With the virus controlled, China continues to expand (the market price of copper has signaled this). With the virus not controlled, the U.S. also continues to expand. The Atlanta Fed tracker for 4Q U.S. real GDP is at +11% q/q Annual Rate. The concern in the U.S. is that activity and mobility remain too quick for virus control (especially moving through the winter holidays). U.S. policymakers are feeling pressure for additional partial lockdowns as hospitals become full and the medical workforce reaches capacity.
Smart Lockdown 2.0 should be less economically impactful than Global Lockdown 1.0. Worth noting, U.S. corporate profits in the NIPA accounts rebounded +27.1% q/q in the third quarter. Companies that can access China and global manufacturing have an edge. Vaccines promise an end to the COVID-19 strain in 2021, but there remains a gap for those who cannot work remotely or tap into what is working in the global economy.
"Forty-four [U.S.] states have set weekly case records and 25 states have set weekly death records in November, as the nation's death toll has surpassed 264,000 and officials worry that Thanksgiving gatherings may cause infections to spread still more widely in the coming days" (NYT). As we've noted previously, there is some precedent: "a quick look up north shows Canada's struggles with COVID-19 following the country's Thanksgiving holiday on Oct. 12. In the days and weeks following Canada's Thanksgiving, coronavirus case numbers immediately started to rise..."
Even though the U.S. economy has some momentum now (e.g., single-unit housing, durables ex. aircraft) it is an uphill battle (weekly jobless claims at 778,000 last week, personal income falling - 0.7% m/m in Oct). U.S. consumer confidence also fell in November in both the Conference Board and University of Michigan series.
Bottom line: looking forward to 2021, the story remains one of pent-up demand. Smooth policy support from D.C. could certainly help bridge the current gap. But the second half 2020 process has not been smooth & more needs to be done in the near-term. More individuals are shifting to emergency unemployment benefits, which are at risk of expiring. State & local governments are still seeking aid from Washington (for vaccine distribution & healthcare, in addition to other expenses). Small businesses are making decisions on whether to close, or to continue to give it a go for a few more months. The macroeconomy can look past some of these items (i.e., if a restaurant closes, another can take its place). But with the costs of the pandemic falling on those least able to bear it, calls for overdue stimulus will continue to mount, especially if the U.S. labor market data weakens significantly.
Source: Strategas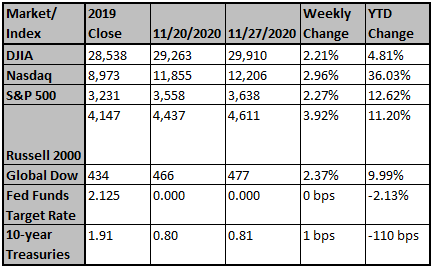 Chart reflects price changes, not total return. Because it does not include dividends or splits, it should not be used to benchmark performance of specific investments. Data provided by FactSet.
Sincerely,
Fortem Financial
(760) 206-8500
team@fortemfin.com
---
Latest News
COVID-19 vaccine prospects may already be boosting consum...
Prospects for highly effective COVID-19 vaccines may already be boosting consumer and business confidence and spending, and the broader economy.
USA Today
Nov 30, 2020
China's manufacturing accelerates in November
A survey shows China's manufacturing activity accelerated in November as its rebound from the pandemic gained strength while the United States and Europe struggled with rising infections...
ABC News
Nov 29, 2020
Fed Extends Four Emergency Lending Programs Through March
The Federal Reserve said it extended four backstop lending programs that helped to stabilize short-term funding markets when the coronavirus pandemic hit in the spring.
Wall Street Journal
Nov 30, 2020
---