A black swan event in the investment world is an extremely negative and usually hard to predict event; "Evergrande" has been labeled by some as just such an event. It is the latest event in China to affect the US and global markets. Many US investment banks like Morgan Stanley, Goldman Sachs, and Bank of America Merrill Lynch have exposure to "Evergrande", and their stocks are paying for it today. These companies represent more than 120 points of the loss on the Dow Jones Industrial average today.
"Evergrande" is a company whose main business is real estate. It was originally the second most sold property developer, owns more than 1,300 projects in more than 280 cities in China, and has branches serving nearly 2,800 real estate projects in more than 310 cities. In addition to real estate, "Evergrande" has seven business lines in various industries such as electric vehicles, healthcare services, consumer goods, video and media productions, television, amusement parks, etc.
"Evergrande" said on the company's website that it employs over 200,000 people and creates more than 3.8 million jobs annually.
The apparent attractiveness of "Evergrande" was an investment in various stock exchanges across Asia as well as exposure to bonds. Now, with real estate giants like "Evergrande" in trouble investors are concerned and the world is watching the news closely.
Some speculate that "Evergrande" began to face more serious problems last year. This was because the Chinese government set new rules to control the borrowing costs of real estate developers, which affected cash flow and capital levels. Since these changes, Evergrande's shares in the Hong Kong market have dropped about 80%. Bond trading was also paused several times by the Chinese market regulators.
Why do you some say the "Evergrande Debt Crisis" is the biggest test of the Chinese financial system?
The enormous debt of "Evergrande" with a value of up to 300 billion US dollars.
Evergrande shares have fallen more than 80% on the Shanghai Stock Exchange. As for the bonds that are banned from trading, the price has dropped by 30%.
People who buy houses from projects built by "Evergrande" are not sure that they could get their money back if "Evergrande" failed.
On Thursday, September 23, 2021 "Evergrande" has an interest payment of $83.5 million due, and another $47.5 million due on September 29, 2021. Because Chinese regulators have made public comments that "Evergrande" is NOT TOO BIG TO FAIL, the question also becomes can "Evergrande" pay the principal back? Some estimates show the debt in question to be more than 7 billion US dollars. A default of this size is likely to have a spillover effect on related businesses.
We are watching this development and will let you know our opinion as we move forward.
Source: Newsdirectory3, Reuters
Inflation, a local case study…
This piece was written by Jason DeSena Trennert from our research provider Strategas. We thought it put inflation into perspective, and we wanted to share it because data shows that ongoing inflation is now the top concern for more than 83% of Americans. Many believe that if Washington has its way and passes the new stimulus bill inflationary pressures will continue to increase.
PRICE DISCOVERY AT PAPAYA KING
According to a recent study by researchers at the University of Michigan published in the journal Nature Food in August, eating a hot dog takes 36 minutes off your life. Reading news reports about the study and doing some quick, back-of-the-envelope math, I quickly came to the conclusion that I was a goner and had, oh I don't know, about a week or two to live. Hungry and figuring I had nothing to lose, I decided to visit Papaya King, purveyor of hot dogs and fruit juices, last Friday. Standing in line to wait for hot dogs one must eat standing up, I overheard this conversation:
"$14 for a Grand Slam? Are you kiddin' me?
"I'm sorry sir. All of our costs are going up. Soybean oil's $60. It was sixteen a year ago," said the man behind the counter.
"Whatever happened to the recession special?" piped up another man in line, in One Flew Over the Cuckoo's Nest fashion. "Two hot dogs and a drink for four bucks!"
Nervous this grumbling might turn into a full-blown insurrection, the cashier looked plaintively at the line of customers and just shrugged his shoulders.
After a nervous moment of silence, the first man said. "Maybe I should send you my resume'. I think I'm in the wrong business."
The tension was broken and everyone enjoyed a good, collective New York laugh.
By way of background, the Grand Slam is made up of two specialty franks, 16 oz. fries, and a 16 oz. drink. And the customer was right - $14 bucks for a quintessential American lunch was outrageously expensive, even for a New York institution like Papaya King, the fast food equivalent of Lutèce. But the man behind the counter was also right, his input costs were up and by a lot. Returning from lunch, I punched in the symbol for the generic soybean oil contract on my Bloomberg and learned that Soybean Oil was indeed near $60 a pound, more than doubling in the last year. The shop's other main input cost, Orange Juice, had also skyrocketed, up more than 40% since the start of the pandemic-related shutdown.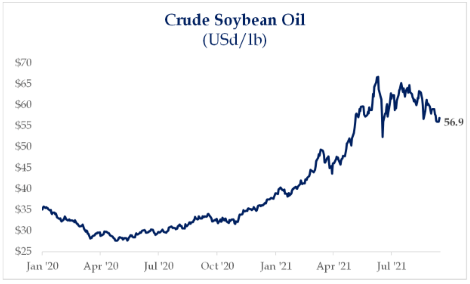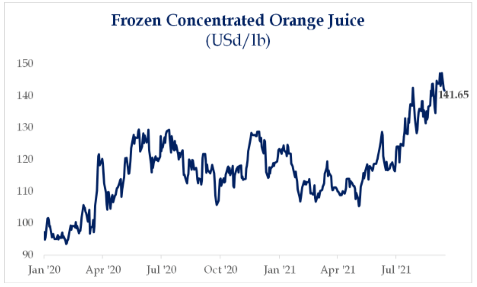 Doing a little further digging on my way home revealed that price increases have not been standard operating procedure for the institution in its 89 years in business. It continues to be subject to intense competition in the City (Gray's Papaya and Papaya Dog) and was once embroiled in the famous "hot dog war" with larger and more established chain Nathan's Famous. Wishing to put away what it considered to be an upstart, Nathan's (est. 1916) set up shop right next door to the King in 1976 and promptly cut the prices of its hot dogs from 50 to 35 cents. Unwilling to give up turf it had successfully defended since 1932, Papaya King countered by cutting its prices to a quarter and slayed Goliath. Within six months, Nathan's closed its new location.
For those of us lucky enough to possess financial assets, it can get easy to forget that those who might only have a savings account are getting squeezed by financial repression, already seeing the potentially harmful effects of loose money and shockingly large and inefficiently allocated fiscal stimulus. While there seems to be a general sense that a little more inflation is no real sin, there are growing indications that the poor are having to pay more to get from one day to the next.
Real average hourly earnings are down -0.9% y/y. The cost of eating out is up 4.7%, barely noticeable for a first-year investment banking associate, but a problem for the average guy. If the University of Michigan is correct about its assessment of hot dogs, it may already be too late for me to see inflation become an issue that dominates political discourse. After all, it's been more than 40 years since it has. But for those who take care of themselves, a pick-up in inflation may be something they might have to live with for a long time to come.
Source: Strategas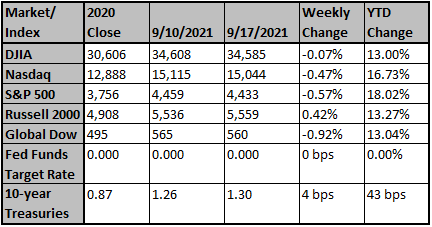 Chart reflects price changes, not total return. Because it does not include dividends or splits, it should not be used to benchmark performance of specific investments. Data provided by FactSet.
Sincerely,
Fortem Financial
(760) 206-8500
team@fortemfin.com
---
Latest News
Chip-Threatened Automakers Sell Less, But Profit More
Demand for new cars and SUVs is strong but the semiconductor crisis has created shortages, allowing many manufacturers to make sure they maximize profits on the fewer cars they can bring ...
forbes
Sep 19, 2021
Dow futures tank over 600 points as doubts swirl over Chi...
Stock futures were under pressure Monday morning as concerns over China's property bubble roiled global markets ahead of the Federal Reserve's upcoming policy meeting.
Fox Business
Sep 20, 2021
The Fed: With Fed officials split over outlook, Powell se...
With Fed officials fractured over the outlook, Fed Chairman Jerome Powell faces the task of stitching together a compromise plan
marketwatch
Sep 18, 2021
Tax Law Update - September 13, 2021
The debate over spending and funding sources to cover the spending continues in Washington. We wanted to share a summary of the House Ways and Means Committee's proposal from September 13...
Sep 20, 2021
---