4Q Earnings Season Could Be Choppy
If Friday was any indication of how the earnings season will pan out, it could be a choppy one for investors. Earnings growth is largely expected to be robust along with sales growth. However, the headline figures are deceiving because energy is expected to recover significantly, propping up the S&P figure. Ex. Energy earnings growth is expected to be closer to 15% - still a respectable number.
NTM EPS Still Marching Higher
From a macro perspective, we want to continue seeing NTM EPS march higher, which is exactly what is happening still. However, at almost $224 per share, the pace of the rise of NTM EPS has begun to slow in recent months as one would expect, but no alarm bells are ringing just yet.
Higher Expense Outlooks Likely
We have been highlighting this for some time, but higher expenses are coming, as evidenced by the JP Morgan conference call. For the S&P 500 in aggregate, cost growth has surpassed the levels last seen in 2011. On the bright side, revenue growth continues to exceed cost growth, and as long as this occurs, we are not overly concerned. However, this presents a headwind on a company level as consensus is largely not pricing this in just yet.
Market Returns Less Robust In Rising Oil Environments
The continued climb in oil prices presents a challenge for equities. While not detrimental to the point of negative returns, forward performance historically has been lower when the six-month change in oil price is positive versus when it is negative. In addition, with a weak retail sales number last week, discretionary company outlooks will be that much more important as spending shifts will likely occur.
CORPORATE TAX COLLECTIONS BROKE A RECORD IN CY 2021 DESPITE A LOWER, 21% CORPORATE TAX RATE
Elected officials spent most of 2021 complaining that corporate taxpayers were skirting their tax payments and arguing that higher taxes on corporate income, multinationals, and capital investment were needed. But 2021 was a record year for corporate tax collections despite low tax rates. In total, companies paid $400bn in corporate taxes, up 87 percent over 2020 levels, and higher than the previous record of $372bn set in 2006. The $180bn year-over-year increase in tax collections is the equivalent of raising the corporate tax rate by 18 percentage points.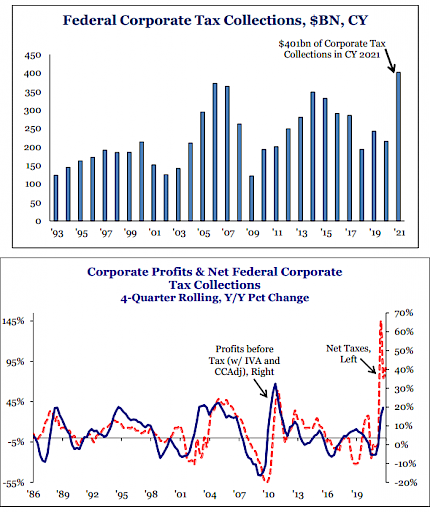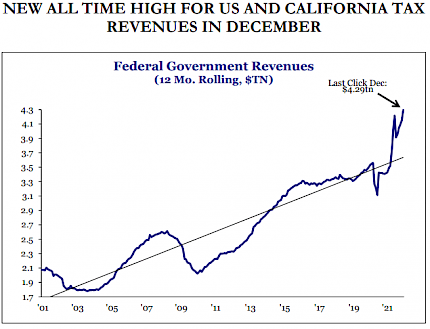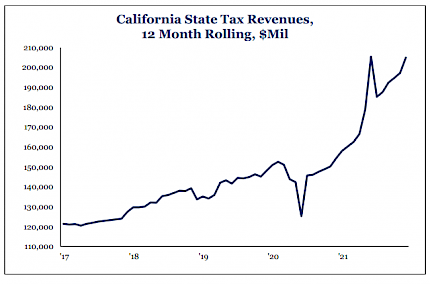 BUDGET DEFICIT IMPROVING DUE TO HIGHER ASSET VALUES & SPENDING ROLL-OFF
The federal deficit peaked in March at $4 trillion. Since then, it has declined by $1.5 trillion, or 37 percent. Tax revenues, bolstered by higher nominal GDP, income, and stocks have increased 2 percent of GDP and now stand at 18.9 percent of GDP. This is the highest level of tax collections in 20 years and will likely increase even more in early 2022 when capital gains taxes are paid. Corporate tax revenues for CY 2021 came in at $400bn, eclipsing 2006's record of $372bn when the corporate tax rate was 35 percent. Spending has fallen by 6 percent of GDP and we expect more COVID spending to roll off in 2022. But spending remains elevated at 29 percent of GDP, significantly higher than the 20.5 percent of GDP long-run average and more reductions are needed to further improve the deficit.
FISCAL YEAR 2022 IS ON PACE FOR THE LARGEST DEFICIT REDUCTION SINCE 1946'S POST-WWII DRAWDOWN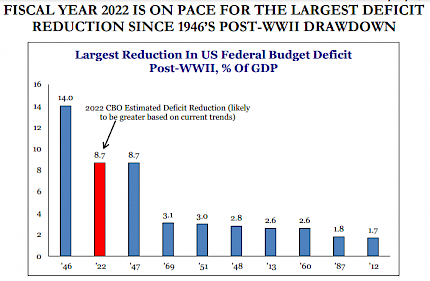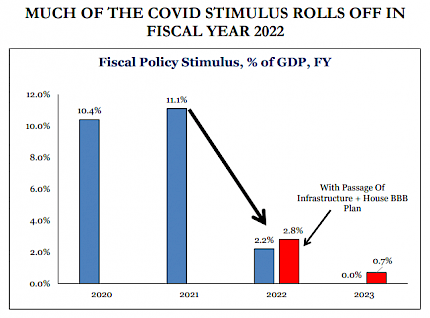 Source: Strategas
Sincerely,
Fortem Financial
(760) 206-8500
team@fortemfin.com
---
Latest News
Washington Watch: The SEC's next regulatory target could ...
The SEC may set minimum standards for governance of securities indexes and mandate transparency regarding methodology, licensing fees and potential conflicts of interest.
MarketWatch
Full Recovery in Global Labor Market Could Take Years
The U.S. labor market is nearing, or may already be, at full employment, but a United Nations agency said that is far from true in many other parts of the world, with the Omicron variant ...
The Wall Street Journal
Wall Street's Big Banks Are Set to Tap the Corporate Bond...
Wall Street's biggest banks are expected to hit the corporate bond market after they report quarterly results in an effort to raise money before the
Bloomberg
---