Friday's rally provided a welcomed start to the New Year as all of the major indices posted solid gains. For the week, the Russell 2000® Index (3.20%) led all of the major indices, followed by the Nasdaq (2.34%), S&P 500® Index (1.86%) and the Dow Jones Industrial Average (1.61%). Consumer sentiment rose on positive employment data, and comments by Federal Reserve Chairman Powell. Friday's release of the December employment report included 312,000 jobs in December, the largest monthly increase since February 2018. Also, adjustments to the two prior months added another 58,000 jobs. Unemployment edged up to 3.9% as more people looked for jobs. Wages rose 0.4% in December for an annual increase of 3.2%. Chairman Powell's comments on Friday provided an assuring message. He stated "As always, there is not a preset path for policy" and, "With muted inflation readings that we've seen coming in, we will be patient as we watch to see how the economy evolves." He vowed that the central bank is "prepared to adjust policy quickly and flexibly" if necessary. China's central bank also lowered reserve rates to encourage small business lending; the government also confirmed that mid-level trade talks with the Trump Administration are scheduled for this week. Taken together, these events appear to have dampened concerns about a possible recession while providing a more positive outlook for 2019.
Friday's 746 point gain in the Dow reversed Thursday's selloff. Most analysts attributed the selloff to Apple's announcement, after the market close on Wednesday, of its first revenue shortfall in fifteen years. The company cited lower iPhone sales in China. Investors faced the conundrum: Was this an isolated issue? Or, did the shortfall presage a trend for other companies in reporting fourth quarter earnings? Trade-related issues may well impact other multi-national companies; but Apple's problem appears more specifically related to increased competition from Chinese companies offering far less expensive phones with similar, or even enhanced, features. Also, many loyal iPhone owners are delaying upgrades. Overtime, Apple anticipates that apps and services, rather than product sales, will increasingly drive revenues and earnings; the transition, though, is somewhat rocky.
The new Congress was sworn in last week; and the government shutdown continues. With Congress adjourned until Tuesday, and no substantive move toward a breakthrough, the shutdown will not likely end before Wednesday; the then 18-day closure will be the second-longest in recent history.
A renewed commitment by OPEC countries to lower oil production also helped the equity markets. Oil prices are expected to rise this year as other factors, including lower-than-projected production from fracking activities, contribute to a supply and demand rebalance. The improved market sentiment may provide support until earnings season begins in mid-January. Investors, many of whom were overwhelmed by economic concerns in the fourth quarter, abandoned the markets in favor of cash. After last week's rally, the markets remain oversold; with new data, the computer-driven programs, though, can buy as dramatically as they sold.
Source:  Pacific Global Investment Management Company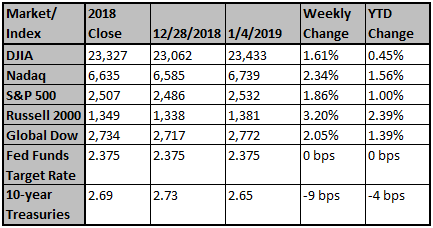 Chart reflects price changes, not total return. Because it does not include dividends or splits, it should not be used to benchmark performance of specific investments. 
---
Brian Amidei is Coachella Valley's only Barron's Magazine Top 1,000 Advisor in 2013 and 2014!
Brian Amidei, along with Partners Joseph Romano and Brett D'Orlando have also been named *2014, 2015, 2016, 2017 Five Star Wealth Managers!
Disclosures:
Awards and recognitions by unaffiliated rating services, companies, and/or publications should not be construed by a client or prospective client as a guarantee that he/she will experience a certain level of results if Fortem is engaged, or continues to be engaged, to provide investment advisory services; nor should they be construed as a current or past endorsement of Fortem or its representatives by any of its clients. Rankings published by magazines and others are generally based on information prepared and/or submitted by the recognized advisor. Awards may not be indicative of one client?s experience or of the Firm?s future performance.  Neither Fortem nor the recognized advisor has paid a fee for inclusion on a list, nor purchased any additional material from the award provider. The criteria for each award is listed below:
Barron's Disclosure:
The Barron's award is is based on the recognized adviser's assets under management, contribution to the firm's revenues and profits, and quality of practice.  Investment performance is not an explicit criteria.  Additional information about this award is available at http://online.barrons.com/report/top-financial-advisors. 
Five Star Professional Disclosure:
The Five Star Wealth Manager award is based on 10 eligibility and evaluation criteria: 1) Credentialed as an investment advisory representative (IAR) or a registered investment advisor; 2) Actively employed as a credentialed professional in the financial services industry for a minimum of five years; 3) Favorable regulatory and complaint history review; 4) Fulfilled their firm review based on internal firm standards; 5) Accepting new clients; 6) One-year client retention rate; 7) Five-year client retention rate; 8) Non-institutionalized discretionary and/or non-discretionary client assets administered; 9) Number of client households served; and 10) Educational and professional designations. The inclusion of a wealth manager on the Five Star Wealth Manager list should not be construed as an endorsement of the wealth manager by Five Star Professional or the magazine. The award methodology does not evaluate the quality of services provided.  Additional information about this award is available at: fivestarprofessional.com/2016FiveStarWealthManagerMethodology.pdf
Fortem Financial 2016. All rights reserved. 
Data Sources:  News items are based on reports from multiple commonly available international news sources (i.e. wire services) and are independently verified when necessary with secondary sources such as government agencies, corporate press releases, or trade organizations.  Market Data: Based on reported data in WSJ Market Data Center (indexes); U.S. Treasury (Treasury Yields); U.S. Energy Information Administration/Bloomberg.com Market Data (oil spot price, WTI Cushing, OK); www.goldprice.org (spot gold/silver); Oanda/FX Street (currency exchange rates).  All information is based on sources deemed reliable, but no warranty or guarantee is made as to its accuracy or completeness. 
Neither the information nor any opinion expressed herein constitutes a solicitation for the purchase or sale of any securities, and should not be relied on as financial advice.  The opinions expressed are solely those of the author, and do not represent those of Fortem Financial, LLC or any of its affiliates.  Past performance is no guarantee of future results.  All investing involves risk, including the potential loss of principal, and there can be no guarantee that any investing strategy will be successful.  Forward looking statements are based on current expectations and assumptions, the economy, and future conditions.  As such, forward-looking statements are subject to inherent uncertainty, risks, and changes in circumstance that are difficult to predict.  Actual results may differ materially from the anticipated outcomes.  Carefully consider investment objectives, risk factors and charges and expenses before investing.  Fortem Financial is a registered investment adviser with the SEC.  Advisory services are offered through Fortem Financial.
The Dow Jones Industrial Average (DJIA) is a price-weighted index composed of 30 widely traded blue-chip U.S. common stocks.  The S&P 500 is a market-cap weighted index composed of the common stocks of 500 leading companies in leading industries of the U.S. economy.  The NASDAQ Composite Index is a market-value weighted index of all common stocks listed on the NASDAQ stock exchange.  The Russell 2000 is a market-cap weighed index composed of 2,000 U.S. small-cap common stocks.  The Global Dow is an equally weighted index of 150 widely traded blue-chip common stocks worldwide.  Market indices listed are unmanaged and are not available for direct investment.