Trade concerns continue, despite stronger-than-expected earnings results, to cast a shadow over the equity and bond markets.  Last Thursday, President Trump, dissatisfied with trade negotiations, threatened to implement a 10% tariff on September 1st for the remaining $300 billion of Chinese exports not already subject to tariffs.  The markets immediately sold off on fears that an expansion of trade tariffs with China would further damage the U.S. economy.  Last week, Nasdaq declined 3.92%; S&P 500® Index fell 3.10%; Russell 2000® Index (-2.87%); and Dow Jones Industrial Average 
(-2.60%).  Demand for U.S. Treasuries spiked, with the yield on the 10-year Note falling as low as 1.84%, the lowest yield since November 2016.
The predictable reaction reinforces the markets' unease with the unknowns in the escalating trade disputes.  If enacted, the latest tariffs would hit consumer goods; the actual pocketbook impact, though, is less clear as changes in currency values (the Chinese Yuan is weakening relative to the dollar), and pressure on manufacturers could limit price increases.  So far, many manufacturers have agreed to negotiated discounts to protect market share and jobs.  Also, the terms of the September 1st tariffs are not onerous; the intention may be to prod negotiations.  The Chinese government, in indicating that it would respond, also added that they will engage in "intensive contact" with U.S. negotiators to establish "good groundwork" for discussions slated to resume on September 1.  Meanwhile, the escalating trade dispute between Japan and South Korea has no resolution in sight.
Last Wednesday, as widely expected, the Federal Reserve cut the fed funds rate by 25 basis points.  The Fed also announced an early end to quantitative tightening; looking ahead, the proceeds of maturing bonds in the Fed's $3.8 trillion asset portfolio will be reinvested.  Chairman Powell stated, "We're thinking of this as a mid-cycle adjustment to policy."   He later added, "I said it's not the beginning of a long series of rate cuts.  I didn't say it's just one or anything like that."  The Fed also cut the interest rate on excess bank deposits from 2.35% to 2.10% to spur lending activity.
Earnings season has been much better than feared.  Over 75% of companies in the S&P 500® have reported results; of these, 76% exceeded analysts' modest expectations by more than 6%.  Commentaries, not surprisingly, remain cautious on tariff issues yet most companies assess their business outlooks favorably.  Consumer spending, which continues to fuel the economy, more than offsets a slowdown in business investments and manufacturing.  The July jobs report supports this optimism as the unemployment rate remains at 3.7% and hourly wages increased 3.2% on an annual basis.  Lower fuel prices also provide additional discretionary spending power.
This week essentially ends earnings season.  Investors, in looking ahead to the traditional slow period for the markets, will now turn to evaluating the potential impact of additional tariffs as well as the potential benefit of additional interest rate cuts.  Market momentum will like be determined by headline news, tweets and further Fed commentary.
Source: Strategas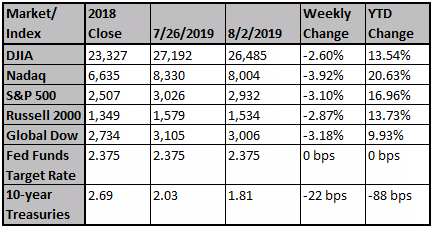 Chart reflects price changes, not total return.  Because it does not include dividends or splits, it should not be used to benchmark performance of specific investments.
---
Latest News
Market Extra: What a falling Chinese yuan means for the s...
China's yuan currency tumbled Monday, breaching a level long described by market watchers as a "line in the sand" and feeding fears of an intensifying Sino-U.S. trade war that sparked a g...
Economic Report: U.S. adds 164,000 new jobs in July to ke...
The economy created a steady 164,000 new jobs in July, underscoring the strength of a robust U.S. labor market that's shown little sign of deterioration even as the economy faces stiffer ...
5 Reasons The Outlook For U.S. Stocks Remains Favorable
Stocks got hammered in late July after the Fed cut rates by only 25 basis points (some investors were expecting a 50 basis point cut) and implied
---
Brian Amidei is Coachella Valley's only Barron's Magazine Top 1,000 Advisor in 2013 and 2014!
Brian Amidei, along with Partners Joseph Romano and Brett D'Orlando have also been named *2014, 2015, 2016, 2017 Five Star Wealth Managers!
Disclosures:
Awards and recognitions by unaffiliated rating services, companies, and/or publications should not be construed by a client or prospective client as a guarantee that he/she will experience a certain level of results if Fortem is engaged, or continues to be engaged, to provide investment advisory services; nor should they be construed as a current or past endorsement of Fortem or its representatives by any of its clients. Rankings published by magazines and others are generally based on information prepared and/or submitted by the recognized advisor. Awards may not be indicative of one client?s experience or of the Firm?s future performance.  Neither Fortem nor the recognized advisor has paid a fee for inclusion on a list, nor purchased any additional material from the award provider. The criteria for each award is listed below:
Barron's Disclosure:
The Barron's award is is based on the recognized adviser's assets under management, contribution to the firm's revenues and profits, and quality of practice.  Investment performance is not an explicit criteria.  Additional information about this award is available at http://online.barrons.com/report/top-financial-advisors. 
Five Star Professional Disclosure:
The Five Star Wealth Manager award is based on 10 eligibility and evaluation criteria: 1) Credentialed as an investment advisory representative (IAR) or a registered investment advisor; 2) Actively employed as a credentialed professional in the financial services industry for a minimum of five years; 3) Favorable regulatory and complaint history review; 4) Fulfilled their firm review based on internal firm standards; 5) Accepting new clients; 6) One-year client retention rate; 7) Five-year client retention rate; 8) Non-institutionalized discretionary and/or non-discretionary client assets administered; 9) Number of client households served; and 10) Educational and professional designations. The inclusion of a wealth manager on the Five Star Wealth Manager list should not be construed as an endorsement of the wealth manager by Five Star Professional or the magazine. The award methodology does not evaluate the quality of services provided.  Additional information about this award is available at: fivestarprofessional.com/2016FiveStarWealthManagerMethodology.pdf
Fortem Financial 2016. All rights reserved. 
Data Sources:  News items are based on reports from multiple commonly available international news sources (i.e. wire services) and are independently verified when necessary with secondary sources such as government agencies, corporate press releases, or trade organizations.  Market Data: Based on reported data in WSJ Market Data Center (indexes); U.S. Treasury (Treasury Yields); U.S. Energy Information Administration/Bloomberg.com Market Data (oil spot price, WTI Cushing, OK); www.goldprice.org (spot gold/silver); Oanda/FX Street (currency exchange rates).  All information is based on sources deemed reliable, but no warranty or guarantee is made as to its accuracy or completeness. 
Neither the information nor any opinion expressed herein constitutes a solicitation for the purchase or sale of any securities, and should not be relied on as financial advice.  The opinions expressed are solely those of the author, and do not represent those of Fortem Financial, LLC or any of its affiliates.  Past performance is no guarantee of future results.  All investing involves risk, including the potential loss of principal, and there can be no guarantee that any investing strategy will be successful.  Forward looking statements are based on current expectations and assumptions, the economy, and future conditions.  As such, forward-looking statements are subject to inherent uncertainty, risks, and changes in circumstance that are difficult to predict.  Actual results may differ materially from the anticipated outcomes.  Carefully consider investment objectives, risk factors and charges and expenses before investing.  Fortem Financial is a registered investment adviser with the SEC.  Advisory services are offered through Fortem Financial.
The Dow Jones Industrial Average (DJIA) is a price-weighted index composed of 30 widely traded blue-chip U.S. common stocks.  The S&P 500 is a market-cap weighted index composed of the common stocks of 500 leading companies in leading industries of the U.S. economy.  The NASDAQ Composite Index is a market-value weighted index of all common stocks listed on the NASDAQ stock exchange.  The Russell 2000 is a market-cap weighed index composed of 2,000 U.S. small-cap common stocks.  The Global Dow is an equally weighted index of 150 widely traded blue-chip common stocks worldwide.  Market indices listed are unmanaged and are not available for direct investment.