Philip Lane, the ECB's chief economist, said last week that "we have a lot of work to do (to raise inflation) … This narrative of a new inflation environment, I just put very little weight on it" (Reuters). Global central bankers are sticking by their models. But this is likely to get more difficult as the year progresses. The duration & composition of inflation (rather than the number we pop up to) is important for monetary policymakers. But different data may matter for investors (especially those with balanced portfolios, in forward-looking markets).
The FOMC minutes for April noted that the U.S. has not yet hit "substantial further progress". Higher U.S. inflation data was acknowledged, but the view continued to be that this was transitory. Yet, "a number of participants suggested that if the economy continued to make rapid progress toward the Committee's goals, it might be appropriate at some point in upcoming meetings to begin discussing a plan for adjusting the pace of asset purchases".
With supply factors (bottlenecks) and demand factors (fiscal stimulus from the fed and Congress) pushing up inflation & U.S. inflation expectations (U of Mich survey in May), the Fed cannot wait indefinitely before starting the exit conversation. Some Fed members (eg, Dallas Fed President Kaplan) have already indicated they want to begin the QE taper discussion. Chair Powell will make the ultimate decision, but the clock is running.
A Fed taper of MBS purchases (reducing purchases by the Fed to keep rates low) could be a late 3Q/early 4Q choice, though this might leave QE the same size (purchases could be redirected to Treasuries). By early 2022, a full QE taper is likely, in our opinion. Raising interest rates would then be a 2023 story, especially if the U.S. unemployment rate is down to roughly 4%. Worth noting, U.S. initial jobless claims continued their recent downtrend, falling to 444,000 last week.
Alternate inflation data series such as the Cleveland Fed's median CPI, the Dallas Fed's trimmed mean PCE price index, and the Atlanta Fed's sticky prices should continue to be important. These alternate core measures have remained tame, thus far.
The Atlanta Fed's tracking estimate for 2Q real GDP is at 10.1% q/q annualized currently. Demand seems less of a problem in the U.S. vs. supply. Surveys continue to show significant bottlenecks. The Philly Fed index fell in May, but remained in expansion territory at 31.5. The price components indicate the inflation scare remains in full swing, with both prices paid & received rising.
Bottom line: investors appear more willing to consider "sticky" inflation vs. central bankers currently. Perhaps investors are simply more willing to say: "we're not sure, talk to me when the models are working again." As we've noted previously, models based on history miss outliers. Even if most of the current spike in inflation proves transitory, core U.S. inflation averaging above 2% (say 2.5%) the next 5 years is possible with ultra-easy fiscal & monetary policy. 2.5% is within the Fed's pre-excused zone. That is, the transitory 2021 inflation could still leave lasting regime change (under 2% target to an above 2% trend) without offending the Fed.
Markets are still digesting this possibility. The 10-year Treasury yield was 1.62% last week with WTI oil prices at $64.
Until bottlenecks are resolved (eg, labor disincentives, homebuilders backed up, chip shortages & autos, remaining hesitancy as vaccine rollouts are continuing, schools not yet fully open, longer-lasting changes in skill & preferences including retirements) firms are relying on 1) increased hours by those willing to work and 2) increased output-per-hour where possible.
We continue to be focused on this setup: going into August, we could have: 1) payroll seasonally reversing & driving up job gains; 2) vaccine + natural immunity built; 3) U.S. virus case numbers staying low due to summer weather; 4) expanded Federal benefits set to end; 5) global supply chains healing some; 6) preparations for schools to reopen full-time, and 7) a string of higher inflation readings (including expectations).
The market still seems set up to challenge the Fed over the next 3 months.
Source: Strategas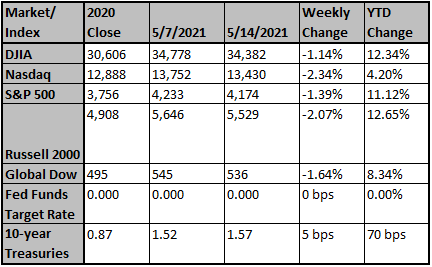 Chart reflects price changes, not total return. Because it does not include dividends or splits, it should not be used to benchmark performance of specific investments. Data provided by FactSet.
Sincerely,
Fortem Financial
(760) 206-8500
team@fortemfin.com
---
Latest News
Inflation, employment, profits and investments: A year af...
Some key measures have improved substantially, including corporate profits and the stock and housing markets. Others show worrisome trends
USA Today
May 23, 2021
Workers' wages are rising at the fastest pace in years. C...
Employers are giving workers raises, which could ultimately nip companies' bottom lines.
CNBC
May 22, 2021
Deere raises forecast as profit more than doubles on equi...
Deere & Co on Friday raised its full-year earnings forecast after a 169% surge in quarterly profit, as a recovering global economy boosts demand for farm machine and construction equipment.
Fox Business
May 21, 2021
---