With 90% Reported Earnings Growth Still Greater Than 50% For 1Q
With 90% of S&P 500 companies reporting earnings thus far, earning growth for 1Q is still expected to be greater than 50%, while revenue growth is near 13%. We do not anticipate any material changes this upcoming week and expect most investors to begin thinking about 2Q and beyond.
2Q Earnings Growth Expected To Be Just As Strong
Currently, the second-quarter earnings season is expected to see earnings growth just as strong as the first quarter, with industrials, discretionary, and energy providing the biggest boost. While we are less concerned about the remainder of 2021 from an earnings standpoint, the change in growth expectations for 1Q'22 is alarming.
Strong 2021 Earnings Fully Accounted For
With the release of the May data on strategist forecasts for earnings in 2021, the consensus now believes they will be greater than $180. While the shift was occurring gradually in the first four months of the year, it is safe to say that the full-year 2021 earnings figure will be strong. There are now even two estimates that show earnings could be $200.
No Consensus Around 2022 EPS Estimates
The 2022 EPS estimate figures remained mix with the strategist estimates showing a rather wide range. However, one thing does appear to be showing up already, the operating environment for companies will not produce as strong of earnings in 2022. Perhaps it's too soon to be concerned about this, but 2022 from an earnings standpoint will likely be a more challenging year compared to 2021.
Source: Strategas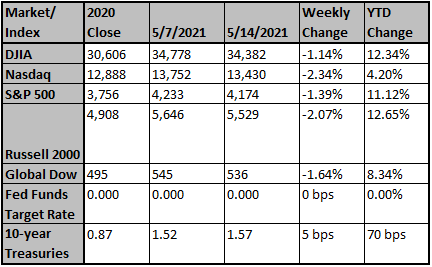 Chart reflects price changes, not total return. Because it does not include dividends or splits, it should not be used to benchmark performance of specific investments. Data provided by FactSet.
Sincerely,
Fortem Financial
(760) 206-8500
team@fortemfin.com
---
Latest News
Retail Sales In April Fall Flat, Analysts Remain Optimistic
Estimates of U.S. retail sales for April were $619.9 billion, showing no significant change from the previous month, according to monthly data released by the Census Bureau on Friday.
Forbes
May 14, 2021
US stocks decline as investors weigh inflation fears and ...
US stocks were lower on Monday as investors continued to weigh rising inflation fears and an uptick in COVID-19 cases was realized in Asian countries like Taiwan and Singapore. Fueling th...
Business Insider
May 17, 2021
---