U.S. equities fell last week (S&P 500 -0.6%) after the prior week's strong gains. The equity decline was a function of hawkish Fed speak and further yield curve inversion. Best sectors were consumer staples (+1.7%) and healthcare (+1.0%); worst sectors were consumer discretionary (-3.1%) and energy (-1.9%).
Source: Bob Doll, Crossmark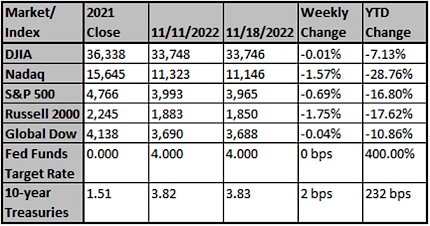 Chart reflects price changes, not total return. Because it does not include dividends or splits, it should not be used to benchmark performance of specific investments. Data provided by Refinitiv
Sincerely,
Fortem Financial
(760) 206-8500
team@fortemfin.com
---
Latest News
As Savings Slowly Shrink, Consumer Spending Is on Borrowe...
How long can the savings consumers built up during the pandemic keep their spending going? About nine to 12 more months.
The Wall Street Journal
Housing Industry Braces for a Downturn, but Investors Are...
Investors are seizing on any sign inflation has peaked as a reason to snap up beaten-down shares. Just look at housing stocks.
The Wall Street Journal
Disney board reached out to Iger on Friday following conc...
Disney's board reached out Bob Iger on Friday over concerns about the company's soft earnings report this month.
CNBC
---