Politics overshadowed trade again this week with House Speaker Pelosi's announcement of a formal impeachment inquiry into President Trump. The equity markets reaction reflects concern that the inquiry might imperil Congress' approval the USMCA agreement and hold up spending bills. The resulting "risk off" sentiment led to across-the-board weekly declines as the Russell 2000® Index declined 2.52%, followed by Nasdaq (‑2.19%), S&P 500® Index (-1.01%) and Dow Jones Industrial Average (-0.43%). Numerous journalists, in looking back at the Nixon and Clinton impeachments, observed that other economic and non-impeachment geopolitical events dominated market activity and momentum.
Is anything really new here? Impeachment talk has been an ongoing topic since President Trump took the oath of office. Over that same time period, we have had one of the strongest economies we have seen in the last 40 years. With the assistance of the tax cuts and reduced regulation, Trump has been able to deliver real economic growth to working families. With unemployment at an all-time low and wage growth outpacing inflation for working families for the first time in more than 25 years, it is very hard to see anything Washington cooks up that will derail the current economic growth. Our feeling is that Congress will not pass the USMCA. Unfortunately these are the times we currently live in. We believe the gridlock in Washington will likely last through the elections, but this is nothing new. Gridlock has been the new normal for well over a decade.
Investors will pay close attention to gauge the effects of the impeachment inquiry as scheduled trade talks between the U.S. and China resume in mid-October. Early this week, China, in a sign of goodwill, granted tariff waivers for the purchase of soybeans, pork and other agricultural products. The purchases provided some much-needed relief for U.S. farmers. Treasury Secretary Steven Mnuchin commented that, notwithstanding this encouraging sign, intellectual property remains "the most important issue." One additional accomplishment of note that went unreported last week was that President Trump and Japan's Prime Minister Abe also announced the first stage of a new trade agreement; the deal will cover $7B in U.S. agricultural products, investment, and digital trade ($40B) while negotiations will continue with respect to auto tariffs and other areas.
The United Auto Workers Union strike against General Motors has become the longest one since 1970. As negotiations continue, local businesses and auto suppliers are beginning to reduce operations.
Headline news, rather than continued economic growth, dominated market sentiment. As earnings season approaches, investors will get a closer look at the manner in which companies navigate tariffs and their 2020 outlooks.
Source: Pacific Global Investment Management Company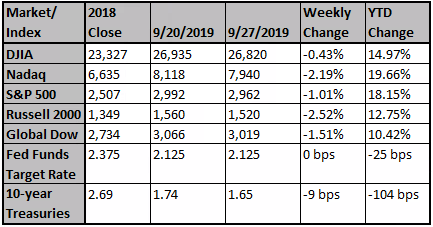 Chart reflects price changes, not total return. Because it does not include dividends or splits, it should not be used to benchmark performance of specific investments.
---
Latest News
US stocks point to a strong start to the week
Last week's downbeat mood on Wall Street carried over to Asia to start the week.
China's tech ambition is 'unstoppable' with or without t...
China is closing the technological gap with the U.S. in areas from artificial intelligence to 5G technology, experts tell CNBC.
German Unemployment Unexpectedly Posts First Decline Sinc...
Germany's labor market unexpectedly improved this month, easing concerns that the economy is sliding into recession. The number of people out of work
---