One of our research providers developed their "L-E-S" model about 20 years ago to keep track of what we believe are the most basic building blocks of market health – Liquidity, Earnings, and Sentiment. There is currently a yawning gap between the recent performance of the market and what their model suggests its performance will be over the next two years. Naturally, it is extremely risky to be short risk assets at all when M2 is growing at 27%. Still, one could argue that it will be difficult for the underlying earnings and liquidity picture to improve from current levels while the Sentiment picture reflects a fair amount of optimism and complacency. Strategas' Chief Market Technician has described the current market conditions as "frustrating but not fatal." That is consistent with what their LES Model is telling us. Earnings expectations for 1Q S&P 500 have increased from 16.0% on December 31st to + 25.0% today, the largest such increase in a quarter since 1Q 2018 after tax reform passed. Earnings expectations for the broader market decline by about -4% in a typical quarter. With earnings season starting in earnest this week, we will be watching, as always, guidance as closely as the earnings themselves. In particular, we will be looking for comments regarding the sustainability of profit margins in a post-pandemic economy, as well as thoughts on the potential for an increase in corporate tax rates.
Source: Strategas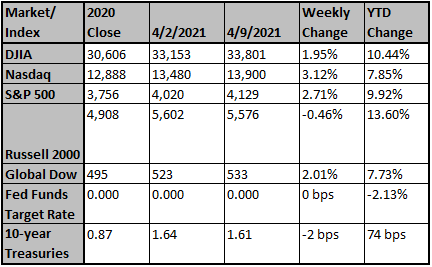 Chart reflects price changes, not total return. Because it does not include dividends or splits, it should not be used to benchmark performance of specific investments. Data provided by FactSet.
Sincerely,
Fortem Financial
(760) 206-8500
team@fortemfin.com
---
Latest News
Market Snapshot: Dow set to edge back to kick off earning...
U.S. stock-index futures on Monday head modestly lower in a week that will see the unofficial start of first-quarter earnings, headlined by some of the nation's largest banks, including J...
MarketWatch
Apr 12, 2021
Fed Chair Powell Warns That Cyber Attacks And Covid-19 Sp...
The economy "seems to be at an inflection point," the Fed Chairman said in a rare televised appearance.
Forbes
Apr 11, 2021
With Economy Poised for Best Growth Since '83, Inflation ...
Federal stimulus and Covid-19 vaccinations have led to boosts in the outlook for GDP and consumer prices in the latest Wall Street Journal survey of economists.
Wall Street Journal
Apr 11, 2021
---