2Q Earnings Season Preview: Revenue Growth Expected To Be Strong
With the second-quarter earnings season set to begin in the next couple of weeks, we thought it would be helpful to look at where the consensus stands at the start of the quarter. Energy companies are expected to have the greatest increase in revenue compared to last year, while the financial sector is the only one estimated to decline. Thus, overall the index is expected to see revenue growth of 18.5%.
Some Sectors Estimated For Triple-Digit Earnings Growth
Lapping 2Q'20 when most of the economy was shut down is the earnings growth estimates that are triple digits. The bottom line takeaway is that the most cyclical sectors (Industrials, Energy & Materials) are estimated to see large rebounds while the defensives are estimated to see earnings declines. Overall, S&P earnings are estimated to be up about 65% for the quarter.
Even Compared to 2Q'19, Second Quarter Earnings Expected To Grow
A likely better barometer for earnings growth this quarter is comparisons to 2Q'19. Even so, earnings growth for the aggregate index is expected to be strong, coming in at about 10%, with the materials leading the way. The other sectors expected to improve the most compared to 2Q'19 are the growth-oriented sectors of Health Care, Technology, and Communications.
Guidance For 2022 Likely To Be The Market Focus
With easier comps this quarter, investors will likely shift their focus toward any clues as to what to expect in 2022. At least initially, we suspect hints for the sustainability of the recovery will be the focus; however, the ever-changing landscape in Washington could lead to management companies discuss possible legislative changes and their impact on earnings. At the moment, consensus estimates are not pricing in any changes to corporate tax rates.
Source: Strategas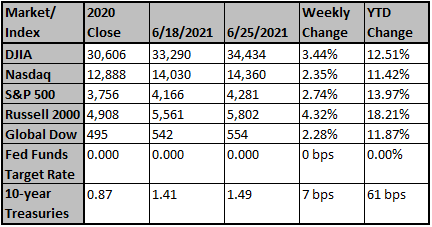 Chart reflects price changes, not total return. Because it does not include dividends or splits, it should not be used to benchmark performance of specific investments. Data provided by FactSet.
Sincerely,
Fortem Financial
(760) 206-8500
team@fortemfin.com
---
Latest News
U.S. Oil Prices Hit Six-Year High Amid OPEC Standoff
The latest climb in crude markets came after a Saudi Arabia-backed plan to boost output and tame the price rally failed to garner agreement.
Wall Street Journal
Jul 6, 2021
Bank of America Stock To Pay 17% Higher Dividend From Q3
Bank of America stock has gained 37% YTD, and at its current price of $42 per share, it is at the same level as its fair value of $42 Trefis' estimate for Bank of America's valuation. The...
forbes
Jul 6, 2021
Help Definitely Wanted: The Restaurant Industry Faces A L...
Restaurants and bars struggle to fill 1.6 million job openings
Morning Brew
Jul 2, 2021
---