President Trump's announcement last night delaying an escalation in China tariffs from going into effect on March 1 shows that we are moving towards a deal in the coming month.Trump is becoming more pro-growth and is looking for a deal ahead of his re-election. Avoiding the escalation of tariffs prevents an additional $50bn of tariffs from going into effect in CY 2019. We are having a harder time seeing a path to removing existing tariffs, which will be largely dependent on the Chinese making significant structural reforms. If a final deal is reached, we would not be surprised if the commentary downplays the changes made. Still, China tariff rates have fallen in one year and companies are being granted more access to the Chinese market. While a delay in tariffs is welcome news, a final deal needs to be completed soon for capex to move higher.
The equity markets edged higher last week as constructive comments from both the White House and Chinese trade representatives suggest progress in negotiations; also, Federal Reserve officials reiterated support for a pause in monetary policy.  For the week, the Russell 2000® Index gained 1.33%, followed by Nasdaq (0.74%), S&P 500® Index (0.62%) and the Dow Jones Industrial Average (0.57%).  The Russell 2000® recorded its longest weekly winning streak since 1996.  Vice Premier Liu met with President Trump last Friday as the Chinese delegation extended its stay in Washington.  Reportedly, they reached an agreement to stabilize currency values as negotiations on Memoranda of Understanding on key trade issues continued.  President Trump and President Xi will "probably" meet in late March "to work out the final points."  
Wednesday's release of Minutes from the Federal Reserve's January meeting confirmed sentiment in support of a pause in interest rate increases and in the Fed's Balance Sheet policy.  Brexit negotiations within Britain and with the European Union continue with little visible progress.  An emerging scenario suggests that a 3-month 'technical' extension might emerge if Teresa May's deal, or a version of it, first gains approval by the House of Commons; the EU might then agree to the extension at its summit in late March. 
Earnings season is largely over; company narratives remain focused on trade negotiations and interest rates.  Economic data for January have been mixed; winter storms, the seasonal wild card, often distort first quarter data.  The market's upward bias continues; and still, favorable updates on trade negotiations may provide additional momentum.  The year-to-date results for the Dow and S&P 500® (each up over 11%) are the best starts since 1987 and 1991, respectively.  Historically, when these indices move in sync through February, the trend continues through year-end 60% of the time.
Source:  Pacific Global Investment Management Company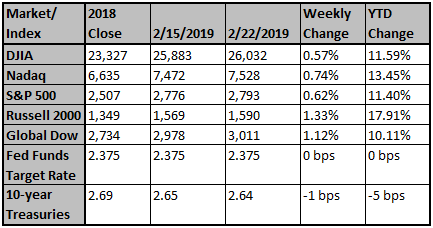 Chart reflects price changes, not total return. Because it does not include dividends or splits, it should not be used to benchmark performance of specific investments. 
---
Latest News
Last Week's Headlines: 2/25/2019
1. New orders for manufactured durable goods in December increased $3.0 billion or 1.2 percent to $254.4 billion, the U.S. Census Bureau announced today. This increase, up two consecutive months, followed a 1.0 percent November increase. Excluding transporation, new orders increased 0...
President Trump announces delay in tariff hikes against C...
President Donald Trump plans to meet with Chinese President Xi Jinping to settle on a final trade agreement.
Fed sees steady but slower growth and stable inflation fo...
The Federal Reserve said it will stick to its "patient" approach toward guiding the U.S. economy owing to somewhat slower growth in 2019 and mild
Walmart Is Becoming an E-commerce Powerhouse
If you thought digital sales would slow for the world's largest retailer, think again.
---