Equity markets were mixed last week as no significant events motivated investors to buy or sell.  The Nasdaq led the indices this week with a 0.90% gain, followed by S&P 500® (0.40%), Dow Jones Industrial Average (-0.02%) and Russell 2000® Index (-0.03 %).  Early in the week, President Trump announced a postponement of additional tariffs on $200 billion of Chinese products with no extension date provided.  Reports later in the week indicated that President Trump and President XI may meet in mid-March and potentially sign a new trade agreement.  At this time no specific details have been released so investors have been tempered in their response as they await details and the fate of existing tariffs already in place.  Larry Kudlow, Director of the National Economic Council, commented about "fantastic" progress on trade discussions; he is working to remove steel tariffs on Canadian and Mexican steel.   However, trade representative Lighthizer's testimony earlier last week expressed skepticism regarding outstanding issues.
Amid much news surrounding Brexit, the path forward remains a mystery.  Prime Minister Teresa May promised U.K. lawmakers a vote on delaying the departure from the European Union if they reject her Brexit deal on March 12th; Members of Parliament will be given a chance to vote on a no-deal Brexit or on delaying the departure. This update reduces the possibility of a no-deal Brexit while it introduces a new level of uncertainty and complexity. On Wednesday, President Trump cut short negotiations with North Korean's leader Kim Jung-un; President Trump commented that North Korea's requirement for lifting sanctions prior to substantive progress on de-nuclearization were unacceptable.  The stalemate left in doubt the potential for further progress.  The estimate of GDP growth for the fourth quarter came in at 2.6%; this despite decreased state and federal spending impacted by the government shutdown.  The 2.9% growth rate for the year matched 2015's results as the highest growth rate achieved since the Great Recession.  The Federal Reserve is forecasting a 2.3% growth rate for 2019 although a trade resolution may change its estimate.
Economic and geopolitical events will likely provide the primary catalysts for the equity markets during March in the run-up to first quarter earnings reports in mid-April.  The CBOE Volatility Index rose above 36 at the depths of the equity sell off in December.  Today, the Index closed at 13.63, a reading solidly within the range of the 2018 market rally.  The December panic has receded as the investment landscape improved in early 2019; even so, cash balances remain at high levels.  The question remains as to what catalysts will motivate these investors to return to the market.
Source:  Pacific Global Investment Management Company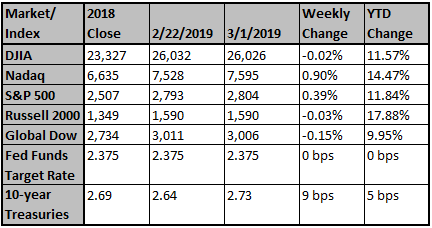 Chart reflects price changes, not total return. Because it does not include dividends or splits, it should not be used to benchmark performance of specific investments. 
---
Latest News
Last Week's Headlines: 3/4/2019
1. The Conference Board Consumer Confidence Index increased in February, following a decline in January. The Index now stands at 131.4 (1985=100), up from 121.7 in January. The Present Situation Index based on consumers' assessment of current business and labor market conditions improved, from 17...
Fed's Powell says US economy in a 'good place'
WASHINGTON (AP) - Federal Reserve Chairman Jerome Powell says that the economy is in a "good place" with low inflation and maximum employment. But he
Report Of Potential Final Trade Deal Has Market Optimistic
Hopefulness about a trade deal with China after a news report appears to be helping the market as the new month gets under way
The IRS Now Says People Are Getting Bigger Tax Refunds in
Taxpayers love big refunds -- but they're not necessarily good news.
---