The markets closed higher for the week, and ended a three-week losing streak, following Friday's announcement of a "phase 1" partial trade deal. The White House announced the suspension of tariffs scheduled for this Tuesday on $250 billion worth of Chinese imports; China agreed to purchase between $40 billion and $50 billion of U.S. agricultural goods. For the week, the Nasdaq rose 0.93% followed by the Dow Jones Industrial Average (+0.91%), the Russell 2000® Index (+0.75%), and the S&P 500® Index (+0.62%).
There has been a lot of handwringing about what was agreed to and what was not agreed to in US-China trade talks. We would call Friday the first step in the first round of discussions, and largely dealing with the low hanging fruit. But the pivot from trade escalation to de-escalation is really important. A better trade direction coupled with aggressive Fed actions moved the yield curve out of an inversion on Friday. The yield curve has generally led corporate profits by one year, so an extended yield curve inversion would have a negative impact on earnings, capex, confidence, and hiring.
President Trump commented on a "very substantial phase one deal" following meetings with Chinese Vice Premier Liu He. President Trump said that the U.S. and China had "agreed in principle" on a preliminary deal, adding "we are very close to ending the trade war." Phase two and phase three items will reportedly include unspecified provisions governing intellectual property, the opening of the Chinese financial services market and a ban on using currency as a trade weapon. Still, President Trump also left open the possibility of future tariffs. President Trump and Chinese President Xi Jinping could meet to sign an agreement in mid-November at the Asian-Pacific Economic Cooperation conference in Chile next month.
Driving this trade de-escalation is a deteriorating economic environment for both sides. This morning's China trade data showed US exports down 22 percent in September, leading to a 3 percent decline in total China exports. In the US, employment in swing states has not been increasing over the past six months and farm states are struggling. This has allowed both sides, who have longer term structural issues to fight over, to reluctantly return back to the table.
The deal, while reducing tensions of further escalation, does not yet address the underlying frictions and uncertainties. The announcement has no bearing on other tariffs, including those previously imposed or those scheduled to increase in mid-December. Elsewhere, the October 31 Brexit deadline fast approaches. Prime Minister Johnson held face-to-face meetings with Irish Prime Minister Varadkar which both described as "very positive and very promising." Mr. Varadkar added that talks are at a "very sensitive stage" adding that he sees a pathway towards agreement in the coming weeks." Separately, the European Commission stated that "the EU and the UK have agreed to intensify discussions over the coming days."
Elsewhere, inflation rates remain tame; producer prices slipped 0.3% in September while consumer prices held steady. Year-over-year inflation readings, though, fell to 1.4% for the PPI and 1.7% for the CPI. These low rates may support further rate cuts by the Federal Reserve; remaining Fed meetings in 2019 include October 29‑30 and December 10-11.
Earnings season begins this week; expectations are, once again, muted due to the continuing trade war. Investors would normally focus on company outlooks for 2020. Third quarter commentaries, however, will reflect conditions prior to the just-announced "agreement in principle." Looking ahead, the improved optimism may boost investor sentiment and economic growth. Even so, last weeks announced breakthrough, while welcomed by the markets, is unlikely to tame the volatility; market stability may remain elusive pending a signed, comprehensive agreement.
Source: Pacific Global Investment Management Company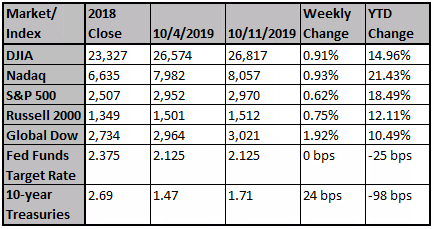 Chart reflects price changes, not total return. Because it does not include dividends or splits, it should not be used to benchmark performance of specific investments.
Sincerely,
Fortem Financial
---
Latest News
China September exports, imports in deeper contraction as...
BEIJING (Reuters) - A slide in China's exports picked up pace in September while imports contracted for a fifth straight month, pointing to further weakness in the economy and underlining...
US stocks may not keep rally going after trade tariff truce
Stocks will trade a normal schedule. The U.S. bond market is closed for Columbus Day.
WTO body formally OKs US sanctions against EU in Airbus case
The record $7.5 billion ruling found that the European bloc and member states failed to remove improper subsidies for Airbus that hindered sales by U.S. rival Boeing.
---