Last week the S&P 500® Index (0.54%) posted its second consecutive weekly gain on the strength of corporate earnings. For the week the Russell 2000® Index (1.56%) led the major indices followed by the S&P 500® (0.54%) and the Nasdaq (0.40%) while the Dow Jones Industrial Average fell -0.17%. The Dow lost ground on reports from Johnson & Johnson of a baby powder recall (due to traces of asbestos) and Boeing (on reports the company failed to disclose "concerning" instant messages in 2016 by pilots regarding the 737 Max flight control system).
Earnings season began with positive reports from a diverse group of companies including JP Morgan Chase, Citigroup, Coca-Cola, Honeywell and United Airlines. Approximately 15% of companies in the S&P 500® reported last week; 80% exceeded lowered expectations for earnings and revenues. Jamie Dimon, CEO of JP Morgan Chase, commented that "the U.S. economy, GDP growth has slowed slightly. The consumer remains healthy with growth in wages and spending, combined with strong balance sheets and low unemployment levels. This is being offset by weakening business sentiment and capital expenditures mostly driven by increasingly complex geopolitical risks, including tensions in global trade." Russell 2000® companies will begin reporting this week.
U.S. and Chinese negotiators are scheduled to meet this week; the Phase one agreement announced last week by President Trump could be signed as early as next month; uncertainty remains, however, as the Chinese negotiators refer to "progress" rather than a "deal." Also, the U.S. Congress is considering resolutions in support of Hong Kong. China's economic data released on Friday reported a 6.0% third quarter GDP, the weakest since 1992. Experts point to mounting pressures on the domestic economy with a sharp deceleration in consumer spending and slower growth in infrastructure spending. Clearly both the U.S. and Chinese economies face mounting pressures for a resolution of tariff uncertainties. Elsewhere, the new Brexit agreement between the European Union and the United Kingdom was voted down by the UK Parliament on Saturday. 95% of the deal is reportedly the 'old Brexit' deal negotiated by Teresa May; the Irish border issue represented the major challenge.
Early earnings commentaries suggest that companies are exceeding analysts' guarded expectations yet managers remain cautious pending progress on trade. Investor resilience, though, supports market indices within 5% of the record highs. A trade breakthrough might then provide further upward movement.
Source: Pacific Global Investment Management Company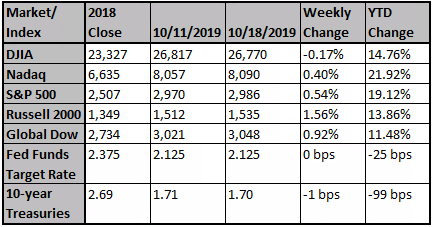 Chart reflects price changes, not total return. Because it does not include dividends or splits, it should not be used to benchmark performance of specific investments.
Sincerely,
Fortem Financial
---
Latest News
US-China trade war: December tariff increase could be rem...
Trade talks continue to move in the right direction, National Economic Coucil Director Larry Kudlow told "Mornings with Maria."
Stocks jump as earnings, trade in focus
All three of the major indexes remain within 3 percentage points of their record peaks.
Target's Stock Is at an 'All-Time High.' Here's How the S...
Those private-label brands sure are selling.
---