Trade commentaries and earnings results provided momentum for a third straight week of gains. The Nasdaq led with a gain of 1.90% followed by the Russell 2000® Index (1.51%), the S&P 500® Index (1.22%) and the Dow Jones Industrial Average (0.70%). With earnings results from approximately 36% of the companies in the S&P 500®, nearly 80% of reporting companies exceeded analysts' expectations. Companies across many sectors (including Microsoft, Intel, Phillips 66, Boston Scientific, Anthem, and Dow), posted strong results; each highlighted the ability to manage results with company-specific initiatives. Financials sector companies reported on the continued access to credit and the absence of recessionary signals. A common theme is that the overall strength of the economy has enabled companies to manage tariffs while pursuing product and marketing initiatives. After the market close on Friday, the United Auto Workers announced ratification of a 4-year contract; the strike against General Motors reportedly cost the company over $2 billion and impacted revenues for a wide variety of manufacturers, transportation, industrial, and consumer discretionary companies.
Progress continues towards a Phase One agreement that President Trump and President Xi are expected to sign in November. China is pressing the U.S. to scrap the September and December tariff increases before significantly boosting agricultural purchases over the next two years. The agreement, though, does not include various Chinese policy changes that were previously pushed by the White House. The apparent cease fire is welcome news for investors as both countries appear anxious to move forward to avoid further damage to their respective economies.
Brexit has been postponed; many issues are on the United Kingdom and European Union agendas next week. On Friday, EU ambassadors agreed to the UK Prime Minister's reluctant request to delay Brexit; next week, the EU will confirm a new deadline which most expect to be January 31, 2020. Meanwhile, today, the UK Parliament is expected to consider PM Johnson's call for a general election on December 12th. Many analysts, though, expect that the request will fall short of the required 2/3 vote of the House of Commons. Stay tuned.
Investors are focusing on trade and earnings reports; the good news provided upward market momentum. The Federal Reserve, which meets this week, is widely expected to cut interest rates another 25 basis points. Investors will await important details on any changes to balance sheet policies and commentary on interest rates. The resiliency of the economy, widely credited for the recent run-up in stock prices, offers hope that a lessening of trade tensions might lead to a year-end rally.
Source: Pacific Global Investment Management Company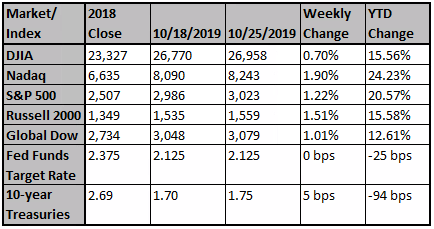 Chart reflects price changes, not total return. Because it does not include dividends or splits, it should not be used to benchmark performance of specific investments.
Sincerely,
Fortem Financial
---
Latest News
Fed Boosts Amount of Liquidity Offered to Financial System
The New York Fed's expanded offerings of liquidity to the financial system saw strong demand from eligible banks.
S&P 500 heads for record as earnings reports signal a...
There's one big word we are not hearing this earnings season. There are plenty of issues causing agita for investors this earnings season: China,
---