Fears that a slowing economy might lead to a recession eased last week as corporate earnings continued to outperform expectations; Friday's jobs report provided additional optimism. The S&P 500® Index and the Nasdaq reached new highs as investors moved from safe harbor U.S. Treasuries into the equity markets. For the week, the Russell 2000® Index (1.96%) led followed by Nasdaq (1.74%), S&P 500® (1.47%) and Dow Jones Industrial Average (1.44%). Over 70% of companies in the S&P 500® companies have released earnings; of these, 75% have exceeded analysts' expectations. Management commentaries remain favorable despite the uncertainty of a trade agreement. The October jobs report (128,000 new jobs), and upward revisions adding 95,000 jobs to the August and September reports, provided encouragement. The unemployment rate rose slightly to 3.6% due, in part to the six-week General Motors strike which was settled last week. Today, Ford and the UAW announced a tentative labor agreement.
As expected, the Federal Reserve lowered interest rates by 25 basis points on Wednesday. Chairman Powell stated that "The current stance of [interest-rate] policy is likely to remain appropriate" as long as the economy expands moderately and the labor market stays strong. Inflation, which remains below the Fed's 2% target, provides more flexibility in monetary policy making. Several recent studies are concluding that negative interest rates have not stimulated economic growth. Sweden, one of the first countries to introduce negative interest rates, believes that the prolonged use has reduced consumer spending as citizens increased savings; also, bank lending has not grown as expected. Sweden plans to increase interest rates in December.
On Friday, China indicated that it reached consensus in principle with the U.S. for the Phase One agreement. The U.S. Trade representative Lighthizer and Treasury Secretary Mnuchin said the parties made "progress in a variety of areas and are in the process of resolving outstanding issues." The next steps are pending given the unexpected cancellation of the APEC meeting in Chile. As for Brexit, the UK parliament approved new elections for December 12th. The Conservatives hope to win a majority of seats to facilitate the approval of the Withdrawal Agreement Bill prior to the new January 31, 2020 deadline.
The market bias is turning more positive with the third quarter GDP remaining near 2%; a lower interest fed funds rate; and the prospect for an initial trade agreement. The mood is considerably different from fourth quarter of last year; this week's new highs for the S&P and the Nasdaq may provide further momentum.
Source: Pacific Global Investment Management Company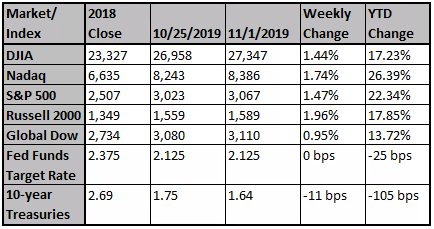 Chart reflects price changes, not total return. Because it does not include dividends or splits, it should not be used to benchmark performance of specific investments.
Sincerely,
Fortem Financial
---
Latest News
Stocks look to add to gains on jobs and trade optimism
Global markets are rallying to start the week.
Microsoft Ramps Up Battle Against Amazon in Cloud War
Microsoft is targeting the so-called "hybrid-cloud," which allows companies to shift some computing to cloud services while maintaining control of sensitive data.
U.S. Hiring Was Unexpectedly Resilient in October as 128,...
The jobless rate edged up to 3.6% from a half-century low
---