In the stock market, expectations matter. At any given moment, the stock market will reflect a certain set of expectations. And so, what moves markets are changes in those expectations. In other words, news doesn't have to be good or bad on an absolute basis to move markets. It just has to be relatively better or worse than what was expected. Based on this logic, you can have bad news crossing the wires. But as long as investors and traders were expecting worse, you should in turn expect prices to go higher. And that's what appears to be happening in the market now.
Better-than-feared 3Q earnings results have helped drive the S&P 500 to an all-time high of 3093, just 0.2% below most analysts year-end 2019 target of 3100. "With more than 76% of companies having reported, 52% have beaten consensus estimates by more than 1 standard deviation of analyst estimates, well above the long-term average of 47%."
There's no shortage of negative forces out there that are preventing companies from delivering better results. You have an unresolved trade war between the world's two largest economies that has businesses delaying investment. You have labor costs rising as productivity deteriorates. And you've got a U.S. president going through an impeachment process that, among other things, has the potential impact policy matters in the pipeline that could directly impact an array of decisions made by consumers and businesses.
But as we're learning, it appears that reality isn't as bad as what's been feared. The Media has a fairly dark view of where we are at economically and their headlines are meant to grab your attention and make you panic. However, The combination of extremely low expectations and better than expected results has been reflected in stock performance to the upside. This should continue throughout the rest of the year.
The winning streak for the equity indices continued last week as optimism regarding a Phase One agreement between the U.S. and China rose and corporate earnings continued to outperform modest quarterly expectations. The Dow Jones Industrial Average gained 1.22% to lead the major indices followed by the Nasdaq (1.06%), the S&P 500® Index (0.85%) and the Russell 2000® Index (0.60%). Once again, cyclical stocks performed well as investors continued to rotate away from defensive stocks on the improved optimism associated with an initial trade agreement.
President Trump and Chinese officials continue to indicate that Phase One negotiations are progressing well for an agreement signing; President Trump restated that any signing ceremony would be in "farm country," perhaps Iowa, in December. President Trump stated on Friday that while good progress has been made on a trade pact, he has not yet agreed to any tariff relief for Chinese exports. Comments on Thursday and Friday from various White House spokespeople, and Chinese officials, appeared to conflict over possible tariff agreements, concessions and possible enforcement mechanisms. The market's muted reaction suggested that the President's comments may have been intended as a negotiating ploy. Stay tuned.
Currently, investors hold approximately $3.4 trillion in cash; these funds provide the potential for further equity gains if, and when, the funds move into the equity markets. The lure of equities may be hard to overlook when investors become comfortable with trade policies and accommodative monetary policies; the combination of economic growth and low inflation provides additional incentives to seek higher returns. The earnings season is largely over; once again, trade headlines will determine market momentum. The CBOE Volatility Index is near it lows for the year; the decline in market volatility suggests that investors may gain more confidence as we head into the final weeks of the year.
Source: Pacific Global Investment Management Company, Yahoo Finance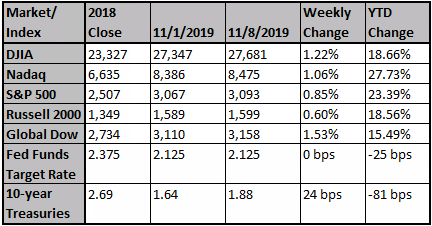 Chart reflects price changes, not total return. Because it does not include dividends or splits, it should not be used to benchmark performance of specific investments.
Sincerely,
Fortem Financial
---
Latest News
Bond yields are surging, and the scary recession warning ...
The bond market's recession scare is over for now, and the yield curve keeps getting steeper.
U.S.-China Trade Talks: What's the Deal?
The on-again, off-again phase one trade deal between China and the U.S. remains elusive.
---