Investors remain at the mercy of trade headlines which are light on substance. The major indices eked out slight gains last week despite contradictory statements on the progress of finalizing the Phase One agreement. The Dow Jones Industrial Average rose 1.17%, followed by the S&P 500® Index (+0.88%), the Nasdaq (+0.77%) and the Russell 2000® Index (-0.15%).
Negotiations stalled this week as China stated that it expected a tariff roll back as a condition for an agreement. The U.S. countering with its expectation that China would formally commit to purchase U.S. goods. Agreement on other issues, such as technology sharing, remain uncertain. However, Secretary of Commerce Ross reiterated his expectation that a deal would be consummated. And on Friday, White House economic adviser Larry Kudlow, while providing few details, suggested that the parties are close to an agreement. The good news is that both the U.S. and Chinese officials have stated that ongoing negotiations seek to resolve the outstanding issues.
Chairman Powell met with both Houses of Congress; he reiterated that the economy continues to expand and believes that, while further rate cuts may not be necessary, the Fed is prepared to reduce rates if the economy stumbles. The return to a more typical yield curve, with the recent increase in longer-term rates, reflects the markets' diminished concerns about an economic recession.
The markets, in the absence of any headline events, will continue to respond to the latest news stories which may, or may not, clarify the status of trade talks. Optimism for a trade agreement prevails. While the U.S. and China seem anxious to reinforce this sentiment, the real status of the Phase One agreement is unknown. In the meantime, market volatility remains low while the waiting continues.
Source: Pacific Global Investment Management Company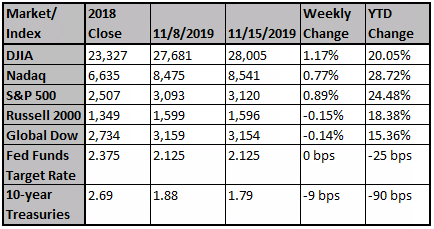 Chart reflects price changes, not total return. Because it does not include dividends or splits, it should not be used to benchmark performance of specific investments.
Sincerely,
Fortem Financial
---
Latest News
China Lifts 4-Year Ban on U.S. Chicken
China has agreed to lift a more than four-year-old ban on U.S. poultry imports, both governments said, in what a U.S. industry group said could lead to sales of $2 billion of poultry.
Fed Chairman Powell, Trump Meet, Discuss Economy
Federal Reserve Chairman Jerome Powell met with President Trump at the White House on Monday to discuss the economy, the central bank said in a statement.
Dow Jones News: Intel Talks Graphics; iPhone Sales Grow i...
Intel gave investors some details on its upcoming graphics push, and Apple's iPhone is reportedly selling better in China.
---