We may be approaching "peak bottleneck". The Atlanta Fed's tracking estimate for U.S. real GDP in 3Q is down to 1.2% q/q A.R. Separately, U of Mich consumer sentiment remained depressed at 71.4 in October. Yet, we are seeing early signs that the global production & transportation situation, while not close to being solved, may finally be turning. U.S. initial jobless claims falling to 293,000 last week suggest an inflection. This doesn't make the inflation we're seeing now (eg, Sept food & energy prices increasing) much more comfortable. But the "sticky inflation" story is becoming well known among equity investors, as earnings season progresses.
U.S. job openings remained very elevated, at over 10 million in August. Small businesses continue to report that there are positions they are unable to fill. However, in September the percent of businesses increasing inventories turned notably positive.
There remain plenty of near-term problems. For another week, we continued to see collateral damage from the significant interventions in the global economy since 2020. There has not been enough supply in 2021 (eg, semis, Vietnam factories, China power, U.K. petrol, Euro natural gas, labor). As a result, strong demand (eg, U.S. retail sales) has resulted in higher prices. The first big "re-open" price surge is passing (eg, used cars, hotels, airfares, etc). The developing concern is that prices have moved higher for long enough, that they are moving expectations up in future years. Energy expenditures in the coming winter could reinforce this trend. It isn't "1970s bad". But even a moderate re-anchoring of inflation higher is news.
U.S. rent inflation m/m (0.5%) and owners' equivalent rent (0.4%) both made notable moves in September. Given that rents are smooth series, once a turn happens the data typically continues in that direction. Additionally, alternate measures of core inflation, while not as extreme as the U.S. headline, have also started to turn higher. Momentum is developing to the upside beneath the headline.
A supply shock also remains quite evident in U.S. labor. When asked what's wrong with labor markets, the correct answer seems to be "all of the above". U.S. payroll employment remains roughly -5 million below pre-pandemic levels. Certain domestic policy choices have likely played a role (eg, paying some workers more to stay home vs. seek employment). Yet, the widespread nature of global bottlenecks & worker shortages is our first hint that this problem does not have one simple explanation (eg, the inability to find U.K. truckers cannot be related to U.S. policy). Instead, there appear to be numerous factors at work.
There's certainly the direct impact of the pandemic – the tragic loss of life. But mortality statistics show that deaths are heavily skewed to older age groups. So, while terrible, this loss is not a full explanation of what's happening to the working-age population.
There are numerous other reasons workers are not re-entering the labor force. Of course, mortality is not the only health concern. Early data indicate a percentage of those infected will deal with the impairments caused by Long Covid. Furthermore, roughly 1.5 million individuals appear to have been pushed into retirement. Dallas Fed research estimates: "Assuming 2019 retirement rates for the various age groups, we estimate that 0.4 percentage points of the rise in retirement (1.2 million) would have retired regardless of the pandemic. The additional retirements account for approximately 0.6 percentage points (1.5 million)." (Kaplan, Atkinson, Dolmas, Giannoni, Mertens, 2021)
The particular mix of policy – which has boosted asset prices including U.S. home prices +20% y/y – has helped make retirement possible. With both financial & tangible asset prices increasing in the past 6 quarters, exiting the workforce has made sense for numerous individuals.
Also worth noting, U.S. real personal income (adjusted for inflation) has not broken trend to the downside this cycle, when government transfers are included. Instead, there have been numerous spikes to the upside, generating substantial consumer saving and repairing household balance sheets.
As with any policy, there are costs and benefits. Certain jobs over the past 18 months have been characterized as "non-essential." While this made some sense from an emergency health perspective, the effects could be lasting. If we look at the change vs. the Feb-2020 peak by sector in the U.S., leisure & hospitality jobs stand out as a key miss, for example. Workers may simply not be eager to enter a role that could be taken away from them, should health data backslide. There could also be an unwillingness to wear a mask all day to take such positions.
On top of these effects, a less-than-fluid education policy (even in 2021) has likely inhibited labor force participation for those with children. Young children have still not been approved for vaccination in the U.S. Fears remain of an imminent school closure/partial quarantine at any time. Bus transportation to/from school has not been smooth. Again the uncertainty may be a key factor for economic decision making. Clearly, child-care concerns still matter for parents.
Then there's the question of the incentives from expanded U.S. benefits (eviction moratoriums, additional unemployment benefits & the checks sent to consumers, suspended payments, etc). While many expanded benefits have ended, the effects may also be lingering in the economy. Interestingly, a NY Fed survey indicated a good portion of prior stimulus disbursements were saved or used to pay down debt. So, it may be too early to draw any definitive conclusion here, ie, even as the benefits have ended in recent months it may take some time for current incentives to show up in the data.
Even if some workers have stayed on payrolls (or re-engaged with work), challenges remain. Corporate profits have been solid in the past year. If supply-chain issues hit earnings starting in 3Q, there could be additional layoffs. There has also been some turnover from vaccine mandates, though the effect thus far looks to be relatively small. To be fair, not all mandates are being enforced yet, so we're staying tuned to this development.
Bottom line: as we've noted previously, given bottlenecks and supply constraints, we are continuing to see a stagflation scare (weaker 3Q growth + sticky inflation) in the global economy. Concerns are likely to persist into 2022. But as firms change the way they do business to combat this issue, output-per-hour (productivity) gains are starting to occur. We may be at a turning point, even if there is a long road ahead. Productivity allows the opposite of stagflation: stronger growth and muted inflation since there are more goods & services produced. Put another way, straining the economy in ways it has not been tested since the 1970s might result in different business processes now … out of necessity.
It remains a very tricky situation for central bankers. The world's 2 largest economies (U.S., China) are struggling to grow in 3Q. Yet inflation is a concern. We would expect the "taper but don't tighten" mantra to continue from policymakers.
First Week Of Earnings In The Books And Growth Inches Higher
After the first week of earnings, estimated sales growth for the third quarter remained unchanged at 14.1%, while earnings growth improved to 32% from 29.4%. This improvement was attributable to the financial sector, which largely saw greater than expected earnings for the 3rd quarter.
NTM EPS Resumes Its Upward Trend After Pausing
We had noticed that the NTM EPS estimate had stalled out at the $214 level for the last four weeks but has now resumed its upward trend. This is welcomed news for those concerned about growth as estimates in the outer quarters once again begin to move higher.
S&P Estimated Operating Margin Approaching 17.5%
Once again, estimated operating margins continue to march higher, reaching 17.4% and showing no signs of slowing down. As we have mentioned many times, equities tend not to get into too much trouble as long as margins are not rolling over. Thus far, this does not appear to be a concern.
Companies Missing Earnings Estimates On Average Down -4.5%
With earnings momentum strong heading into the 3rd quarter reporting season, expectations for companies appear to be slightly elevated. However, those companies' beatings estimates are only up 1.1% on average the day following their earnings report, while the companies that are missing estimates are down almost -5%. We would look for this trend to continue the entire earnings season.
Source: Strategas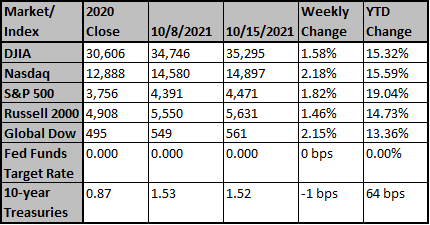 Chart reflects price changes, not total return. Because it does not include dividends or splits, it should not be used to benchmark performance of specific investments. Data provided by FactSet.
Sincerely,
Fortem Financial
(760) 206-8500
team@fortemfin.com
---
Latest News
How Close Is the U.S. Economy to Normal?
It's close, but some industries are still recovering.
Morningstar
Sep 1, 2021
Procter & Gamble to raise prices on more staples
Procter & Gamble Co. is raising prices on a host of household staples as costs for freight and raw materials rise faster than the consumer-product giant anticipated.
Fox Business
Oct 19, 2021
What's at stake as Biden decides whether to stick with Je...
President Biden has a big decision to make: Whether to reappoint Jerome Powell to a second term as Federal Reserve chairman or choose someone else for one of the world's most powerful eco...
NPR
Oct 18, 2021
---