Given bottlenecks and supply constraints, we are continuing to see a stagflation scare (weaker growth + sticky inflation) in the global economy. Concerns are likely to persist into 2022. But as firms change the way they do business to combat this issue, output-per-hour (productivity) gains are starting to occur. Productivity allows the opposite of stagflation: stronger growth and muted inflation since there are more goods & services produced. Put another way, straining the economy in ways it has not been tested since the 1970s might result in different business processes now… out of necessity.
There remain plenty of near-term problems. For another week, we continued to see collateral damage from the significant interventions in the global economy over the past 18 months. Extreme bottlenecks remain, and expenses remain high. "It is taking roughly 80 days to transport goods across the Pacific, or twice as long as before the pandemic, retail and shipping executives said. Walmart Inc., Home Depot Inc., Costco, and Target Corp … are among the companies that are paying for their own chartered ships." (WSJ)
Each month in our Economic Balance Sheet exercise, we characterize 14 broad U.S. economic sectors – including both real activity and prices – as Assets or Liabilities. Our balance sheet fell notably to +1 this month, i.e., barely in positive territory as Housing, Wage Inflation, Price Inflation, Consumer Confidence, and Government Deficit were downgraded.
The Atlanta Fed's tracking estimate for U.S. real GDP in 3Q is down to 1.3% q/q A.R. U.S. labor force participation dipped to 61.6% in September, indicating continued labor supply issues (likely related to schools re-opening in a choppy fashion, the lagged effects of expanded benefits, and virus variant concerns that were still ongoing in mid-Sep when this survey was done).
When asked what's wrong with labor markets, the correct answer seems to be "all of the above". Health concerns matter, either by government fiat (eg, factories in Asia) or through employee reluctance. Some have chosen retirement. There could be a speed limit on how quickly workers will return to jobs deemed "non-essential". Expanded U.S. jobless benefits have only recently expired in some states (this effect could act with a lag, as a NY Fed survey indicated a good portion of stimulus disbursements were saved or used to pay down debt). Schools have re-opened, but fears remain of imminent closure/partial quarantine at any time. Bus transportation to/from school has not been smooth. Child-care concerns still matter.
The total effect of all causes: U.S. payroll employment still remains roughly -5 million below pre-pandemic levels.
This is a tricky situation for central bankers. U.S. payroll employment was disappointing in Sep, rising just 194,000 m/m. There were upward revisions to prior months (+169,000), however, and the household survey looked more solid. The unemployment rate fell to 4.8% with average hourly earnings up +0.6% m/m. With plenty of job openings & wages rising, exiting QE still makes some sense. Take the foot off the gas (tapering), but do not push on the brake (raising rates).
Bottom line: the pieces of the economy are still not fitting together well. With the world's two largest economies (U.S., China) struggling to grow in 3Q, and bottlenecks still pressuring supply chains, earnings growth near-term remains at risk. Ports are clogged. Energy & shipping prices are surging. Job openings are going unfilled. Growth estimates are falling. We would expect the "taper but don't tighten" mantra to continue from policymakers. The future looks to be in the hands of the private sector … and productivity gains.
Will 3Q Be Another Blowout Quarter?
1Q & 2Q beat EPS estimates quite handily and while it is always possible that 3Q earnings provide another blowout quarter given the easier comps that companies still face, guidance for 2022 and beyond is likely going to play a bigger role. Early indications from some of the early reports show this playing out as a handful of companies that beat EPS estimates sold off when they reported earnings.
Largest MoM Change In Upward Earnings Revisions Ever
As we expected, the rate of upward earnings revisions slowed in September but at a much faster pace than we anticipated. The -28% difference between August and September revisions is the largest decline in the history of the series, which dates back to 1985.
Source: Strategas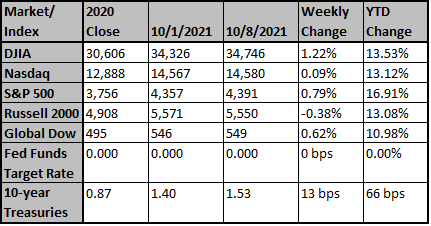 Chart reflects price changes, not total return. Because it does not include dividends or splits, it should not be used to benchmark performance of specific investments. Data provided by FactSet.
Sincerely,
Fortem Financial
(760) 206-8500
team@fortemfin.com
---
Latest News
Jobless claims post sharp decline to 326,000, better than...
Initial filings for jobless benefits were expected to total 345,000 for the week ended Oct. 2, according to economists surveyed by Dow Jones.
CNBC
Oct 7, 2021
Economists expected far more Americans would be working a...
The US jobs reports shows many Americans aren't ready to return to the job market.
Quartz
Oct 8, 2021
Strong wage gains cast doubt that inflation is going away...
September's wage gains provided more fuel to the argument that the current pace of inflation could run longer than many economists anticipate.
CNBC
Oct 8, 2021
---