Will the economy roll into a formal recession, or is a recovery underway? It's a close call.
We've believed all year that the economy has been undergoing a series of "rolling recessions" affecting various industries and sectors. The question is whether it eventually would roll into a formal recession. To date, it's still not clear. Despite the Federal Reserve's efforts to cool economic growth and control inflation, job growth has remained relatively strong—although job expansion historically is common at the beginning of recessions, as we'll discuss below.
Meanwhile, longer-term Treasury yields have risen sharply in recent weeks. While this traditionally is a sign that markets expect stronger economic growth in the future, we think there are other factors currently at work in the bond market: namely, increased bond supply and the potential for lower demand from Japanese buyers.
Finally, the global economy seems to be transitioning out of "stagflation" (low growth and high inflation), to just stagnation as the pace of economic growth and inflation is slow enough to end the rate hiking cycle in most major economies.
U.S. stocks and economy: Strengths and weaknesses
Economic data have looked relatively resilient lately. U.S. gross domestic product (GDP) growth reaccelerated in the second quarter to a 2.4% annualized pace, led by business investment and still-positive consumer spending (though the latter's strength eased from the first quarter). Meanwhile, the U.S. economy added 187,000 jobs in July, per the Bureau of Labor Statistics. While that is a strong gain relative to history, it was softer than the consensus expectation for 200,000 new jobs; also, the prior two months' job gains were revised lower by 49,000 payrolls.
Labor data can often look confusing at economic inflection points. One of the widely held myths around the labor market and recessions is that data don't look poor when a recession begins. That isn't the case, however, when looking at payroll gains at the start of historical downturns. As shown in the table: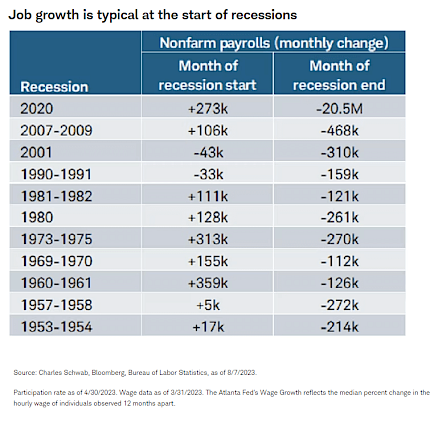 That underscores the fact that investors shouldn't place too much emphasis on a single data point when determining the state of the business cycle. That especially holds true today, when there is an almost even split between the number of indicators that signal coming weakness vs. a recovery that is already underway. That dynamic is consistent with our thesis that the economy has been suffering from a series of rolling recessions since the beginning of last year.
Confidence among CEOs was one of the first areas to slip into a recession. Yet now, as shown in the chart below, executives are increasingly optimistic that the worst might be behind us. A continued improvement should bode well for businesses, but it's worth noting that 84% of respondents in The Conference Board's CEO confidence survey said they still expected the economy to enter a recession during the next 12-18 months (although that was down from 93% in the previous survey).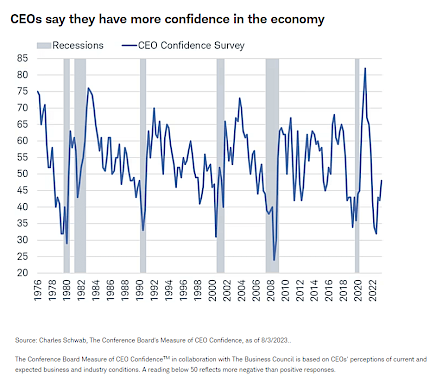 That pessimism might be stemming in part from the lack of improvement in the earnings backdrop. Second-quarter earnings season is nearly over, and thus far, profits are still expected to contract from the prior year (the worst drop since the third quarter of 2020). The decline in earnings historically hasn't been synonymous with prior recessionary drops, but a building risk is that earnings estimates fail to pick up markedly from here. That would work against the strength of the market's rally this year and since the recent low last October—especially because, as shown in the chart below, the advance has been driven entirely by a climb in the forward price-to-earnings (P/E) ratio. Forward earnings growth has yet to contribute to the rally.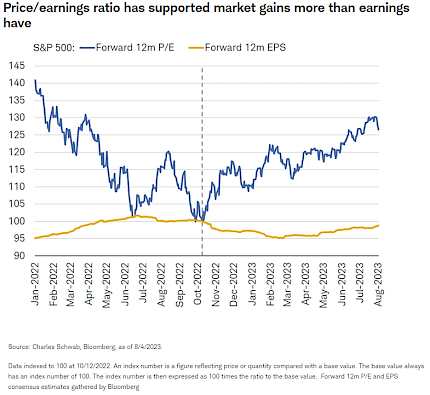 Source: by Liz Ann Sonders, Kathy Jones, Jeffrey Kleintop of Charles Schwab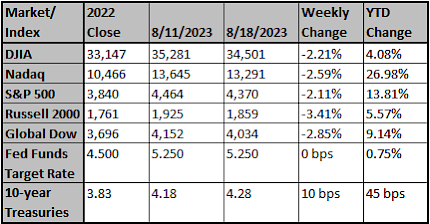 Chart reflects price changes, not total return. Because it does not include dividends or splits, it should not be used to benchmark performance of specific investments. Data provided by Refinitiv.
Sincerely,
Fortem Financial
(760) 206-8500
team@fortemfin.com
---
Latest News
Fed's long-term GDP outlook is dismal; the economy hasn't got the message yet
After puzzling for years over the sluggish U.S. rebound from the 2007-2009 recession, the Federal Reserve had a reckoning at its policy meeting in September of 2016.
Reuters
GLOBAL MARKETS-US yields hit decade highs, European shares rise off 6-wk low
European shares recovered from a six-week low and key U.S. treasury yields rose to decade highs on Monday as investors awaited a Federal Reserve meeting later this week.
Reuters
Futures climb as focus shifts to Powell at Jackson Hole, Nvidia earnings
U.S. stock index futures rose on Monday after a sharp selloff last week, with investors awaiting more clues on interest rates from an upcoming gathering of central bank policymakers in Jackson Hole, as well as quarterly report from Nvidia.
Reuters
---