"October: This is one of the peculiarly dangerous months to speculate in stocks. The others are July, January, September, April, November, May, March, June, December, August, and February." Mark Twain.
To be honest, we are not particularly big fans of relying on seasonal patterns, especially in an environment when policymakers are breaking all the rules. Every snap either seems to be an audible or a broken play. Still, we believe we would be remiss if we didn't point out that, since 1950, September has been particularly challenging for stock market returns. Moreover, it should be pointed out that the "September Effect" has weakened somewhat over the last 25 years. By the same token, the "effect" is also apparent among global markets. The major theories posited for the market's troubles in September is that volume picks up dramatically from a summer slowdown, and that fund managers start to harvest tax losses approaching the last four months of the year.
In any event, it may be particularly important to focus on this given our Washington team's admonition of a "September to Remember" as far as policy goes. Lest one might forget, the Administration and Congress will have us focused on a bipartisan infrastructure package, an additional $3.5 trillion spending budget and the taxes that are likely to accompany it, a potential government shutdown, the debt ceiling, and the reappointment of Fed Chairman Jay Powell. In recent weeks, it would appear that nothing could provide the impetus for stocks to move lower. Washington, though, just might give it a shot.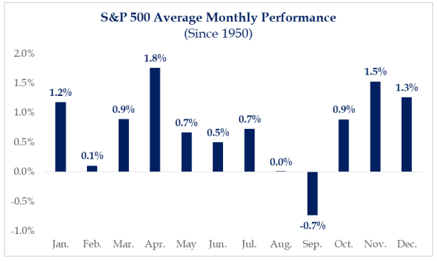 Source: Strategas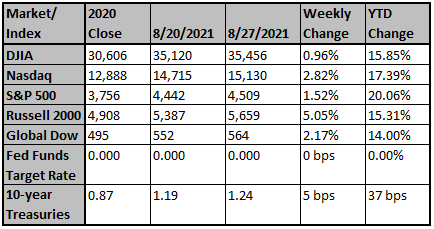 Chart reflects price changes, not total return. Because it does not include dividends or splits, it should not be used to benchmark performance of specific investments. Data provided by FactSet.
Sincerely,
Fortem Financial
(760) 206-8500
team@fortemfin.com
---
Latest News
Economy Week Ahead: Factory Activity, Trade and Employment
Data due this week will likely show China's factory activity expanded at its slowest pace 1 years and unemployment in the U.S. hit the lowest level since the pandemic started.
Wall Street Journal
Aug 29, 2021
New Life and Work Choices Revitalize Exurbs, Bringing New...
In particular in the southeast, once-rural spots like Murfreesboro, Tenn., are seeing populations boom, driven by people from cities and close-in suburbs drawn by lower costs and the abil...
Wall Street Journal
Aug 29, 2021
Fed Faces New Challenge Spelling Out Employment Goals
Federal Reserve officials are talking more about how to define a fuzzy concept-maximum employment-that will heavily influence their thinking around how much longer to keep interest rates ...
Wall Street Journal
Aug 29, 2021
The 'Clean Power Plan' Returns
Aug 30, 2021
---