A cottage industry has sprung up in the past decade with the sole focus of discrediting any good news on the economy. When President Obama was in office, the attacks mostly came from the right. With Presi dent Trump in Office, the attacks mostly come from the left. Since March 2009, regardless of who was in office, we have stridently argued that this recovery has legs. 
The latest debate is over real (inflation-adjusted) GDP, which grew at a better than expected 2.1% annual rate in Q2. Some say it showed soft spots from the trade war and weak business investment.
It's true that net exports (exports minus imports) trimmed the Q2 real GDP growth rate by 0.65 percentage points. But that follows the Q1 boost to growth of 0.73 points. In the past year, trade has subtracted an average of 0.58 points each quarter. For comparison, we saw larger drags from net exports in 2010, 2014, and 2015, all years without "trade wars." Our conclusion: this is statistical noise.
That leaves real business fixed investment, which declined at a 0.6% annual rate in Q2, the first drop since 2016. Many have taken this as proof that tax cuts and deregulation didn't work.  The Q2 decline was almost entirely due to a drop in brick and mortar investment (what economists call "structures"). In the age of the Internet, software and computers are replacing brick and mortar. We buy airline tickets online, not in an office. Blockbuster was replaced by Netflix. You don't need to leave the comfort of your home, the stores come to you. As a result, investment in structures has slowed in recent years while investments in technology and equipment have continued to rise. Strip out structures, and real fixed investment rose at a 1.9% annual rate in Q2 2019.
More importantly, business investment ex-structures has clearly picked up under the Trump Administration compared to Obama's second term. Why only use the final four years of the Obama Presidency? Because the first four years were driven by a V-shaped recovery from the Panic of 2008. His second term illustrates the impact of tax hikes and more business regulation.
Real business investment, excluding structures, grew at a 3.8% annualized rate between Q4 2012 and Q4 2016, but accelerated to a 5.9% annualized rate since Trump took office. Real Investment in software and R&D grew at a 5.5% annualized rate in the final four years of the Obama Administration versus 7.5% since the start of 2017. Tax cuts and deregulation have indeed boosted "animal spirits."
In addition, Core GDP – combining personal consumption, business investment, and home building – grew at a very solid 3.2% annual rate in Q2. Meanwhile, profit reports are widely beating expectations. The economy is much stronger than conventional wisdom thinks and has been since 2009. 
The equity markets advance continued last week on the strength of better-than-anticipated earnings reports.  This week's expected 25 basis point interest rate cut by the Federal Reserve, and ongoing trade discussions with China, provided additional support.  The Nasdaq's 2.26% gain led the indices followed by the Russell 2000® Index (+2.01%), the S&P 500® Index (+1.65%) and Dow Jones Industrial Average (+0.14%).
Earnings season yielded mixed results as trade, weather, uncertainty over global economic growth have influenced earnings and sentiment.  Overall earnings results thus far have exceeded modest expectations; with reports from over 25% of companies in the S&P 500®, approximately 78% exceeded estimates.  In the Technology sector, Google beat earnings with impressive growth while Amazon missed earnings due to slowing revenues in cloud storage and higher expenses.  Commentaries, while generally positive, also reflect the uncertainty of trade negotiations and tariffs.  Revised projections by the International Monetary Fund lowered 2019 global economic growth projections from 3.3% to 3.2% and increased projected growth in the U.S. from 2.3% to 2.6%.  
Expectations remain low for meaningful progress as trade negotiations resume in China this week.  Apparently, as a goodwill gesture, China is resuming imports of certain U.S. products without imposing tariffs.  A mid-size bank, with significant exposure in China, maintains an upbeat outlook as its business with Chinese companies and individuals remains positive.  The bank commented that China has taken steps to permit foreign companies to own a majority interest in Chinese companies; also, China has lowered the list of banned industries from near 500 to approximately 48.  The bank also commented on increased lending activity as companies borrow to relocate production to other Asian countries.  
The United Kingdom's newly-elected Prime Minister, Boris Johnson, stated his intention to implement Brexit by the October 31 deadline with or without an agreement.  Mr. Johnson, with the support of his new, pro-Brexit cabinet, will soon initiate discussions with the European Union regarding opportunities to negotiate terms; the  EU's chief Brexit negotiator commented he was prepared to "work constructively" to analyze "any UK idea on withdrawal issues that are compatible with the existing withdrawal agreement."
This week Earnings will likely continue to provide market momentum absent any significant news on trade or monetary policy.
Source: Strategas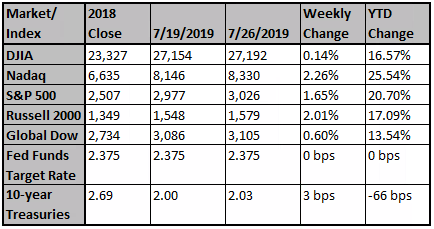 Chart reflects price changes, not total return.  Because it does not include dividends or splits, it should not be used to benchmark performance of specific investments.
---
Latest News
The Wall Street Journal: Modest expectations as U.S., Chi...
Negotiators for the U.S. and China will face off in Shanghai this coming week in yet another attempt to piece together a trade accord, amid considerably lowered expectations for the kind ...
Fed Poised to Cut Rates for First Time Since Financial Cr...
Investors expect a quarter-point precautionary cut, a turning point that underlines that this might be as good as the economy will get.
The New Olive Branch: U.S. soy being shipped to China
BEIJING (Reuters) - The United States has shipped several million tonnes of soybeans to China since the two countries' leaders met in June, Chinese state media said on Sunday, an apparent...
---
Brian Amidei is Coachella Valley's only Barron's Magazine Top 1,000 Advisor in 2013 and 2014!
Brian Amidei, along with Partners Joseph Romano and Brett D'Orlando have also been named *2014, 2015, 2016, 2017 Five Star Wealth Managers!
Disclosures:
Awards and recognitions by unaffiliated rating services, companies, and/or publications should not be construed by a client or prospective client as a guarantee that he/she will experience a certain level of results if Fortem is engaged, or continues to be engaged, to provide investment advisory services; nor should they be construed as a current or past endorsement of Fortem or its representatives by any of its clients. Rankings published by magazines and others are generally based on information prepared and/or submitted by the recognized advisor. Awards may not be indicative of one client?s experience or of the Firm?s future performance.  Neither Fortem nor the recognized advisor has paid a fee for inclusion on a list, nor purchased any additional material from the award provider. The criteria for each award is listed below:
Barron's Disclosure:
The Barron's award is is based on the recognized adviser's assets under management, contribution to the firm's revenues and profits, and quality of practice.  Investment performance is not an explicit criteria.  Additional information about this award is available at http://online.barrons.com/report/top-financial-advisors. 
Five Star Professional Disclosure:
The Five Star Wealth Manager award is based on 10 eligibility and evaluation criteria: 1) Credentialed as an investment advisory representative (IAR) or a registered investment advisor; 2) Actively employed as a credentialed professional in the financial services industry for a minimum of five years; 3) Favorable regulatory and complaint history review; 4) Fulfilled their firm review based on internal firm standards; 5) Accepting new clients; 6) One-year client retention rate; 7) Five-year client retention rate; 8) Non-institutionalized discretionary and/or non-discretionary client assets administered; 9) Number of client households served; and 10) Educational and professional designations. The inclusion of a wealth manager on the Five Star Wealth Manager list should not be construed as an endorsement of the wealth manager by Five Star Professional or the magazine. The award methodology does not evaluate the quality of services provided.  Additional information about this award is available at: fivestarprofessional.com/2016FiveStarWealthManagerMethodology.pdf
Fortem Financial 2016. All rights reserved. 
Data Sources:  News items are based on reports from multiple commonly available international news sources (i.e. wire services) and are independently verified when necessary with secondary sources such as government agencies, corporate press releases, or trade organizations.  Market Data: Based on reported data in WSJ Market Data Center (indexes); U.S. Treasury (Treasury Yields); U.S. Energy Information Administration/Bloomberg.com Market Data (oil spot price, WTI Cushing, OK); www.goldprice.org (spot gold/silver); Oanda/FX Street (currency exchange rates).  All information is based on sources deemed reliable, but no warranty or guarantee is made as to its accuracy or completeness. 
Neither the information nor any opinion expressed herein constitutes a solicitation for the purchase or sale of any securities, and should not be relied on as financial advice.  The opinions expressed are solely those of the author, and do not represent those of Fortem Financial, LLC or any of its affiliates.  Past performance is no guarantee of future results.  All investing involves risk, including the potential loss of principal, and there can be no guarantee that any investing strategy will be successful.  Forward looking statements are based on current expectations and assumptions, the economy, and future conditions.  As such, forward-looking statements are subject to inherent uncertainty, risks, and changes in circumstance that are difficult to predict.  Actual results may differ materially from the anticipated outcomes.  Carefully consider investment objectives, risk factors and charges and expenses before investing.  Fortem Financial is a registered investment adviser with the SEC.  Advisory services are offered through Fortem Financial.
The Dow Jones Industrial Average (DJIA) is a price-weighted index composed of 30 widely traded blue-chip U.S. common stocks.  The S&P 500 is a market-cap weighted index composed of the common stocks of 500 leading companies in leading industries of the U.S. economy.  The NASDAQ Composite Index is a market-value weighted index of all common stocks listed on the NASDAQ stock exchange.  The Russell 2000 is a market-cap weighed index composed of 2,000 U.S. small-cap common stocks.  The Global Dow is an equally weighted index of 150 widely traded blue-chip common stocks worldwide.  Market indices listed are unmanaged and are not available for direct investment.