Therapeutic breakthroughs and vaccine tests could bring us relief sooner than later
In another volatile week, the equity markets staged a dramatic rally to lessen the impact of this month's selloff. Expectations for the $2 trillion Coronavirus relief bill, which received bipartisan support in Congress this week and was quickly signed by President Trump on Friday, provided encouragement to investors. The bill provides funding for U.S. individuals and corporations seeking relief for the dramatic loss of income and revenues caused by the measures taken to slow the spread of Covid-19. As we discussed many times in the updates we sent out over the last three weeks, nobody knows when the market will hit a bottom. However, as part of the bottoming process, the largest gains seen in any sell off are often when things look the darkest. Last week was no exception, with markets rallying on the largest relief package in our country's history. The Dow Jones Industrial Average led all major indices for the week gaining 12.8% its largest one week gain since 1938. The Russell 2000® Index rose 11.6% followed by the S&P 500® Index (10.3%) and Nasdaq (9.1%), its largest weekly gain in 11 years.
Weekly jobless claims soared to a record 3.28 million as large parts of the economy shut down in response to the virus. Many cities and states have implemented forceful policies to establish social distancing to slow the virus's spread. Policymakers cannot yet anticipate when the economy will gradually reopen and shelter-in-place policies will end, but they gave April 30th as a best guess guidance and will be reviewing data as we move forward to make adjustments. Factories are reopening in China, and the country reported only one 'home grown' case this week. China's economy, however, is nevertheless impacted by the spread of the virus; cancelled orders in other countries have triggered layoffs and threaten businesses.
Global cases of the virus surged to more than 741,030 with at least 143,532 in the U.S. The case count in the U.S. is now the largest in the world. This is partly because the U.S. is doing more testing than any other country. As the numbers for the virus have grown, they have also given us clear data to see the overall percentage of cases resulting in death in the U.S. is less than most other countries. Although the impact of the Coronavirus has been severe, some businesses providing important products and services are benefitting: Both Walmart and Amazon are hiring staff and offering higher wages and bonuses. Trucking companies are reporting increased volumes as businesses rush to replenish inventories. The U.S. government has acknowledged the demand on truckers by temporarily waiving the mandatory rest periods.
Investors and analysts anxiously await the upcoming first quarter corporate earnings releases. Attention will focus on the developing trends and any outlook provided for future quarters. Analysts will undoubtedly revise price targets based on the commentaries and financial results for individual companies. Looking ahead, the market's volatility, which eased somewhat last week, will likely remain elevated; patient, long-term investors may identify great buying opportunities.
Last week's impressive gains still leave the major indices more than 20% below record highs set in February. And, investors remain uncertain about the likelihood of a meaningful recovery in the absence of encouraging news on Coronavirus. There was an encouraging article today in the Wall Street Journal that discussed great progress in therapeutic treatments. President Trump has discussed the use of Hydroxycloroquine and Azithromycin and how they have shown promise in small medical trials in France.
It has been our experience that the main stream news media prefers to share bad news rather than good news. If Hydroxychloroquine and Azithromycin are as effective as they appear they may be, this would be a significant breakthrough because it would validate what President Trump has been saying about the America's ingenuity and resolve to beat this virus. It would reduce the expectations of overwhelming our healthcare system and it would help reduce the economic pain our country is currently experiencing. The use of these drugs may be a quick game changer for patients and assist in protecting health workers from catching the highly contagious virus as well. These advancements are just a few possible game changing breakthroughs currently being tested that would reduce the contagion curve, save lives, and allow the economy to get back to normal quicker. We think that is news worth sharing and we have enclosed the article here for your review. Please feel free to share it with your friends and family as well.
Please call or email us with any questions you may have.
Source: Strategas, Pacific Global Investment Management Company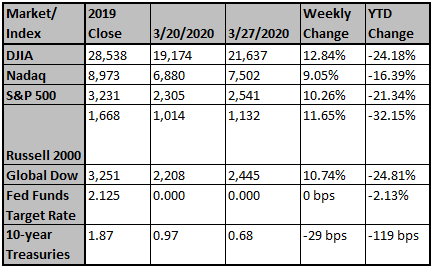 Chart reflects price changes, not total return. Because it does not include dividends or splits, it should not be used to benchmark performance of specific investments.
Sincerely,
Fortem Financial
(760) 206-8500
team@fortemfin.com
---
Latest News
Covid-19 Breakthroughs