Happy New Year!
As 2021 gets underway, we want to start this morning by highlighting just how rare last year's price action was. The March S&P low (2192) undercut the prior year's low (2444), and last week's year-end close (3756) was above the prior year's high (3248)… we can find only 3 other examples in the last 90+ years where such is also the case (1935, 1982, and 2016). While hardly a robust sample, the S&P was up double-digits in the year following these past observations (+28%, +17%, and +19%, respectively).
The year gets underway with roughly 90% of stocks in the S&P in an uptrend, the best reading since 2013, and reflective of just how broad this advance has been. To no surprise, the sentiment is running hot with prices and the risk of excessive optimism is likely a threat for the first half of 2021, but big market tops rarely (if ever) form when breadth is this strong. Take note that flows into small-caps look particularly aggressive at present. There are a few hints of fatigue out there worth keeping an eye on – IPOs have come under some pressure over the last week (liquidity gauge) and Chinese bond yields have retreated (global cyclicality). That's probably nitpicking at this point, as the broader macro package is still very much pro-risk. Corrections are part of the business, but timing them (particularly in fully confirmed bull markets) is difficult.
Don't look now, but Financials have quietly continued to climb the ladder in our sector rankings – 4th among large-caps and 5th among small-caps. The equal-weight Financials sector hit 6-month relative highs vs. the S&P last week, and the Commercial Banks Index has flipped positive in our relative trend model. It's early days, but it's becoming less of a stretch to call the group "emerging leadership." Also flipping positive in our relative trend work last week was Energy Equipment & Services, while Software went negative for the first time in 5 years.
Source: Strategas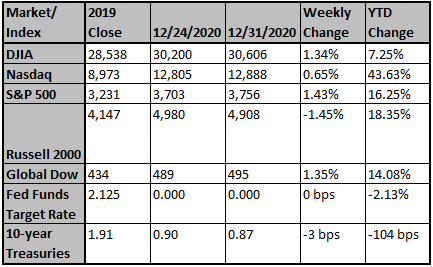 Chart reflects price changes, not total return. Because it does not include dividends or splits, it should not be used to benchmark performance of specific investments. Data provided by FactSet.
Sincerely,
Fortem Financial
(760) 206-8500
team@fortemfin.com
---
Latest News
Economy Week Ahead: Fed Minutes, Trade Deficit and Employ...
The December jobs report will be the main economic data release in a busy first week of the year, along with a look at the trade deficit on Thursday.
Wall Street Journal
Jan 3, 2021
Weekly jobless claims fall for a second straight week
The number of people filing for unemployment benefits for the first time unexpectedly fell last week, marking its second straight decline.
CNBC
Dec 31, 2020
2021 may mark the first inflation comeback in a generatio...
Bianco Research's Jim Bianco says inflation is his big worry for next year.
CNBC
Dec 30, 2020
---