Treasury Yields dropped slightly over the course of the week on increased Covid-19 worries. On Monday, a reported more transmissible mutation of the novel coronavirus in the United Kingdom led to further lockdowns in the country and concerns across the world that the pandemic would worsen. Governments across Europe were closing travel from the U.K. due to the new strain, but France did say they would open their borders for those who have tested negative. However, experts still believe that the vaccine will be effective against different variants of the virus, easing fears. Yields continued to drop on Tuesday despite Congress passing a $900 billion relief bill. On Wednesday, President Trump said he wanted more direct stimulus checks to individuals and threatened to hold up the relief bill. President Trump was asking for an increase to $2,000 direct stimulus checks instead of the agreed upon $600. However, that was overshadowed by a deal being reached on Brexit in Europe, removing this uncertainty from the market and causing yields to rise slightly. Yields then pulled back again slightly on Thursday as Congress did not pass the amendment to include $2,000 checks to individuals.
The S&P 500 moved slightly lower during the holiday-shortened week. Financials and technology were the best performing sectors for the week. Banks gained after passing the latest stress test with flying colors. In an unexpected move, the Federal Reserve allowed profitable banks to resume share buybacks, though dividends are still capped at current levels. JP Morgan Chase & Co. quickly announced a $30 billion share buyback. Technology stocks moved higher on the surge in cybersecurity stocks due to the widespread Russian hack. Fireye Inc. initially fell by over 10% after disclosing the hack of its network but then surged over 50% as many other firms were also hacked, which is likely to drive incremental demand for their solutions. Work-from-anywhere also climbed to new heights as rolling lockdowns continue around the globe and cases remain high in the near term until the vaccines can be more widely distributed. Tesla Inc. entered the S&P 500 after Friday's close on December 18th as the 6th largest weight. Shares of the electric-vehicle maker went parabolic before being added to the major index, gaining 730% for the year and 70% since the announcement of inclusion on November 16th. However, shares fell by nearly 5% during its first week in the index. While the short run has more uncertainty due to COVID-19, the longer term looks more promising with the U.S. signing a bigger agreement for vaccine doses with Pfizer Inc. Additionally, continued loose monetary policy and a reopening of the economy could be a powerful one-two punch for equities into 2021.
Source: First Trust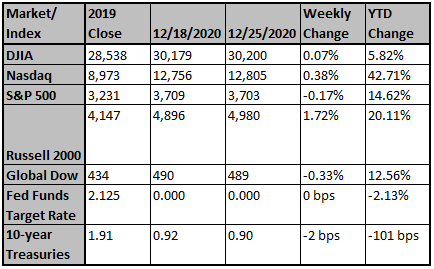 Chart reflects price changes, not total return. Because it does not include dividends or splits, it should not be used to benchmark performance of specific investments. Data provided by FactSet.
Sincerely,
Fortem Financial
(760) 206-8500
team@fortemfin.com
---
Latest News
15 Concerning Charts About The Job Market
The unemployment picture is not pretty when you dig into the details.
Forbes
Dec 27, 2020
December Quarter's GDP Growth Forecasts Are All Over The Map
The December quarter's GDP growth estimates range from 1% to over 10%.
Forbes
Dec 26, 2020
US holiday retail sales rise 3.0% - Mastercard report
U.S. ecommerce sales jumped 49% in this year's holiday shopping season, according to Mastercard SpendingPulse report, underscoring the COVID-19 pandemic's role in transforming customers' ...
Fox Business
Dec 26, 2020
Stocks End Modestly Higher in Shortened Session
U.S. stocks rose in light holiday trading as investors tracked the latest developments on a new coronavirus aid package and the historic trade deal reached between the U.K. and European U...
Wall Street Journal
Dec 24, 2020
---