On Wednesday, the Federal Reserve Committee announced (as we have been expecting) that they would not raise rates again in 2019.  Powell indicated that the Fed's pausing is because of a more significant slowdown in growth than anticipated.  Much of this "slow down" is being measured through "Industrial Production."  We think the magnitude of the slow down may be a little overstated.  Below is a chart of U.S Industrial production over the last five years.  As you can see, the current drop in production is on par with the drop 2018, 2017, and 2016.  It is far smaller than the total drop that happened between late 2014 and mid 2016.  Because production indices are inherently volatile, and because they can be affected by various forces, we don't think it's advisable to put too much emphasis on this one indicator alone.  
US Industrial Production (NAICS)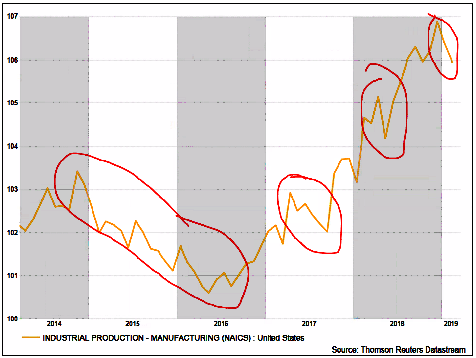 Further, we believe the trade dispute between the U.S. and China has been a contributing factor to the current production slow down, and we take confidence that it appears we may be nearing an agreement.  China has already agreed to a number of concessions, even if there have not been enough concessions made for Trump to call the dispute settled.  Rather than becoming overly focused on the news of the day, we believe it's more useful to focus on the overall trend.  Slow and steady progress has been made.  
We also think the rapid jump in interest rates and the cold weather in the Northern U.S. contributed to the slowdown in manufacturing.  During the fourth quarter of 2018, we saw a significant increase in the 10-year Treasury rate (as well as the rate on 30 year fixed rate mortgages).  The ten year Treasury rate increased 5.5% between September 30, 2018 and November 7, 2018, and it was up more than 15% from where it was on August 24, 2018.  While short lived, the rapid increase in rates and the cold winter weather likely contributed to a fall in home purchases and new projects.  Because new homes and moving typically involve home upgrades, new furniture, etc., it would be reasonable to associate some of the slowdown in manufacturing with the slowdown in the housing market.  February data showed a surge in U.S. home sales, bringing them back to the highest level since March, 2018, which give us reason to believe we may see an uptick in manufacturing in the coming months.    
Another data point that gives us confidence is that Labor Productivity continues to improve.  Over the last few years, a number of market bears have pointed to the relatively low levels of labor productivity as a signal that we were heading for a slowdown.  The most recent reading of U.S. Labor Productivity puts it at its highest level since late 2010.  More importantly, it is following an upward trend.  
We also believe consumer confidence will contribute to a stronger economy; it increased by 8% in February.  During the fourth quarter of 2018, we saw softening in the consumer confidence index, but it has since rebounded.  We believe settling the trade dispute will support improved consumer confidence and will be a strong support for equities (and the economy).  
Personal Income (in RED) is also continuing to improve.  In the chart below, we ran an overlay of the S&P 500 Total Return Index (in Blue) with Personal Income.  The U.S. economy is a consumption driven economy, so while personal income remains strong, inflation remains low, and consumer confidence remains high, it is difficult for us to make an argument that we are facing a recession.  You can see the large drop in personal income and the correlating large drop in the stock market.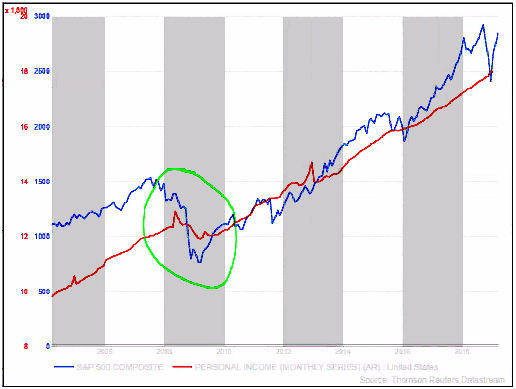 In spite of all the positive things we see, we concede that the shape of the yield curve is cause for concern.  Since the Fed announced it would not raise rates again in 2019, both the 90-day and the 1-year Treasury yield have inverted when compared to the 10 year Treasury yield.  However, the part of the yield curve we monitor more closely to determine if the "yield curve" is "inverted" is the 2 year Treasury vs. the 10 year Treasury.  Thus far, the 2-10 yield curve has NOT inverted.  It is very close to inversion, with the 10 year at 2.44% and the 2 year at 2.31%, but it is not yet inverted. 
Much of the drop in the long-end of the yield curve can be attributed to the Federal Reserve announcing it will stop raising rates.  The short-end of the yield curve is being propped up by the current Target Fed Funds Rate (2.5%).  Growth in the economy, over time, can lift the long-term rates higher, and may very well help us avoid an inversion between the 2-year and the 10-year yield.
We recommend being patient with respect to the yield curve, and allowing the Spring's data to flow in.  Virtually all economic indicators we follow point to growth, and the equity and fixed income markets, based on various measures, would be considered to be at fair market value by many.  The drop in mortgage rates will also help promote growth, and this growth (after the immediate response to the Fed's announcement) may well help push the long end of the yield curve up.
---
Brian Amidei is Coachella Valley's only Barron's Magazine Top 1,000 Advisor in 2013 and 2014!
Brian Amidei, along with Partners Joseph Romano and Brett D'Orlando have also been named *2014, 2015, 2016, 2017 Five Star Wealth Managers!
Disclosures:
Awards and recognitions by unaffiliated rating services, companies, and/or publications should not be construed by a client or prospective client as a guarantee that he/she will experience a certain level of results if Fortem is engaged, or continues to be engaged, to provide investment advisory services; nor should they be construed as a current or past endorsement of Fortem or its representatives by any of its clients. Rankings published by magazines and others are generally based on information prepared and/or submitted by the recognized advisor. Awards may not be indicative of one client?s experience or of the Firm?s future performance.  Neither Fortem nor the recognized advisor has paid a fee for inclusion on a list, nor purchased any additional material from the award provider. The criteria for each award is listed below:
Barron's Disclosure:
The Barron's award is is based on the recognized adviser's assets under management, contribution to the firm's revenues and profits, and quality of practice.  Investment performance is not an explicit criteria.  Additional information about this award is available at http://online.barrons.com/report/top-financial-advisors. 
Five Star Professional Disclosure:
The Five Star Wealth Manager award is based on 10 eligibility and evaluation criteria: 1) Credentialed as an investment advisory representative (IAR) or a registered investment advisor; 2) Actively employed as a credentialed professional in the financial services industry for a minimum of five years; 3) Favorable regulatory and complaint history review; 4) Fulfilled their firm review based on internal firm standards; 5) Accepting new clients; 6) One-year client retention rate; 7) Five-year client retention rate; 8) Non-institutionalized discretionary and/or non-discretionary client assets administered; 9) Number of client households served; and 10) Educational and professional designations. The inclusion of a wealth manager on the Five Star Wealth Manager list should not be construed as an endorsement of the wealth manager by Five Star Professional or the magazine. The award methodology does not evaluate the quality of services provided.  Additional information about this award is available at: fivestarprofessional.com/2016FiveStarWealthManagerMethodology.pdf
Fortem Financial 2016. All rights reserved. 
Data Sources:  News items are based on reports from multiple commonly available international news sources (i.e. wire services) and are independently verified when necessary with secondary sources such as government agencies, corporate press releases, or trade organizations.  Market Data: Based on reported data in WSJ Market Data Center (indexes); U.S. Treasury (Treasury Yields); U.S. Energy Information Administration/Bloomberg.com Market Data (oil spot price, WTI Cushing, OK); www.goldprice.org (spot gold/silver); Oanda/FX Street (currency exchange rates).  All information is based on sources deemed reliable, but no warranty or guarantee is made as to its accuracy or completeness. 
Neither the information nor any opinion expressed herein constitutes a solicitation for the purchase or sale of any securities, and should not be relied on as financial advice.  The opinions expressed are solely those of the author, and do not represent those of Fortem Financial, LLC or any of its affiliates.  Past performance is no guarantee of future results.  All investing involves risk, including the potential loss of principal, and there can be no guarantee that any investing strategy will be successful.  Forward looking statements are based on current expectations and assumptions, the economy, and future conditions.  As such, forward-looking statements are subject to inherent uncertainty, risks, and changes in circumstance that are difficult to predict.  Actual results may differ materially from the anticipated outcomes.  Carefully consider investment objectives, risk factors and charges and expenses before investing.  Fortem Financial is a registered investment adviser with the SEC.  Advisory services are offered through Fortem Financial.
The Dow Jones Industrial Average (DJIA) is a price-weighted index composed of 30 widely traded blue-chip U.S. common stocks.  The S&P 500 is a market-cap weighted index composed of the common stocks of 500 leading companies in leading industries of the U.S. economy.  The NASDAQ Composite Index is a market-value weighted index of all common stocks listed on the NASDAQ stock exchange.  The Russell 2000 is a market-cap weighed index composed of 2,000 U.S. small-cap common stocks.  The Global Dow is an equally weighted index of 150 widely traded blue-chip common stocks worldwide.  Market indices listed are unmanaged and are not available for direct investment.