The Bond Market, a number of market analysts and President Trump were all ahead of the Federal Reserve once again, in calling for possible rate cuts in 2019, even though there were no signs of recession yet. For several months last year there were calls that the Federal Reserve was tightening too quickly by raising rates and reducing their balance sheet at the same time (policy that had never been done before). The bond market signaled that the Fed was more than a little aggressive in tightening. Finally, we are at a point where the Federal Reserve seems to listening to the data better.
Why all the concern over the Fed? Because historically an "inverted yield curve" (where short-term rates are higher than long-term rates) has been an excellent (and reliable) indicator of a coming recession. Many have already been discussing the "inverted yield curve" and using it to sound the alarm for recession. We believe this is premature because an inversion between the 2-year and the 10-year treasury has been the better indicator of recession, and as of yet, the 2-year and the 10-year treasury are not inverted. However, with both the Fed Funds Rate and the 1-year treasury above the 2-year treasury rate, it's reasonable to ask if the 2-year might also push higher than the 10-year treasury rate (creating the inverted yield curve that has historically indicated recession). The market is responding well to the Fed's recent comments because they indicate the Fed listening better and is now willing to cut rates if conditions demonstrate they should. This reduces the risk of an "inverted yield curve," and hence a recession.
The equity markets' multi-week losing streak ended on expectations that the Federal Reserve may cut interest rates perhaps as early as this month. Fed Chairman Powell stated that the central bank will "act as appropriate to sustain the expansion," and other Fed officials indicated a willingness to reduce interest rates to sustain economic growth in response to the potential slowdown from the trade disputes. The DJIA led all indices with a 4.71% gain followed by the S&P 500® Index (4.41%), the Nasdaq (3.88%) and Russell 2000® Index (3.34%).
In May, employers added only 75,000 jobs; still, unemployment remained at 3.6% and new claims remained near recent lows. Investors welcomed the low new jobs number on the assumption that the report will provide support for the Fed to lower interest rates. Also, job gains in March and April were revised lower by 75,000 jobs; the three-month average of 151,000 is well below the 238,000 level at the start of the year. Severe rains and flooding may have contributed to the low numbers; for example, farmers are facing the worst crop planting conditions in over thirty years.
On Wednesday, the U.S. and Mexico began negotiations aimed at stemming migrants from entering the U.S. in order to avoid President Trump's 5% tariff due to become effective on Monday. The tariffs would hurt both economies: the U.S. imports many products, notably auto industry-related products, while oil exports to Mexico may be subject to retaliatory tariffs. Some economists believe that a tariff increase beyond the initial 5% level could push Mexico into recession. Late Friday afternoon, President Trump accepted Mexico's offer of tougher immigration enforcement as sufficient to dissuade him from levying a 5% charge on all Mexican imports.
President Trump indicated that he will wait until after this month's G20 meeting to decide on extending tariffs on another $300 billion of Chinese imports. U.S. and Chinese officials are expected to meet during the G20 to discuss the terms on which to restart trade discussions. Many companies are quietly expediting plans to reduce exposure to tariffs by moving production out of China.
Companies are nearing the "quiet period" prior to reporting second quarter earnings. Global growth continues albeit at a slower pace; the World Bank recently revised 2019 estimates of global economic growth from 2.9% from 2.6%. The domestic equity markets remain volatile in response to progress, or lack thereof, in trade negotiations. Second quarter earnings should shed some light on the impact of trade concerns on individual companies. Headline news will likely sway market sentiment for the remainder of the month.
Source: Pacific Global Investment Management Company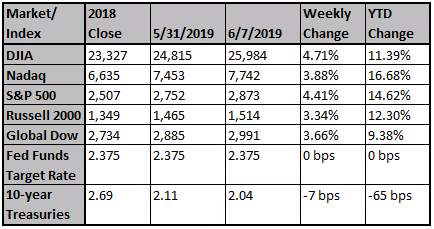 Chart reflects price changes, not total return. Because it does not include dividends or splits, it should not be used to benchmark performance of specific investments.
---
Latest News
Last Week's Headlines: 6/10/2019
1. Economic activity in the non-manufacturing sector grew in May for the 112th consecutive month, say the nation's purchasing and supply executives in the latest Non-Manufacturing ISM Report On Business. The report was issued today by Anthony Nieves, CPSM, C.P.M., A.P.P., CFPM, Chair of the Insti...
Market Snapshot: Stock futures rise as U.S., Mexico trade...
U.S. stock futures indicate a positive start for Wall Street on Monday after the U.S. removed the risk of import tariffs on Mexico, and as investors continue to look for the Federal Reser...
The US economy is the world's 'bright spot,' and there's ...
There are no signs that the U.S. economy may be heading into a recession, according to Treasury Secretary Steven Mnuchin. Speaking to CNBC on Sunday,
Markets can cheer: China appears to finally be addressing...
The German trade surplus is stifling the economic growth in the rest of Europe, Michael Ivanovitch writes.
---
Brian Amidei is Coachella Valley's only Barron's Magazine Top 1,000 Advisor in 2013 and 2014!
Brian Amidei, along with Partners Joseph Romano and Brett D'Orlando have also been named *2014, 2015, 2016, 2017 Five Star Wealth Managers!
Disclosures:
Awards and recognitions by unaffiliated rating services, companies, and/or publications should not be construed by a client or prospective client as a guarantee that he/she will experience a certain level of results if Fortem is engaged, or continues to be engaged, to provide investment advisory services; nor should they be construed as a current or past endorsement of Fortem or its representatives by any of its clients. Rankings published by magazines and others are generally based on information prepared and/or submitted by the recognized advisor. Awards may not be indicative of one client?s experience or of the Firm?s future performance.  Neither Fortem nor the recognized advisor has paid a fee for inclusion on a list, nor purchased any additional material from the award provider. The criteria for each award is listed below:
Barron's Disclosure:
The Barron's award is is based on the recognized adviser's assets under management, contribution to the firm's revenues and profits, and quality of practice.  Investment performance is not an explicit criteria.  Additional information about this award is available at http://online.barrons.com/report/top-financial-advisors. 
Five Star Professional Disclosure:
The Five Star Wealth Manager award is based on 10 eligibility and evaluation criteria: 1) Credentialed as an investment advisory representative (IAR) or a registered investment advisor; 2) Actively employed as a credentialed professional in the financial services industry for a minimum of five years; 3) Favorable regulatory and complaint history review; 4) Fulfilled their firm review based on internal firm standards; 5) Accepting new clients; 6) One-year client retention rate; 7) Five-year client retention rate; 8) Non-institutionalized discretionary and/or non-discretionary client assets administered; 9) Number of client households served; and 10) Educational and professional designations. The inclusion of a wealth manager on the Five Star Wealth Manager list should not be construed as an endorsement of the wealth manager by Five Star Professional or the magazine. The award methodology does not evaluate the quality of services provided.  Additional information about this award is available at: fivestarprofessional.com/2016FiveStarWealthManagerMethodology.pdf
Fortem Financial 2016. All rights reserved. 
Data Sources:  News items are based on reports from multiple commonly available international news sources (i.e. wire services) and are independently verified when necessary with secondary sources such as government agencies, corporate press releases, or trade organizations.  Market Data: Based on reported data in WSJ Market Data Center (indexes); U.S. Treasury (Treasury Yields); U.S. Energy Information Administration/Bloomberg.com Market Data (oil spot price, WTI Cushing, OK); www.goldprice.org (spot gold/silver); Oanda/FX Street (currency exchange rates).  All information is based on sources deemed reliable, but no warranty or guarantee is made as to its accuracy or completeness. 
Neither the information nor any opinion expressed herein constitutes a solicitation for the purchase or sale of any securities, and should not be relied on as financial advice.  The opinions expressed are solely those of the author, and do not represent those of Fortem Financial, LLC or any of its affiliates.  Past performance is no guarantee of future results.  All investing involves risk, including the potential loss of principal, and there can be no guarantee that any investing strategy will be successful.  Forward looking statements are based on current expectations and assumptions, the economy, and future conditions.  As such, forward-looking statements are subject to inherent uncertainty, risks, and changes in circumstance that are difficult to predict.  Actual results may differ materially from the anticipated outcomes.  Carefully consider investment objectives, risk factors and charges and expenses before investing.  Fortem Financial is a registered investment adviser with the SEC.  Advisory services are offered through Fortem Financial.
The Dow Jones Industrial Average (DJIA) is a price-weighted index composed of 30 widely traded blue-chip U.S. common stocks.  The S&P 500 is a market-cap weighted index composed of the common stocks of 500 leading companies in leading industries of the U.S. economy.  The NASDAQ Composite Index is a market-value weighted index of all common stocks listed on the NASDAQ stock exchange.  The Russell 2000 is a market-cap weighed index composed of 2,000 U.S. small-cap common stocks.  The Global Dow is an equally weighted index of 150 widely traded blue-chip common stocks worldwide.  Market indices listed are unmanaged and are not available for direct investment.