We know the question many are asking is "Are we at the end of the bull market yet."  We don't think so, and wanted to share some facts to support that statement:
The Atlanta Fed is now projecting real GDP growth at a 5.4% annual rate in the first quarter, which would be thefastest growth for any quarter since 2003. We think that's on the optimistic side and expect growth at more like a 4.0% annual rate, but, either way, the economy is showing signs of an overdue acceleration and we are now projecting growth of 3.5% for 2018 (the fastest "annual" growth since 2003). ? Source: Brian Wesbury, First Trust
One month following the 2003 tax cut, the 10-year yield increased from 3.1 percent to 4.6 percent in six weeks. This prompted a 4.5 percent decline in the S&P 500 which lasted for the length of time yields increased. But as yields stabilized, stocks resumed their upward bias and rallied 15 percent over the next four months. ? Source: Strategas
Bond yields increased in 2003 because economic growth surged. Like today, the consensus believed GDP growth would be only marginally impacted by the tax cut, but as paychecks adjusted for lower taxes, GDP accelerated to 7 percent in the 3rd quarter, far above the 2 percent growth rate consensus. Bond yields had to catch up. Recent outsized estimates of GDP in 1Q 2018 are not far-fetched based on the experience of 2003. ? Source: Strategas
Stocks go up when earnings go up, and down when earnings go down ? Earnings are UP
The GREEN line are earnings and the ORANGE line is the value of the S&P 500.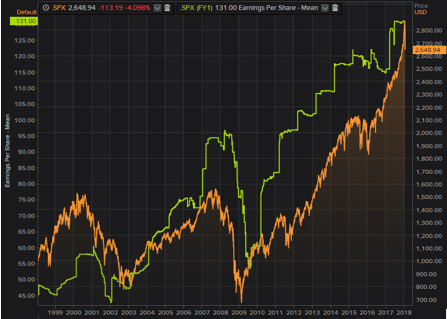 If you have any questions, please call or email us.
Sincerely,
Fortem Financial
---