The equity and bond markets ended a volatile week last week in a somewhat optimistic mood.  Once again, trade and geopolitical events took center stage as the markets posted another week of losses.  On Wednesday, recessionary fears drove an 800 point (3%) decline in the Dow Jones Industrial Average, its biggest selloff of the year.  The equity markets fell in reaction to a yield curve inversion (that is, when the yield on the 10-year U.S. Treasury Note  fell below the 2-year U.S. Treasury Note for the first time since 2007).  Historically, an inverted yield curve often,but not always, acts as a precursor to a recession or stock market downturn.  The market trend reversed, though, when President Trump commented on Thursday that his administration is in "very productive talks" with China.  Also, on Friday, German newspapers wrote that the government would issue debt and boost spending; the country's use of fiscal policy (i.e., deficit spending) marks a significant change.  For the week, the Dow fell 1.53%, the Russell 2000® Index declined 1.28%; the S&P 500® Index fell 1.03% and the Nasdaq lost 0.79%.
Globally, news headlines were disconcerting: protests continued in Hong Kong, elections in Argentina will weaken the government.  Also, reports of stagnant or negative economic growth (Germany -0.1%; UK -0.2%; Italy 0.0%) cast a dark cloud for already nervous investors.  Central banks, which have already lowered interest rates, appear to have few options available to stimulate economic growth.  The uncertainty continues to weigh on corporations; they have delayed capital spending pending resolution of trade tariffs.
President Trump announced last week that some tariffs scheduled to become effective on September 1st would be delayed until mid-December; and September's scheduled trade discussions are still likely.  Economic data from the U.S. and China signal that both countries are suffering from the trade war. Many investors, unsettled by the inconclusive and volatile headlines, have chosen to move to Treasuries and cash.
Even so, well-managed companies are well-positioned to ride out the uncertainties, and the impact on their current stock prices.  Some are taking steps to mitigate the tariffs yet such actions may become increasingly difficult the longer the conflicts persist.  Globally, the decline in interest rates present challenges for investors to find attractive investment opportunities; many will focus on stocks with high dividend rates.  All eyes, though, look towards the eventual resolution of trade disputes to enable a rebound in economic growth.
We believe the stock market will likely be range-bound until a) the Fed eases more aggressively – perhaps 2 more times in 2019 and/or b) there is a definitive end to the U.S. trade tensions with China.  "There Is No Alternative" rules for the time being with regard to sector allocation – defensive stocks and high growth companies will likely continue to outperform in a period of economic uncertainty & negative rates.
Tariffs could be holding up inflation in the U.S. for now. But we believe the medium-term impact of the trade war is still deflationary as global growth slows.  German GDP & China industrial production weakening reinforce this point.
There remain real risks going forward: 1) Brexit deadline (Oct 31). 2) Italy bond yields remaining elevated. 3) Japan VAT tax increase (Oct 1). 4) What does Fed language look like after several cuts? 5) Can WTI oil prices hold $50? 6) Will the U.S. impose tariffs on E.U. autos? 7) Continued U.S./China trade war. 8) Hong Kong protests. 9) Trade tensions between Japan & S. Korea. 10) Market seasonality not supportive until Oct. We are keeping an eye on all of these potential market movers and will update you if our thoughts change.  For now,  we look forward to Q3 earnings season starting in October to give better guidance from the public markets.
Source: Pacific Global Investment Management Company, Strategas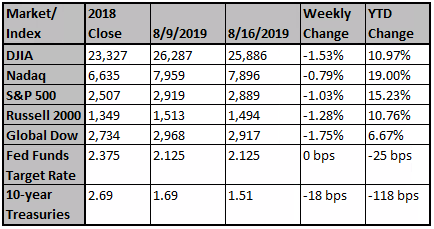 Chart reflects price changes, not total return. Because it does not include dividends or splits, it should not be used to benchmark performance of specific investments.
---
Latest News
Walmart Keeps On Pushing Back At Amazon -- And Wins
Walmart is winning more on-line sales by "turning the tables," on Amazon
US stocks jump to start the week on trade optimism
Retailers will continue to report quarterly earnings this week with a focus on the home improvement retailers such as Home Depot and Lowe's.
Growth forecasts are rising and the economy looks nowhere...
By many measures, the economy is outshining the depressed picture the bond market has been painting, and a big reason is the resilient U.S. consumer.
---
Brian Amidei is Coachella Valley's only Barron's Magazine Top 1,000 Advisor in 2013 and 2014!
Brian Amidei, along with Partners Joseph Romano and Brett D'Orlando have also been named *2014, 2015, 2016, 2017 Five Star Wealth Managers!
Disclosures:
Awards and recognitions by unaffiliated rating services, companies, and/or publications should not be construed by a client or prospective client as a guarantee that he/she will experience a certain level of results if Fortem is engaged, or continues to be engaged, to provide investment advisory services; nor should they be construed as a current or past endorsement of Fortem or its representatives by any of its clients. Rankings published by magazines and others are generally based on information prepared and/or submitted by the recognized advisor. Awards may not be indicative of one client?s experience or of the Firm?s future performance.  Neither Fortem nor the recognized advisor has paid a fee for inclusion on a list, nor purchased any additional material from the award provider. The criteria for each award is listed below:
Barron's Disclosure:
The Barron's award is is based on the recognized adviser's assets under management, contribution to the firm's revenues and profits, and quality of practice.  Investment performance is not an explicit criteria.  Additional information about this award is available at http://online.barrons.com/report/top-financial-advisors. 
Five Star Professional Disclosure:
The Five Star Wealth Manager award is based on 10 eligibility and evaluation criteria: 1) Credentialed as an investment advisory representative (IAR) or a registered investment advisor; 2) Actively employed as a credentialed professional in the financial services industry for a minimum of five years; 3) Favorable regulatory and complaint history review; 4) Fulfilled their firm review based on internal firm standards; 5) Accepting new clients; 6) One-year client retention rate; 7) Five-year client retention rate; 8) Non-institutionalized discretionary and/or non-discretionary client assets administered; 9) Number of client households served; and 10) Educational and professional designations. The inclusion of a wealth manager on the Five Star Wealth Manager list should not be construed as an endorsement of the wealth manager by Five Star Professional or the magazine. The award methodology does not evaluate the quality of services provided.  Additional information about this award is available at: fivestarprofessional.com/2016FiveStarWealthManagerMethodology.pdf
Fortem Financial 2016. All rights reserved. 
Data Sources:  News items are based on reports from multiple commonly available international news sources (i.e. wire services) and are independently verified when necessary with secondary sources such as government agencies, corporate press releases, or trade organizations.  Market Data: Based on reported data in WSJ Market Data Center (indexes); U.S. Treasury (Treasury Yields); U.S. Energy Information Administration/Bloomberg.com Market Data (oil spot price, WTI Cushing, OK); www.goldprice.org (spot gold/silver); Oanda/FX Street (currency exchange rates).  All information is based on sources deemed reliable, but no warranty or guarantee is made as to its accuracy or completeness. 
Neither the information nor any opinion expressed herein constitutes a solicitation for the purchase or sale of any securities, and should not be relied on as financial advice.  The opinions expressed are solely those of the author, and do not represent those of Fortem Financial, LLC or any of its affiliates.  Past performance is no guarantee of future results.  All investing involves risk, including the potential loss of principal, and there can be no guarantee that any investing strategy will be successful.  Forward looking statements are based on current expectations and assumptions, the economy, and future conditions.  As such, forward-looking statements are subject to inherent uncertainty, risks, and changes in circumstance that are difficult to predict.  Actual results may differ materially from the anticipated outcomes.  Carefully consider investment objectives, risk factors and charges and expenses before investing.  Fortem Financial is a registered investment adviser with the SEC.  Advisory services are offered through Fortem Financial.
The Dow Jones Industrial Average (DJIA) is a price-weighted index composed of 30 widely traded blue-chip U.S. common stocks.  The S&P 500 is a market-cap weighted index composed of the common stocks of 500 leading companies in leading industries of the U.S. economy.  The NASDAQ Composite Index is a market-value weighted index of all common stocks listed on the NASDAQ stock exchange.  The Russell 2000 is a market-cap weighed index composed of 2,000 U.S. small-cap common stocks.  The Global Dow is an equally weighted index of 150 widely traded blue-chip common stocks worldwide.  Market indices listed are unmanaged and are not available for direct investment.