It felt like we packed a month worth of economic happenings into just one week. The first presidential debate, Supreme Court nomination, employment data continues to get better and many of our countries political leaders, including the President, contract the Coronavirus. Despite President Trump testing positive for coronavirus, equities ended a volatility week higher as investors became more upbeat about a potential stimulus package. While the positive test for the President creates near term uncertainty, House Speaker Nancy Pelosi said President Trump's prognosis changed the shape of talks over a new stimulus package. In economic news, nonfarm payrolls continued to improve with 661,000 jobs added in September but were below the consensus of 859,000 jobs. The unemployment rate dropped to 7.9% from 8.4% in August. The pace of growth in the manufacturing sector slowed in September, but still expanded with an ISM Manufacturing Index reading of 55.4. Year-to-date laggards' real estate, utilities and financials led the market higher for the week, while technology stocks were the second worst performing sector. Shares of Datadog Inc., a monitoring software for the cloud, jumped after announcing a strategic partnership with Microsoft Corp. that makes their platform a native service in Azure. Twilio Inc. also gapped higher after pre-announcing strong future growth at their analyst day. By contrast, Micron Technology, Inc. fell on disappointing earnings due to uncertainty around future margins. Bed Bath & Beyond Inc. shares soared after same-store-sales increased by 6% versus an expected decline of 1.3%. Looking ahead, the path of COVID-19 and the presidential election will remain at the forefront of investors' minds. In addition, the major banks will report results starting in less than two weeks, which will provide a good barometer of the health of the overall economy.
Longer-term U.S. government bond yields rose, and the yield curve steepened somewhat after a number of economic reports were released last week. Personal income fell 2.7% in August from the prior month due to a drop in unemployment benefits as supplemental payments of $600 per week expired on July 31. However, employee compensation rose 1.2% in August compared to July. Consumer spending was up 1% over the prior month, its 4th straight monthly increase, and is now down roughly 2% compared to a year ago. Meanwhile, initial jobless claims for the week ended September 26 were 837,000, which was the 5th consecutive week between 800,000 and 900,0000. However, continued claims, or the number of people already receiving unemployment benefits, fell by nearly 1 million to the lowest level since March. The jobs report released Friday showed the U.S. economy added 661,000 jobs in September, which was below expectations, while the unemployment rate fell to 7.9%. The economy has now recovered about half of the 22 million jobs lost in March and April, adding 11.4 million jobs from May through September.
Source: First Trust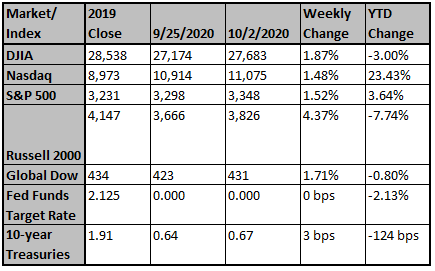 Chart reflects price changes, not total return. Because it does not include dividends or splits, it should not be used to benchmark the performance of specific investments
Sincerely,
Fortem Financial
(760) 206-8500
team@fortemfin.com
---
Latest News
U.S. Steps Up Efforts to Counter China's Dominance of Min...
The U.S. government is ramping up efforts to secure minerals critical to modern technology but whose supply is dominated by China-a stranglehold that miners warn could take years to break.
Fed's Evans Says New Inflation Framework Would Have Limit...
The Chicago Fed leader said holding off on rate hikes between 2015 and 2018 may have left the economy stronger.
---