4Q Earnings Season Wrapping Up
The fourth-quarter earnings season is just about completed now, and pretty much all things considered, it was a strong showing across the board. Every sector saw greater than expected earnings growth except energy which was still dealing with extremely low oil prices. That will change in 2021. Sales growth also showed significant improvement with only the utilities and the energy sector finishing the quarter below initial expectations.
Earnings Growth To Take The Baton From Multiple Expansion
At this point in the recovery, it is not uncommon for earnings to take over as the driver of equity returns, leading to an unwind of elevated multiples as cyclical sectors depressed earnings recover. We witnessed the same phenomenon occur following the financial crisis, and it wasn't until 2011 when multiples contracted, and earnings growth slowed, that equity performance was underwhelming in aggregate.
Market Pricing In A Rate Hike In December 2022
With the 10-year yield rising to 1.6% last week on an intra-day basis, we noticed the implied yield from Fed funds futures suggests that the first-rate hike may occur by the end of 2022. While these futures contracts can change relatively quickly, it does bear watching as the market indicates the Fed will have to step in earlier than current communications suggest.
Market Can Handle Higher Rates As Long As Earnings Yield Keeps Pace
The number one question from clients remains, what level on the 10-year do equities face troubles? It's not out of the realm of possibilities to think we are already there. Still, from a secular standpoint, we are inclined to remain optimistic given that more fiscal stimulus is on the way, savings are at elevated levels, and the Fed remains accommodative. The problem, of course, is swift moves in the bond markets. Earnings historically grind higher, the extent to which interest rates shoot up, it's near impossible for fundamentals to keep pace.
Source: Strategas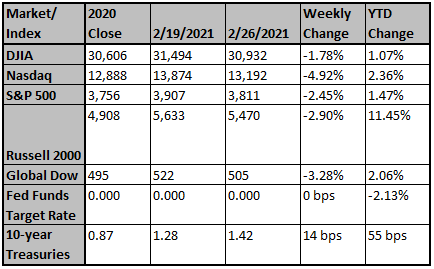 Chart reflects price changes, not total return. Because it does not include dividends or splits, it should not be used to benchmark performance of specific investments. Data provided by FactSet.
Sincerely,
Fortem Financial
(760) 206-8500
team@fortemfin.com
---
Latest News
Investors Worry the Fed's Fast Driving Means It'll Have t...
This past week, bond yields jumped and stocks fell. The trouble was that yields jumped for reasons other than economic optimism, and stocks didn't like it.
Wall Street Journal
Feb 28, 2021
Dow futures rise more than 200 points as Treasury yields ...
Last week, stocks were pressured by rising interest rates.
CNBC
Feb 28, 2021
Economy Week Ahead: Factories, Services and Employment
The Labor Department's monthly employment report highlights this week's economic data.
Wall Street Journal
Feb 28, 2021
---