87.5% of Companies Beat Earnings Estimates in 1Q'21
With 99% of the S&P 500 having reported, it's fair to say that 1Q'21 was a blowout season for earnings. 87.5% of companies beat their earnings estimates for the quarter, a record high going back to the mid-1990s and well above the long-term historical average of 65%.
2021 EPS Growth Revising Up, 2022 Revising Down
The S&P 500's 2021 estimated EPS growth began the year at 23.3% and, with the help of robust earnings numbers from 1Q'21, has been revising higher since, with the most recent 2021 EPS growth estimate at 36.1%. Though early and potentially reflecting excessive optimism, 2022's estimated growth rates have revised lower so far with initial estimates at 15.3% in April, and now showing 11.8% EPS growth for 2022.
Cyclical Sectors Seeing Revisions Higher in 2021 Estimated Growth
Since the start of 2021, Energy, Materials, and Financials have been standouts in seeing their 2021 estimated earnings growth be revised higher, capitalizing on the cyclical rebound as the global economy reopens. On the downside, Utilities is the only sector to see its estimated growth for 2021 contract, shrinking by about 3.2% year-to-date.
Industrials & Discretionary Expected To Lead 2022 Growth
Looking forward to next year, and perhaps to no surprise, Industrials, Discretionary, and Energy are expected to lead the S&P 500 sectors in earnings growth for 2022 after being severely damaged from the Covid-19 pandemic and resulting halt in economic activity. For now, Materials and Financials appear to be two of the main sector laggards for 2022 earnings growth, tallying 3.2% and -0.8% respectively.
Source: Strategas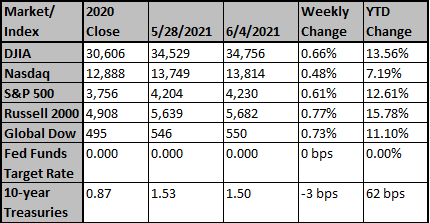 Chart reflects price changes, not total return. Because it does not include dividends or splits, it should not be used to benchmark performance of specific investments. Data provided by FactSet.
Sincerely,
Fortem Financial
(760) 206-8500
team@fortemfin.com
---
Latest News
Stock Futures Wobble at Start to the Week
S&P 500 futures are taking a breather after the index rose to its second-highest close in history following a monthly employment report that showed the labor market continued its slow rec...
Wall Street Journal
Jun 7, 2021
Google to Pay Fine, Settle Ad Antitrust Case With France
The firm agreed to pay a fine of nearly $270 million as part of a settlement with French regulators of one of the first antitrust cases globally to allege the tech company abused its lead...
Jun 7, 2021
The Week in Business: Jobs Are Up, Beef Is Down
The new jobs report was decent, but employers are still struggling to fill open positions.
New York Times
Jun 6, 2021
---