While higher commodity costs could challenge the industrials sector, it could also significantly boost earnings per share (EPS) for the energy sector. From 1995 to 2015, energy contributed approximately 12% to the overall index EPS while over the last 12 months, it has detracted about -7%. A return to profitably for the energy sector may be the key for index EPS to surprise to the upside in 2021 and 2022. By the end of 2021, current estimates are only suggesting a 2% contribution to overall earnings.
The increase in the price of oil is good news for oil companies, but it is bad news for consumers. With crude oil hitting $60.00 a barrel again before any signs of a meaningful pickup in demand, we have already seen gas prices rise to pre COVID-19 levels. Once demand starts to truly recover, we believe gas may go back to the prices we saw at the pump back in 2014 – 2015 ($4 to $5 per gallon). This increase in gas prices will affect all consumers and leave them with less money to spend on discretionary spending. This may damper the US and global economic growth in 2021.
Recent data indicate the U.S. economy is still in a "square root" recovery. But in 2021, this should turn into a delayed "V". It's still all about stimulus + vaccine(s) and then boosts from prior saving & inventory rebuilding. China was the only major economy to have grown in 2020. That should change in 2021.
Each month we characterize 14 broad U.S. economic sectors – including both real activity and prices – as Assets or Liabilities. Our balance sheet remained at +3 this month. We see the balance sheet oscillating the next several months as the economy rolls from stimulus package to stimulus package amid political tensions & virus variant waves.
Although the January jobs report was weaker-than-expected in the U.S., rising just 49,000 m/m with sharp downward revisions (-159,000) to prior months, there is a silver lining. Most of the details of the report suggest the job market was stronger than the headline suggests. Civilian employment, an alternative measure of jobs that includes small-business start-ups, increased 201,000 in January. Even more important: average weekly hours rose to 35.0 in January versus 34.7 in December. This is the highest level since recording began back in 2006, and the increase in hours is the equivalent of about one million jobs. In other words, had employers not increased hours per worker in January, it would have taken an additional one million workers to generate the same increase in total hours worked. This means the demand for labor is strong and should translate into large increases in jobs in the next several months as the number of hours worked per worker reverts to more normal levels.
Another strong detail is that average hourly earnings rose 0.2% in January and are now up 5.4% from a year ago. Combined with an increase in total hours worked, total earnings rose 1.1% in January and are up 0.6% from a year ago. Yes, you read that right: total labor-market earnings for all private-sector workers are up versus January 2020, and that's without including all the extra unemployment benefits and other government checks thrown at the problem.
However, not all the details of the jobs report were positive. The labor force (people who are either working or looking for work) fell by 406,000, which is one of the reasons the unemployment rate declined to 6.3%. There were also job losses in retail and leisure & hospitality, but manufacturing jobs also declined -10,000 month over month. The labor force participation rate is still depressed, falling to 61.4% in Jan. Many of those recently out of the workforce should be counted as shadow unemployed, in our opinion. This report is likely encouraging the "go big" push on further fiscal stimulus in D.C.
Further stimulus could drive interest rates up, though this has been a slow process. How far do interest rates have to rise to pressure equities? Our simulations suggest that 10-year Treasury yields are capped at 1.50% for Q1 (our expected value is only 1.25% by end of Q1), with only about a 25% chance of breaching 1.5% by end of Q2 (expected value of about 1.4% for the end of Q2). Anything out of that range seems likely to result in a risk-off market response.
But interest rates staying in this zone (ie, low) are likely to encourage the view that fiscal packages can indeed be large with little cost. Global monetary stimulus has been aggressive for several cycles now (QE, ZIRP, NIRP, credit facilities, yield-curve control). Fiscal policy is following this cycle.
Policymakers are banking on any inflation moves being short-lived. Globalization & technology continue to depress prices (labor competition, the Amazon effect, robotics, AI, comparison shopping using apps). Fed Chair Powell's recent comments at his (virtual) press conference that he would not view year over year base effects as significant inflation (ie, a spike from lapping the 2020 "Great Lockdown") were key. Additionally, if there are bottlenecks as the economy reopens (post-vaccine), Powell noted that also could be considered transient. The Fed is still viewing underlying inflation dynamics as 1) slow moving, and 2) global in nature.
There are also concerns about bubbles. With unemployment still elevated & many workers out of the labor force, this is not a front-burner concern for today's monetary policymakers. There's a calculated trade-off, which right now seems to be coming down on the side of "running hot" if possible. The talk will be of (vague) macro-prudential policies if bubble concerns intensify.
So we're set up for a year where policymakers excuse inflation and excuse bubbles.
This is not automatically a bad thing. It's possible a "boom/bust" cycle leads to more overall growth vs. "slow and steady" (by encouraging risk taking and the creation of new industries). Many modern technologies were accompanied by initial bubbles and overenthusiastic investment (railroads, cars, airlines, computers). A bubble in a productive asset financed by equity can work out without too much trouble (equity is known to be a "risky" asset). A bubble in an unproductive asset (tulips, homes) financed by debt (and the banking system) is troublesome because it jeopardizes "safe" assets like deposits (Gave, 2005). We may be too focused on stopping bubbles altogether today, vs. distinguishing the different types.
We will need to see capex & productivity pick up (after a 4Q q/q decline) to make a solid case for a "good bubble" however.
Source: Strategas / First Trust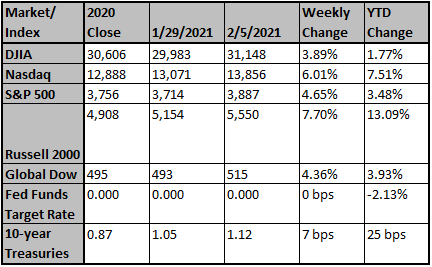 Chart reflects price changes, not total return. Because it does not include dividends or splits, it should not be used to benchmark performance of specific investments. Data provided by FactSet.
Sincerely,
Fortem Financial
(760) 206-8500
team@fortemfin.com
---
Latest News
Economy Week Ahead: Inflation, Unemployment and GDP
In addition to this week's economic calendar, Capitol Hill will be closely monitored for the latest on U.S. fiscal policy.
Wall Street Journal
Feb 7, 2021
Yellen says U.S. could return to full employment next yea...
The U.S. could return to full employment in 2022 if President Biden's Covid stimulus package is passed, Treasury Secretary Janet Yellen said Sunday.
CNBC
Feb 7, 2021
Biden's Minimum-Wage Proposal: When Would It Reach $15 an...
The federal minimum wage would rise to $15 an hour over a number of years under a proposal that Democrats hope to include in a broader $1.9 trillion Covid-19 aid bill, but the idea has me...
Wall Street Journal
Feb 5, 2021
---