Fourth quarter 2020 earnings and revenue growth both surprised with positive results. With more than 75% of companies reporting, earnings growth is expected to be 3.4%. This is a significant increase compared to the -1.03% originally estimated on January 1st and further improvement from last week's 2.4%. Revenue growth is also expected to be positive at 1.3%, up from -1.4% at the start of the year.
In aggregate, companies are reporting earnings that are more than 17% above estimates, outpacing the historical long-term average surprise of just 3.6%. The earnings recovery following the "Great Lockdown" has exceeded analyst expectations by even more than it did during the Global Financial Crisis" when the earnings surprise factor topped out at only 15%. It is worth noting, the only sector with a negative surprise factor as of the end of last week was Real Estate.
There are also more positive than negative pre-announcements for the first quarter of 2021. While the total number of pre-announcements had fallen significantly during the pandemic as companies pulled guidance, more recently, we have seen positive pre-announcements outpace negative ones as they return. A total of 78 companies have pre-announced for the first quarter with 43 positive and 35 negative.
With 6 of the 11 S&P sectors now with their current next twelve month's earning per share estimate back above the pre-covid levels, the focus will begin shifting toward which sectors can continue to move higher. On this front, cracks are beginning to emerge, and while they are not alarming at the moment, it may signal some trouble is on the horizon. The technology & health care sectors that have done much of the heavy lifting for the overall index recovery are beginning to stall out. The good news, energy, which has detracted over the last year from aggregate earnings, appears to be in a better position as commodity prices have risen and demand is returning.
Source: Strategas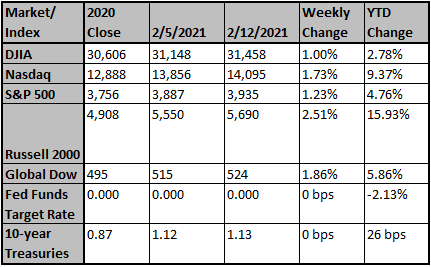 Chart reflects price changes, not total return. Because it does not include dividends or splits, it should not be used to benchmark performance of specific investments. Data provided by FactSet.
Sincerely,
Fortem Financial
(760) 206-8500
team@fortemfin.com
---
Latest News
CVS Health Signals Re-Entry Into ACA Marketplaces
The pharmacy and insurance giant's results beat analysts' expectations for the final quarter of 2020.
Wall Street Journal
Feb 16, 2021
Warren Buffett's Berkshire Hathaway has quietly racked up...
Summary List PlacementWarren Buffett is a surprise winner in the electric-vehicle revolution. Berkshire Hathaway owns stakes in General Motors and Chinese automaker BYD. Buffett's compan...
Business Insider
Feb 13, 2021
Investors eye shares of hotels, cruise lines as U.S. vacc...
Investors are watching next week's earnings reports from hotels, cruise lines, and other businesses that have been hard hit by COVID-19 for indications of which companies could be the firs...
Reuters
Feb 12, 2021
---