Liquidity Growth Slowing Along With S&P Rate Of Change
The growth in M2 has been slowing for several months now, and it should come as no surprise that the rate of change in the S&P is slowing as well. This is very typical at this point in the recovery as we lap the months where liquidity was injected, and the S&P rose from the lows following the crisis. As we have stated in the past, returns are more challenging in year two and year three following a bear market.
Earnings Growth The Driver Of Equity Returns
Similar to the post-financial crisis recovery, earnings growth during the second year of the post-covid shut down accounts for a larger share of equity market returns than multiple expansion now. Over the next 12-18 months, that should continue to be the case, which would also be consistent with the period following the financial crisis. There was also a stretch when earnings growth was normalizing that the markets traded sideways.
European Earnings Recovery Far Less Robust
While the earnings recovery in the U.S. continues with the NTM EPS well above the pre-covid levels, the story in Europe has been different. The earnings recovery has taken longer to materialize, with the NTM EPS figure only recently surpassing the pre-covid levels. This delayed earnings recovery may mean that European stocks could outpace U.S. peers in the near term.
Eurozone Economic Surprise Index Still Positive
Looking at the economic surprise indexes for the United States, China, and the Eurozone shows that of the three, the Eurozone is the only one that remains positive, suggesting that data continues to come in better than expected. On the other hand, in both the U.S. and China, it is coming in worse than expected.
Source: Strategas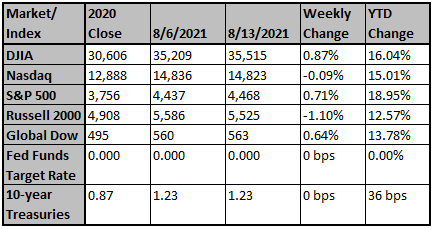 Chart reflects price changes, not total return. Because it does not include dividends or splits, it should not be used to benchmark performance of specific investments. Data provided by FactSet.
Sincerely,
Fortem Financial
(760) 206-8500
team@fortemfin.com
---
Latest News
U.S. Retail Sales Likely Fell in July as Automobile Purch...
Economists estimate sales excluding autos rose during a month when concerns about the Delta variant intensified.
Wall Street Journal
Aug 17, 2021
Walmart saw more back-to-school shoppers in stores. Will ...
Online sales were down at Walmart and more shoppers returned to shop in stores. With the delta variant and a rise in COVID cases will shopping shift?
USA Today
Aug 17, 2021
Economic Report: Home-builder confidence sinks to lowest ...
Builders fear that prospective home buyers are being scared away due to sticker shock.
marketwatch
Aug 17, 2021
---